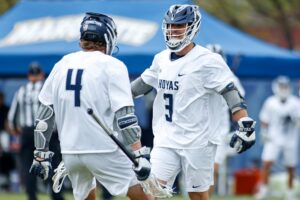 [MEDIA RELEASE]
WASHINGTON – Georgetown University's eighth-ranked men's lacrosse team earned the seventh seed in the upcoming NCAA Tournament and will host a first round game for the second straight season. The Hoyas will welcome Yale to the Hilltop on Saturday, May 13 at 5 p.m.
Coming off of its fifth-straight BIG EAST Championship to earn the BIG EAST's automatic bid, Georgetown is making its 16th appearance in the NCAA Tournament in program history. The Hoyas reached the semifinals in 1999 and the quarterfinals 10 times including most recently in 2021.
The Hoyas are 12-3 overall, won both the BIG EAST regular season and tournament titles and set the program record for consecutive wins with 12 and counting.