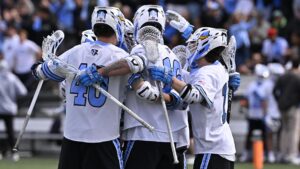 [MEDIA RELEASE]
BALTIMORE, MD –- The Johns Hopkins men's lacrosse team (11-5) earned the number six seed and will host Bryant (12-4) in the first round of the 2023 NCAA Division I Men's Lacrosse Tournament it was announced Sunday evening.  The game is scheduled for Sunday, May 14 at Homewood Field.  Faceoff is set for 12 pm and the game will air live on ESPNU.
The winner of the Johns Hopkins-Bryant game will take on the winner of the Notre Dame-Utah game on Sunday, May 21 at Navy in the NCAA Quarterfinals.
How They Got Here
Johns Hopkins earned one of the eight at-large bids to the tournament, while Bryant earned an automatic bid to the tournament by winning the America East Championship.
Series History
The meeting in the first round of the NCAA Tournament between the Blue Jays and Bulldogs will be the first-ever meeting between the two programs.  The teams did not share any common opponents during the 2023 season.
Playoff History
Johns Hopkins is making its record 48th appearance in the tournament and will be hosting a playoff game at Homewood Field for the 51st time.  The Blue Jays are 45-5 all-time in NCAA Tournament games at Homewood Field and have won nine NCAA Championships.
Bryant is making its sixth trip to the NCAA Tournament.  The Bulldogs advanced to the NCAA Quarterfinals in 2014 after topping Syracuse in the first round of the tournament.