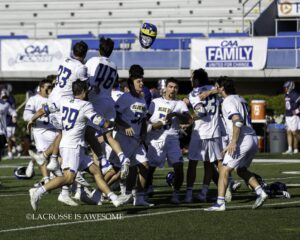 [MEDIA RELEASE]
INDIANAPOLIS. – For the second-straight year, Delaware men's lacrosse has been selected to host the NCAA Men's Lacrosse Tournament Opening Round at Delaware Stadium. The Blue Hens will take on MAAC champion Marist on Wednesday, May 10 at 7 p.m., the NCAA announced Sunday night. Tickets can be purchased here.
The Blue Hens enter Wednesday's contest 12-4 overall, and are coming off a 13-10 win against Stony Brook to win their second-straight Colonial Athletic Association tournament title. Goalkeeper Matt Kilkeary was named the tournament's Most Outstanding Player. Attackmen JP Ward, and Tye Kurtz, along with defender Joe Speers, were named to the All-Tournament team alongside Kilkeary.
Ward and Kurtz led the way on offense for the Blue Hens. They both are tied for the team lead in points with 76. Kurtz leads in goals with 49, Ward leads in assists with 40.
Defensively, the Blue Hens are led by the trio of Owen Grant, Joe Speers, and Tate Wasson. The three have caused 20 or more turnovers on the season. Grant leads the way with 34, Speers has 25, and Wasson has 22. Wasson caused seven turnovers during the CAA Tournament.
The Red Foxes enter Wednesday's contest with a 10-7 record overall. They started the season 4-7 but have since gone on a six-game winning-streak to claim the Metro Atlantic Athletic Conference championship. In the MAAC Tournament, the Red Foxes outscored their opponents 60-33.
Last season, the Blue Hens defeated Robert Morris in the opening round before arguably the largest upset in in NCAA Tournament history with a 10-9 decision against second-seeded Georgetown to advance to the quarterfinals.
The winner of Wednesday's contest will play top-seeded Duke on Sunday, May 14 at 5 p.m. in Durham, N.C.