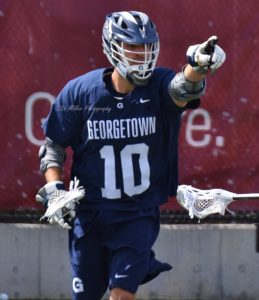 [MEDIA RELEASE]
WASHINGTON – Georgetown University's fourth-ranked men's lacrosse team takes a brief respite from its home-and-home BIG EAST schedule with a midweek nonconference road game at Mount St. Mary's on Tuesday at 5 p.m. in Emmitsburg, Maryland. The Hoyas look to continue their impressive start to the season after going 2-0 to kick off the 2021 campaign and hold their opponents to just one goal in each game.
ABOUT GEORGETOWN
•    Georgetown is 2-0 on the year after defeating then-No 16/18 Villanova 16-1 and St. John's 19-1 in BIG EAST play.
•    The Hoyas currently lead the NCAA in scoring defense (1.00 goals per game), scoring margin (+16.50), man down defense (0-10), caused turnovers (12.00 per game) and are one of just 12 remaining undefeated teams in the country.
•    Georgetown has gone 13-1 dating back to April of 2019 with its only loss coming to No. 5 Yale in the 2019 NCAA Tournament.
•    Jake Carraway leads a potent GU offense that is averaging 17.50 goals per game, fourth best in Division I.
•    Carraway has 11 goals and five assists for 16 points on the season and broke Georgetown's career goals mark in the win over St. John's on Saturday.
•    Nicky Petkevich ranks second with eight points (5G, 3A) followed by Graham Bundy Jr. with seven (5G, 2A) and TJ Haley with six (1G, 5A). Niko Gekas, Dylan Hess and James Reilly have each scored multiple times for the Blue & Gray as 13 different Hoyas have found the back of the net this season.
•    Defensively, Owen McElroy has allowed just two goals in 94:57 of action and boasts a 1.26 goals-against average and a .889 save percentage. He has collected 16 saves on the year, including 10 against the Red Storm.
•    Georgetown's defense leads the nation in caused turnovers with James Donaldson and Alex Mazzone each leading the way with four. Gibson Smith, Joe LiCalizi and Wallace Halpert each add a pair.
•    At the 'X', Reilly ranks sixth in the NCAA with a .708 faceoff winning percentage and the Hoyas entire faceoff unit is fourth in D1, winning .682 of their draws.
ABOUT MOUNT ST. MARY'S
•    The Mountaineers are coming off a heartbreaking 8-7 loss to UMBC on Saturday and are 1-3 on the season.
•    Mount St. Mary's opened the year with a 10-7 win over Delaware but have dropped three-straight since.
•    Luke Frankey leads the Mount with seven points (5G, 2A) while four other players add three points each.
•    Sam Stephan is MSM's top faceoff specialist, ranking 19th and winning at a .577 clip.
•    In goal, the Mountaineers are only giving up 8.36 goals per game and hold a .477 team save percentage. Griffin McGinley and Dylan Furnback have split the starts for the Mount this season with Furnback getting the nod against the Retrievers last game.
SERIES HISTORY
•    The Georgetown vs. Mount St. Mary's rivalry is one of the longest in program history with its 38th showdown taking place on Tuesday.
•    Georgetown holds a 20-17 all-time advantage and have won the last four meetings.
•    The Mount's last victory in the rivalry was an 11-8 win in 2016 but the Mountaineers have not won in Emmitsburg since 1988.
HOW TO WATCH
•    Tuesday's game will be streamed live on NEC Front Row.
•    Links to the video and live stats are available on www.GUHoyas.com.
NEXT FOR THE HOYAS
•    Georgetown returns to BIG EAST play as it welcomes Marquette to the Hilltop on Saturday, March 6 at noon.