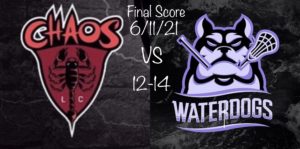 Di Miller, PLL Correspondent
Lacrosse is Awesome©
Photo Credit Featured Image:  John Zumbado
On Friday June 11, 2021 the Premier Lacrosse League started out Week Two in Atlanta, GA at Fifth Third Bank Stadium.  The Waterdogs LC (1-1) who had only been victorious once in the inaugural season in 2020 would get their second win in team history.  They'd also give Chaos LC (0-2) their second loss in a row.  The game had a total of five 2pt goals, three from the 'Dogs and two from Chaos.  At the face-off dot, Max Adler from Chaos gave Jake Withers from Waterdogs a good run for his money.  With just a few minutes left on the clock they were even up at 11 apiece.  But in the end, Withers would come out on top winning 14-15 for a 56% FO% with 6 GB's to pad his stat card.  Final Score:  Waterdogs 14—Chaos 12.
On either end of the field, although Chaos net-minder Blaze Riorden had more saves on the night (14) and a higher save percentage (54%), he would end up on the short end of the score card with the loss.  His counterpart, Waterdogs net-minder Dillon Ward had seven (7) saves and a 44% SV% with 9 GA.
What seemed to be the most important thing for the 'Dogs was the momentum they took having a lead heading into the second 6-5 over Chaos, and held the club to no goals in the second while scoring two of their own.  This took them into the locker room at half-time with an 8-5 lead.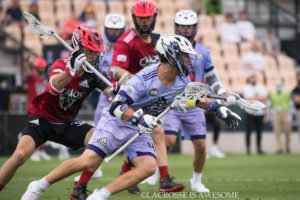 At the start of the third, Ryan Brown of Chaos would get some momentum and they would put up a couple, the first since the first quarter and it seemed as though they had something going.  However, the 'Dogs would match goal for goal and at the end of three, they still had the lead 11-8.
Chaos would outscore the 'Dogs 4-3 in the fourth and with just a couple minutes on the clock they had an opportunity where they could have tied it up with a couple of two-pointers, which we all know seems to be a regular occurrence in the PLL.  But they squandered their chances, although Wes Berg was able to put one more up with a little over a minute left to get them to within three.  They'd put one more up before the buzzer sounded, but it would not be enough. Final Score:  Waterdogs 14—Chaos 12.
GAME STATS:
Waterdogs—26 SOG; Two 2ptG; 18 TO; 12 CTO; 36 GB; 14-25 FO;  .56 Face-off%; 44% Save%; 0-2 PP
Chaos—16 SOG; Three 2ptG; 22 TO; 9 CTO; 36 GB; 11-25 FO;  .44 Face-off%; 54% Save%; 0-1 PP
 POINT LEADERS:
Jake Froccaro-Chaos:  5 pts (Two 2ptG; 1A)
Mikie Schlosser-Waterdogs: 4 pts (2G, One 2ptG)
Connor Kelly-Waterdogs: 4 pts (1G, One 2ptG; 1A)
Next Up:
Whipsnakes LC (1-0) will take on Cannons LC (1-1) at 12:00 p.m. EST, followed by Redwoods LC (2-0) vs. Atlas LC (0-1) at 3:00 p.m. EST.  Both games will be played at Fifth Third Bank Stadium in Atlanta, GA.
You can watch the Whipsnakes take on the Cannons on either NBC or on Peacock.
You can watch the Redwoods take on Atlas on NBCSN or  on Peacock.
Di Miller, PLL Correspondent
Lacrosse is Awesome©