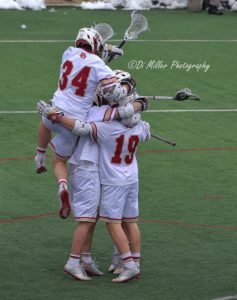 [MEDIA RELEASE]
[12/11] Denver's 17-Goal First Half Leads Pios Past [RV/RV] Providence
Denver broke its school record for points and assists on Saturday
 DENVER – The [12/11] University of Denver men's lacrosse team used an eight-goal first, a nine-goal second and 13 different goal scorers to race past [RV/RV] Providence 23-10 on Saturday afternoon at Peter Barton Lacrosse Stadium.
Inside the Box Score:
Jackson Morrill and Alex Simmons led the way with seven points apiece. Simmons had three goals and a career-high four assists in his second-straight hat trick, while Morrill had four goals and three helpers for his second hat trick of the season and the 17th of his career. Both seven-point performances the for the 11th-highest marks in Peter Barton Lacrosse Stadium history.
Photo Gallery:  DU vs Providence 2/27/21 Photo Credits: Di Miller
Jack Hannah had a first half hat trick (sixth career) to go with two assists, and Drew Erickson recorded the second hat trick of his career. Reed Babcock rounded out Denver's multi-goal scorers with a pair of second half tallies.
Faceoff specialist Alec Stathakis went 16-of-22 from the faceoff dot, picking up 10 ground balls.
First Quarter:
Denver scored eight goals in the opening 15 minutes. Ted Sullivan found the back of the net on Denver's first full possession. Riley Curtis and Hannah made it 3-0 with back-to-back tallies inside the first 4:30. Hannah answered a Tim Hinrichs goal with his 11th of the season. Simmons scored his sixth and seventh of 2021 sandwiched around Morrill's first of the afternoon to make it 7-1 and Danny Logan got his name on the scoresheet with his first of the season with five seconds left on the clock to make it 8-1 after the first quarter.
Second Quarter:
Morrill got two more goals around Hannah's hat trick goal to make it an 8-0 run and an 11-1 lead for Denver with 9:16 to go in the second.
Providence scored three of the next four to cut the lead to 12-4, but Denver ended the half on a 5-0 rush in the final 3:22 of the half to pad the intermission lead to 17-4.
Erickson scored twice in the run, in addition to goals from Ethan Walker, Simmons, Ellis Geis and Morrill.
Third Quarter:
Denver used its depth in the second half, outscoring Providence 4-1 in the third quarter. Reed Babcock scored twice, Erickson completed Denver's fourth hat trick of the day and Johnny Marrocco got on the scoresheet for the second time this season.
Fourth Quarter:
Logan Devereaux and Michael Lampert got their first goals in a Denver uniform in the fourth quarter, both unassisted.
Significant Stats:
–          Denver improved to 104-21 at Peter Barton Lacrosse Stadium, including 73-12 under head coach Bill Tierney.
–          Jackson Morrill increased the nation's leading point streak to 63 games.
–          Denver had 13 different players score, tied for the second-most under offensive coordinator Matt Brown. The Pioneers reached double digit goal scorers for the 19th time in Brown's tenure.
–          Denver had five different players score multiple goals on Saturday, the 17th time since the start of the 2014 season.
–          Denver had four players record hat tricks, the 23rd time since the start of the 2014 season Denver has had 3+ players record a hat trick in the same game.
–          The Pioneers student-athletes combined for 41 points on Saturday (23 goals, 18 assists), breaking the previous school record by five.
–          18 – Most assists as a team in a game in the Pioneers DI history, breaking the previous record by four.
–          Most goals in a game since scoring 23 against Sienna on March 3, 2003.
–          Scored 23 goals on 48 shots (47.9%)
–          Denver's nine goal second quarter was its most in a quarter since scoring nine in both the first and second quarter at Villanova on April 6, 2018.
Up Next: The University of Denver men's lacrosse team, presented by Your Front Range Toyota Stores, will hit the road next Saturday to take on St. John's. Faceoff is set for 10 a.m. MT.