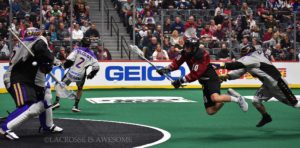 Justin Ivey
Correspondent New England Black Wolves
Lacrosse is Awesome©
The New England Black Wolves received everything on their wish list in the 2020 NLL Entry Draft.  "You're always taking care of the here and the now and the future.  The challenge is trying to balance the two.  We thought it lined up very well for us.  To be honest we couldn't be happier.  We got Ruest and Kitchen and that's really what we wanted out of this draft," said General Manger and Head Coach Glenn Clark.
New England did not have a first round pick in this year's draft.  It was traded back in 2017 for Georgia's seventh overall pick in the 2017 Entry Draft.  That pick turned into Colton Watkinson, one of the most electrifying transition players in the league already.
In the second round, New England got busy.  With the 18th overall pick, they packaged a trade together with the Colorado Mammoth.  Giving away the 18th and 33rd pick, the Black Wolves received Jacob Ruest and the 24th pick.  Clark was thrilled.  "Ruest was massive for us.  He is someone we have been after for a while, but the price has always been fairly high."  Ruest was selected in the fourth round (35th overall) in the 2015 Entry Draft and has spent the last four seasons with the Mammoth.  The right-handed forward will help fill a hole on the right side left by the departure of Callum Crawford in free agency.  In 67 games, Ruest has 188 total points with 73 goals and 115 assists.
The war room took a bit of time to make the trade happen.  The delay had to be because they wanted to make sure they could still select the prospect they had their eye on the whole time, Charlie Kitchen.  "We really wanted Kitchen and we really think he is going to be a good NLL player," said Clark.  He was still available when the 24th pick came and now joins Coach Clark on another lacrosse team.  Last season, Kitchen saw the turf in 17 games for the Toronto Beaches in the Ontario Jr. A Lacrosse League where Clark is the head coach.  He tallied 41 total points on 20 goals and 21 assists.  Kitchen has been a Delaware University Blue Hen for three (and one partial) seasons.  In his collegiate career he has tallied 184 points on 118 goals and 66 assists.  Kitchen is not expected to be available to play this season after declaring he will be returning to college for a fifth year of eligibility granted by the NCAA due to COVID-19.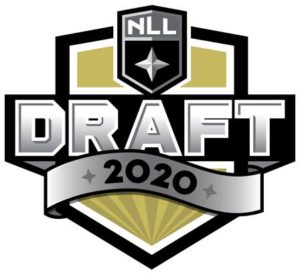 New England went with two American field players for their next picks.  With pick 41 they selected Michael Sowers from Princeton University, and at 65 they selected Grant Ament.  Sowers will be returning to college next year as well but will play his fifth year of eligibility at Duke University.  His time at Princeton was special and he finishes his career as the leading scorer with 302 points.  His 181 assists also sits atop the school's record books while his 121 goals is tied for fifth.  In Division I history, Sowers is second all-time in career points per game with 6.43.  The Dresher, PA native could be an intriguing player in the indoor game.  Ament played collegiately at Penn State University, but most recently completed his first professional season with the Archers of the Premier Lacrosse League where he was the first overall pick in their Entry Draft.  In the shortened PLL season, Ament scored six goals and slung 14 assists.  His vision and precision on the field were on full display alongside veterans of the game.  At Penn State he set new school and Big Ten records with 274 points and 183 assists.  Ament, if he chooses to see if his skills transition to indoor lacrosse, will be available this year.
With the 80th pick, New England selected Nick Ellerton from Boston University.  Ellerton is a Toronto, ON native who has been a caused turnover machine for the Terriers defense.  He also has box experience with the Toronto Beaches.  Ellerton is the first player ever to be drafted to the NLL from BU and will return to college for a fifth year.  With their final pick, the 93rd overall selection, the Black Wolves selected Jeremy Bomberry from the Six Nations Arrows, a Junior A box lacrosse team from Oshweken, ON.  Last season, Bomberry tallied 50 points on 19 goals and 31 assists in 18 games.
Justin Ivey, Correspondent New England Black Wolves
Lacrosse is Awesome©