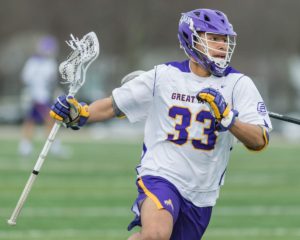 Di Miller, Correspondent Colorado Mammoth
Lacrosse is Awesome©
The Colorado Mammoth had probably one of the biggest changes from what their original draft picture looked like prior to the start of this year's NLL Entry Draft to what it ended up becoming.  Originally the Mammoth were not inline to make their first pick until the Second Round and 22nd overall.  However they would put together a trade with the New England Black Wolves and receive the 18th and 33rd overall selections in the draft in exchange for the 24th selection and unfortunately for Colorado they would also trade fan fave Jacob "The Rooster" Ruest.   And that was just the start of it, as they would end the night with 11 draft picks in total.
With that first pick, they would select Ron John from the University of Albany.  John has played 38 games for the Great Danes putting up 38 points (15g, 18a) with four games during the 2020 season where he notched 5g and 4a.  He's also played with the Six Nations Arrows in 2017 winning a Minto Cup; and a bronze medal at the 2018 World Field Lacrosse Championships in Netanya, Israel.
Mammoth GM Brad Self had this to say about John "Ron's athleticism and lacrosse IQ really resonated with our coaching staff and he was a guy who we had high on our draft boards – so, when the opportunity to select him at 18 presented itself, we chose to execute a trade to make that happen," Self shared. "He'll be returning to school next season, where we hope he'll continue to demonstrate his ability to contribute on the offensive end, while staying sound defensively."
With their second pick and 22nd overall, Colorado would draft Forward Brett McIntyre from Calgary, AB.  At only 5'8" McIntyre has put up an impressive point tally where he's scored at least 58 goals and has 103 points with the Okotoks Raiders in the Rocky Mountain Lacrosse League and his 416 points are the most points tallied by a player in the RMLL.  He was a 2018 RMLL Jr A 1st All Star Team; in 34 games played during his NCAA career, he's got a 78.3 SOG%; and 45 points (39g, 6a); and he will return to UMBC for the 2020-21 season which was cancelled due to the Pandemic.
The next six picks for the Mammoth would be defensemen.  Their 28th overall pick was Ottawa, ON native Jordan Trottier.  The 6'4" 215lb. defenseman played at the Rochester Institute of Technology and declared early for the NLL Entry Draft.  In 2018 he won a gold medal while playing for the Canadian's during the 2018 World Junior Lacrosse Championship in Saskatchewan.  During 2019 he played for the New Westminster Salmonbellies and notched six points (4g, 2a).  He's a big guy with the potential to add some much needed size to the Mammoth defense. Trottier graduates from RIT this spring and will not be heading back to school to play an extra season.
Colorado's fourth pick on the evening and 31st overall was Jalen Chaster, from Coquitlam, BC.  Chaster is relatively new to the lacrosse scene having started his career with the Coquitlam Adanacs in the BCLA Jr A league between 2017 and 2019. During that time he notched a total of 66 points (18g, 44a) in 49 games played.  In 2018 and 2019 he played in 28 playoff games scoring 15 goals and 19 assists.  He seems to have a great lacrosse IQ and maturity level and obviously the Mammoth saw something in the young 22 year old taking him so high in the draft.  He'll get his chance to shine during training camp this fall and we'll see if he has what it takes to make it in the big leagues.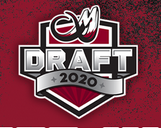 The Mammoth would have one more pick in the second round and they'd continue to add on to their defensive unit in an attempt to add size and depth.  With their 33rd overall selection, they chose Tyler Sceviour a Calgary, AB native.  Sceviour was the second product coming off the Ruest trade with New England.  The 23 yr. old stands at 6'0" and at 170 lbs. adding more size to the defense.  Sceviour also played with the Okotoks Raiders with Brett McIntyre; Colorado's 2nd Draft Pick and was named the RMLL's Defensive Player of the Year in 2018.  Not to mention that he also played four years at the Rochester Institute of Technology with another Mammoth draft pick Jordan Trottier.   It seems that with this pick, there would definitely be some consistency with the defensive line having three teammates who have played together for several years prior to playing at the professional level.
Colorado would start the third round with three picks and the first would be 40th overall.  They'd choose Curtis Conley a 5'10" 195 Ottawa, ON native.  Another defensemen who many thought would go much higher in the draft and at least earlier in the second round.  Conley has been in the game since 2015 while playing the Ontario Lacrosse Associate Jr. A and Jr. B leagues; and the Arena Lacrosse League.  In 24 games during three ALL seasons, he's got 8 goals and 8 assists and unlike many of the younger players, he's got experience playing against the veteran players which could mean he's ready to play at the pro level.  Some say he's improved much while with the Whitby Seahawks and is one of the best defenders in the Canadian University Field Lacrosse Association, but does this mean he's ready for the next level?
With another pick in the third round, the Mammoth would select Pat Aslanian as their 42nd pick.  The 6'2", 205 lb. Westfield, NJ native recently graduated from Georgetown in 2019 and started his professional career with the Denver Outlaws where played with his brother Chris and Mammoth Forward Ryan Lee.  During his senior year at Georgetown in 2019, Pat was credited with 26 caused turnovers while collecting 29 ground balls on the season.  In 2020 he became a Grad Student at Notre Dame and played in all five games for the Irish at the SSDM position before the season was cut short.
The final third round pick for Colorado came at #52 and they would select one of the nation's best midfielders, a 6'3" 205 lb. defensemen by the name of Peter Dearth.  Peter was originally an offensive midfielder during his sophomore year in college and switched to a SSDM to help out his team with positional needs.  He's a two-time All-American and 2019 ALL-ACC Honoree and will be back at Syracuse for a fifth year of academics and lacrosse with the university.  In 2019 at Syracuse, he led all defensive players with six goals in 2019 and two in 2020.  He was elected as a two-time team captain by his teammates and could very well lead his team into next season as captain once more.  His skills on the field; his leadership capabilities; and his size are sure to be another plus for the Mammoth defense.
After having chosen six defensive players to bolster the defensive game, the Mammoth would turn the tables and with their first pick in the fourth and 58th pick overall, would select Nate Faccin a goal-tender from Maple Ridge, BC.  Nate stands at 6'1" and is 195 lbs.  In 2019, he was awarded the BCLA Jr. A Top Goalie Monty Leahy Award and was given the opportunity to be the starter for the Coquitlam Adanacs BC Jr A team in 2016 with the graduation of Christian Del Bianco.  He's helped them onto two Minto Cup championships since that time, one in 2016 and the next in 2018.  His save percentage in 2019 for the Adanacs during the regular season was .849% and in the playoffs was a stellar .804%.  He'll have a chance to show off that talent in between the pipes during training camp this fall.
Colorado would have two picks remaining and used those to grab a pair of forwards.
With their final pick in the fourth and 66th overall, Colorado would select forward Jared Bernhardt from the University of Maryland. Bernhardt stands at 6'1" and 195 lbs.  He's got a strong lacrosse background with both brothers Jake and Jesse who play professional lacrosse in the MLL and PLL; while Jake is currently an assistant coach for the Vermont Men's Lacrosse team.  Jared has many accolades of his own.  He's a 2020 Big Ten Medal of Honor Recipient; a 2020 Honorable Mention Inside Lacrosse Media All-American; Three-time USILA All-American (2019, 2018, 2017); Two-time All-Big Ten (2019, 2018); 2019 Tewaaraton Award Finalist; and the list goes on.  During his NCAA career, he's racked up 191 points, (131g, 60a) and had 45 multi-point games.  He should definitely fit in well with some of the high scoring talent on the Mammoth roster.
Last but not least, with the final selection in the fifth round at #86 overall, the Mammoth would select forward Sam LeClair.  He's still a freshman at Brock University so we're not sure how this will all play out in the grand scheme of things, but obviously Colorado has a plan.  Sam does have some good stats in his junior career.   His best season was with the Ontario Lacrosse Associates in 2019 with the St. Catharines Spartans Jr. B team where he played in 17 games, notching 79 points (38g, 41a).  He was also a member of the 2019 World Junior Lacrosse Championship Team Canada squad when they won a gold medal.
It took a lot of work for the staff and scouts to put together what it took to make this happen.  The NLL; the players; teams and media had their work cut out for themselves.
As far as what I think the Mammoth have done with their picks?  They have definitely picked up a lot of defensive guys and big ones at that.  Something they have lacked in the past.  When you look at the other teams on the floor, Colorado always had the smaller guys and if these rookies pan out it will definitely make a difference.  On the other hand, we lost a huge offensive player in Jacob Ruest and the Mammoth front office has been criticized over the years for trading away our offensive powerhouses.
With the Pandemic, who knows what will come of the 2020-21 season.  The teams cannot sustain themselves without fans in the arenas.  So how do you work around that?  How do you train the players and get them to work together as a team when you can't have the weekly practices prior to the games?  This is new and uncharted territory.  Will there be training camp this fall?  So many questions yet so few answers.
Di Miller, Correspondent Colorado Mammoth
Lacrosse is Awesome©