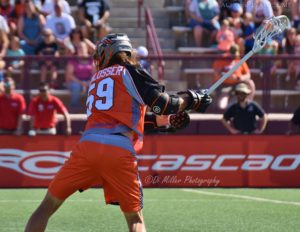 [MEDIA RELEASE]

Featured Image Photo Credit:  Di Miller
Denver – Major League Lacrosse has announced its 2020, 20th Anniversary schedule. The season, beginning July 18th, will be played entirely in the city of Annapolis, Maryland at the Naval Academy. The season will be one-week long and will host all six MLL teams. The week will conclude with a final-four playoff, crowning the 2020 MLL champion the weekend of July 25-26. The Major League Lacrosse season will be broadcast nationally on the ESPN family of networks and ESPN+.
MLL, under the guidance of a team of medical professionals from all six MLL markets, has developed a comprehensive strategy to ensure the health and safety of the players, staff and all personnel onsite for the 2020 season. MLL has established a COVID Safety Protocol Officer to oversee the adherence and execution of the safety plan. Additionally, MLL is working closely with their partner, Cascade, to offer players access to their newly developed Face Shield, a completely clear, physical barrier designed specifically for SEI-Certified Cascade Helmets.
This will the Outlaws fifteenth season. In the last 14 years, the Outlaws have played in the championship game a league-record nine (9) times. They have made the playoffs 13 of the last 14 years and have won 67% of their games. Matt Bocklet took over as the Outlaws' team president in 2020 after an illustrious career, playing and working in the front office. After a narrow loss in the Championship last season to the Chesapeake Bayhawks, the Outlaws are eager for the return of play and to bring the Steinfeld Trophy home to the Mile-High city.
Below is the updated Denver Outlaws 2020 season schedule:
| | | | | | |
| --- | --- | --- | --- | --- | --- |
| | DOW | Date | Away Team | | Home Team |
| Regular Season | Saturday | 7/18/2020 | Connecticut Hammerheads | @ | Denver Outlaws |
| | | | | | |
| Regular Season | Sunday | 7/19/2020 | Denver Outlaws | @ | Philadelphia Barrage |
| | | | | | |
| Regular Season | Tuesday | | Denver Outlaws | @ | New York Lizards |
| | | | | | |
| Regular Season | Wednesday | 7/22/2020 | Chesapeake Bayhawks | @ | Denver Outlaws |
| | | | | | |
| Regular Season | Friday | 7/24/2020 | Denver Outlaws | @ | Boston Cannons |
| | | | | | |
| Championship | Saturday | 7/25/2020 | Seed 4 | @ | Seed 1 |
| Championship | Saturday | 7/25/2020 | Seed 3 | @ | Seed 2 |
| | | | | | |
| Championship | Sunday | 7/26/2020 | Winner of Semi Final 2 | @ | Winner of Semi Final 1 |