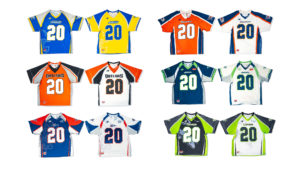 [MEDIA RELEASE]
Boston, MA, June 22, 2020 – Major League Lacrosse (MLL) unveiled today the first New Balance Shakedown Jerseys. These jerseys, inspired by NASA's heat shield protection on space shuttles, are the lightest, most advanced uniforms that New Balance will offer to athletes.
"Playing in 100-degree heat and 100% humidity, in Annapolis, in July can be brutal with a heavy jersey weighing you down," said Bayhawks goalie, Brian Phipps. "These jerseys breathe, they move with you and they weigh just a fraction of last year's jerseys. Playing with the Shakedown this year will make moving, clearing and surviving the heat, much easier."
Each of MLL's teams will have new home and away jerseys. The design process took into consideration the new fabric and sublimation process. Designs were created in partnership between the teams, New Balance and MLL. Unique designs can be observed for each team. Philadelphia payed homage to the Barrage teams of the past, New York included the Lizard mascot wrapping around their left side, the Outlaws chose a subtle sleeve, featuring the barbs rather than a logo while Connecticut proudly displays the new Hammerhead logo on each sleeve. The sublimation allowed teams like Boston to include their uniform sponsor, Suffolk Construction, seamlessly into the design.
The Shakedown jersey and NEW patented Trizar fabric, not yet released, is debuted for the first time in history with Major League Lacrosse. This technology features the science of emissivity, to wick moisture away from the skin to keep players cooler. Trizar fabric will not fade or wash out. This uniform, constructed from durable stretch-woven fabric, offers optimal thermal comfort to the wearer. It will roll out to athletes across many sports but will debut this summer with MLL.