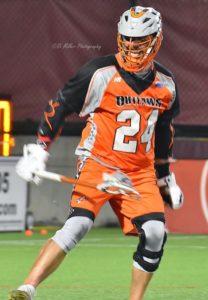 [MEDIA RELEASE]
Denver, CO – John Grant Jr. returns to Major League Lacrosse for the second year post-retirement.
He re-signs with the Denver Outlaws for the 2020 season. Grant Jr., 45, ranks first on the league's all-time scoring list (regular and postseason), breaking the previous record of 596 when he returned to the field last year. During the 2019 season with the Outlaws, Grant Jr. played in 14 games, accumulated 21 goals and 39 points, finishing third in points on the team and helping the Outlaws reach their fifth straight championship appearance.
"We're fired up to have Junior back in an Outlaws' uniform," says Outlaws GM, Jon Cohen. "Anytime you can say you're going to have the greatest lacrosse player of all time playing in the lineup it's exciting. Junior is a proven leader that's played in several world games and gets the format for this season."
A native of Peterborough, Ontario, Grant Jr. will play in his fifth season with Denver (2014-16, 2019-20). Grant Jr. also played for the Rattlers (2001, '05-08), Nationals (2009-11), Lizards (2011), Bayhawks (2012-13) and Machine (2016). Grant Jr. also played 17 seasons in the National Lacrosse League where he was a two-time league MVP and nine-time All-NLL selection. He played for the Colorado Mammoth from 2010-16 and is the team's all-time leader in goals (235).
The 6-2, 220-pound attackman was named MLL's Most Valuable Player in 2007 and '08 and won five MLL Championships with four
different teams (Rattlers, 2008; Nationals, 2009; Bayhawks, 2012-13; Outlaws, 2014). Grant Jr. has also earned three World Indoor
Lacrosse gold medals (2003, '07, '11), as well as two silvers and two golds in World Lacrosse Championships (1998, '02, '06, '10).
Grant Jr. announced his intentions to retire on April 19, 2017 and served as the Outlaws' offensive coordinator for the 2017 and '18
seasons, contributing to the team's third championship victory in 2018 as a coach. Grant Jr. will continue to coordinate the Outlaws'
offense in 2020 as a Player-Coach, along with head coach, Tony Seaman, and defensive coordinator, Ken Clausen.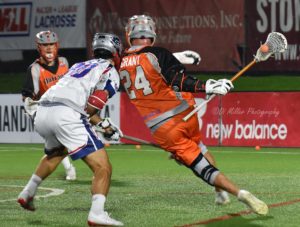 On May 11, 2020, Grant Jr. was also named the offensive coordinator for Johns Hopkins men's lacrosse team. He joins defensive coordinator, Jamison Koesterer, as the new coaching staff assembled by head coach, Peter Milliman.
Grant Jr. was named the no. 1 All-Time Player in Major League Lacrosse by USLacrosse Magazine contributor, Phil Shore, on May 29, 2020. The rankings were compiled in celebration of the twentieth anniversary of Major League Lacrosse, with the top 20 players of all time. Grant Jr. is the league's most tenured player, there during the league's inaugural season in 2001.
Outlaws President Matt Bocklet states, "The Outlaws are thrilled to have John Grant Jr back on the field as a player and coach for the 2020 season. Jr is not only the greatest player in our league's history, he is also the greatest professional lacrosse player of all time. Last summer he proved to the world that hard work and determination means more than age, and this summer will be no
different. Jr will do what he does best and that's lead our team to another championship."