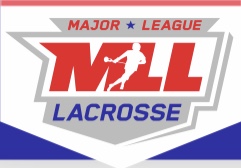 [MEDIA RELEASE]
Boston, MA – Major League Lacrosse (MLL) announced the 2020, 20th Anniversary, schedule last week. Today, the teams of Major League Lacrosse announced their rosters.
The rosters will include a 25-man active roster. This will allow Major League Lacrosse teams to carry one of the largest rosters in MLL history. With a grueling schedule of games, teams will need the additional legs and endurance. The 25-man roster will be a set roster for the 2020, 20th Anniversary season. Should a member of the 25-man roster test positive for COVID, the team may activate one of their five reserve players.
This season, beginning July 18th, will be played entirely in the city of Annapolis, Maryland. The season will be one-week long and will host all six MLL teams. The week will conclude with a final-four playoff, crowning the 2020 MLL champion the weekend of July 25-26. The Major League Lacrosse season will air on the ESPN Networks and ESPN+.
At the end of the rosters you will find the schedule for Day One Saturday July 18,2020; the Semi-Finals on July 25, 2020; and the Championship Games on Sunday July 26, 2020.
| | | | |
| --- | --- | --- | --- |
| Name | Last Name | Team | Position |
| Frank | Brown | Boston | Midfield |
| Mark | Cockerton | Boston | Attack |
| Bryan | Cole | Boston | Midfield |
| Scott | Corcoran | Boston | LSM |
| Cal | Dearth | Boston | Midfield |
| Nate | Farrell | Boston | Faceoff |
| Charlie | Ford | Boston | Defense |
| Matt | Gilray | Boston | LSM |
| Zach | Goodrich | Boston | SSDM |
| Scott | Hooper | Boston | Defense |
| Kyle | Jackson | Boston | Midfield |
| Dom | Madonna | Boston | Goalie |
| Nick | Marrocco | Boston | Goalie |
| Justin | Pugal | Boston | Defense |
| Kevin | Reisman | Boston | Faceoff |
| Challen | Rogers | Boston | Midfield |
| Mike | Skudin | Boston | Defense |
| Ben | Spencer | Boston | Midfield |
| Randy | Staats | Boston | Attack |
| John | Uppgren | Boston | Attack |
| Bryce | Wasserman | Boston | Attack |
| Kyle | Weber | Boston | Midfield |
| John | Yozzo-Scaperrotta | Boston | SSDM |
| Jason | Brewster | Boston | Defense |
| Tim | Edwards | Boston | Midfield |
| Luke | Anderson | Chesapeake | SSDM |
| Brendan | Bomberry | Chesapeake | Midfield |
| Nick | Chaykowsky | Chesapeake | Midfield |
| CJ | Costabile | Chesapeake | Defense |
| Callum | Crawford | Chesapeake | Midfield |
| Greg | Danseglio | Chesapeake | Defense |
| Isaiah | Davis-Allen | Chesapeake | Midfield |
| Holden | Garlent | Chesapeake | Defense |
| Colin | Heacock | Chesapeake | Attack |
| Warren | Jeffrey | Chesapeake | Defense |
| Ryan | Keenan | Chesapeake | Midfield |
| Andrew | Kew | Chesapeake | Attack |
| Chase | Levesque | Chesapeake | LSM |
| Sam | Lucchesi | Chesapeake | Goalie |
| Grant | Maloof | Chesapeake | Midfield |
| Nick | Manis | Chesapeake | Midfield |
| Nick | Mariano | Chesapeake | Midfield |
| Zack | Melillo | Chesapeake | Faceoff |
| Jon | Paige | Chesapeake | Faceoff |
| Brian | Phipps | Chesapeake | Goalie |
| Shane | Simpson | Chesapeake | Midfield |
| Nate | Solomon | Chesapeake | Attack |
| Leo | Stouros | Chesapeake | Defense |
| Lyle | Thompson | Chesapeake | Attack |
| Will | Weitzel | Chesapeake | LSM |
| Kris | Alleyne | Connecticut | Goalie |
| Ryan | Beville | Connecticut | Midfield |
| Kyle | Buchanan | Connecticut | Midfield |
| Brendan | Collins | Connecticut | Midfield |
| Matt | Farrell | Connecticut | Defense |
| Andrew | Helmer | Connecticut | LSM |
| Landon | Kramer | Connecticut | Defense |
| Michael | Kraus | Connecticut | Attack |
| Hayden | La Vangie | Connecticut | LSM |
| Dan | Lomas | Connecticut | Attack |
| Ben | Martin | Connecticut | Attack |
| Ryan | McNamara | Connecticut | Attack |
| Robert | Mooney | Connecticut | Defense |
| Adam | Osika | Connecticut | Midfield |
| Cody | Radziewicz | Connecticut | Midfield |
| Noah | Rak | Connecticut | Faceoff |
| Will | Renz | Connecticut | SSDM |
| Will | Sands | Connecticut | Attack |
| Gunnar | Schimoler | Connecticut | Defense |
| Justin | Schwenk | Connecticut | Faceoff |
| Sean | Sconone | Connecticut | Goalie |
| Trevor | Smyth | Connecticut | LSM |
| Bradley | Voigt | Connecticut | Attack |
| Greg | Weyl | Connecticut | Defense |
| Luke | Wittenberg | Connecticut | Midfield |
| Max | Adler | Denver | Faceoff |
| Pat | Aslanian | Denver | SSDM |
| Christopher | Aslanian | Denver | Attack |
| Brian | Begley | Denver | SSDM |
| Daniel | Bucaro | Denver | Attack |
| James | Burr | Denver | Attack |
| Chase | Caruso | Denver | LSM |
| Casey | Dowd | Denver | Faceoff |
| John | Grant | Denver | Attack |
| Charlie | Hayes | Denver | SSDM |
| Colton | Jackson | Denver | Midfield |
| Jack | Jasinski | Denver | Midfield |
| Dylan | Jinks | Denver | Attack |
| Christian | Knight | Denver | Goalie |
| Brian | Kormondy | Denver | Midfield |
| Ryan | Lee | Denver | Attack |
| Sean | Mayle | Denver | LSM |
| Garrett | Michaeli | Denver | Defense |
| Andrew | Newbold | Denver | Defense |
| Kyle | Pless | Denver | Defense |
| Michael | Rexrode | Denver | Defense |
| Mikie | Schlosser | Denver | Midfield |
| Will | Snider | Denver | Midfield |
| Taylor | Stuart | Denver | LSM |
| Nick | Washuta | Denver | Goalie |
| Mark | Andrejack | New York | Faceoff |
| Nick | Aponte | New York | Midfield |
| Andrew | Bracy | New York | Faceoff |
| Colin | Burke | New York | Midfield |
| Jack | Carrigan | New York | Defense |
| Brian | Corrigan | New York | Goalie |
| Decker | Curran | New York | Midfield |
| Danny | Dolan | New York | Goalie |
| Bobby | Duvnjak | New York | Defense |
| Mark | Ellis | New York | SSDM |
| Nicky | Galasso | New York | Midfield |
| Austin | Kaut | New York | Goalie |
| Brendan | Kearns | New York | Attack |
| Mike | Mayer | New York | Defense |
| Dylan | Molloy | New York | Attack |
| Sean | O'Brien | New York | Midfield |
| Thomas | O'Connell | New York | SSDM |
| Connor | O'Hara | New York | Attack |
| Andrew | Pettit | New York | Attack |
| Ben | Randall | New York | Defense |
| Justin | Reh | New York | Midfield |
| Steven | Romano | New York | SSDM |
| Alex | Spring | New York | LSM |
| Peter | Welch | New York | LSM |
| Tommy | Wright | New York | LSM |
| Tim | Barber | Philadelphia | Midfield |
| Eddie | Bouhall | Philadelphia | Defense |
| Liam | Byrnes | Philadelphia | Defense |
| Brett | Craig | Philadelphia | LSM |
| Shane | Doss | Philadelphia | Goalie |
| Mark | Evanchick | Philadelphia | Defense |
| Kevin | Fox | Philadelphia | Defense |
| Tyson | Gibson | Philadelphia | Midfield |
| Shayne | Jackson | Philadelphia | Attack |
| Anthony | Joaquim | Philadelphia | Midfield |
| Ryan | MacSpadyen | Philadelphia | Midfield |
| Christopher | Madalon | Philadelphia | Goalie |
| Kyle | Marr | Philadelphia | Attack |
| Mark | Matthews | Philadelphia | Attack |
| Jon | Mazza | Philadelphia | Midfield |
| Carlson | Milikin | Philadelphia | SSDM |
| Colin | Minicus | Philadelphia | Attack |
| Will | Nowesnick | Philadelphia | Defense |
| Tommy | Palasek | Philadelphia | Attack |
| PT | Ricci | Philadelphia | Defense |
| Brendan | Sunday | Philadelphia | Attack |
| Chad | Toliver | Philadelphia | SSDM |
| Matthew | Whitcher | Philadelphia | Midfield |
| James | Wittmeyer | Philadelphia | Attack |
| Alex | Woodall | Philadelphia | Faceoff |