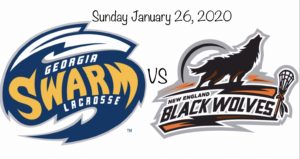 [MEDIA RELEASE]

Featured Image Photo Credit:  Justin Ivey
UNCASVILLE, CT. (January 24, 2020) – The New England Black Wolves will welcome the Georgia Swarm for Sunday Funday at Mohegan Sun Arena on Jan. 26 for a 1pm matchup. In honor of ​Black Wolves mascot Hunter's birthday celebration, mascots from around the region will be on hand, and as part of a season-long Sunday special, kids are invited to come on the field after the game to take a shot on goal. Fans can also enjoy $2 hot dogs.
History: Sunday's contest will mark the 15th all-time regular season matchup between the Black Wolves and Swarm since the team's relocation to Georgia. Georgia currently holds an 8-6 advantage over New England.
New England: After an exhilarating 8-7 overtime victory against the Philadelphia Wings last Saturday, the Black Wolves remain unbeaten with a 4-0 record. The Black Wolves sit atop the East Division with a perfect 4-0 record. Saturday's contest was the first time the Pack has seen overtime since 2018 when they defeated the Calgary 13-12 at home.
Offense: Through four contests, Callum Crawford continues to lead New England in the top three offensive categories. The veteran has 30 points on 14 goals and 16 assists, including four power play goals and the game winning goal against the Wings. In addition to Crawford, Reilly O'Connor and Joe Resetarits have been finding the back of the net this season. Both forwards have scored nine and eight goals, respectively. Rookie Andrew Kew and Stephan Leblanc have also been key in helping set up fellow Black Wolves at the net, dishing out 13 assists apiece so far.
Defense: A core group of defenders and key transition players have helped anchor the Black Wolves. Tony Malcom and Colton Watkinson have been essential in the Pack's transition. Malcom has picked up a team-high 37 loose balls and has added two goals and four assists, including an important goal in the win over Philadelphia. Captain Brett Manney continues to control the tempo on the backend alongside primary defenders like Nick Chaykowsky and Mack Mitchell who have a combined 32 loose balls and seven caused turnovers. Greg Downing, now back in the line-up after missing the first two games, and Creighton Reid also help bring experience to the Pack's core group of defenders.
On the faceoff X, Joe Nardella carries much versatility. Nardella has the ability to win faceoffs, holding a 55% success rate, which allows New England to have the ball in its possession, as well as pick up loose balls (23) and cause opponents to turn the ball over.
A constant staple for the Black Wolves has been Doug Jamieson in the net. Off to the best start in his career, Jamieson has seen action in all four games and tallied 171 saves and has a save percentage of .834.
Georgia: The Swarm arrive to Mohegan Sun Arena looking to turn their three-game losing streak around. Georgia (2-3) is coming off a 13-12 loss to the New York Riptide.
Leading the Swarm early this season is Shayne Jackson and Lyle Thompson. Jackson holds the top spot on the team with 15 goals, 15 assists and 30 total points. He also shares the No. 1 spot in the league in goals with Rob Hellyer of Toronto. Thompson is three points behind Jackson with 13 goals and 14 assists. Randy Staats and Jordan Hall are also heavily contributing to Georgia's offense. Staats has had a hand in a team-high 26 goals while Hall follows with 19 assists. Both men have also added in four goals apiece.
Defensively, Joel White, Chad Tutton and Jordan MacIntosh have been the most lethal for opposing teams. White has caused a team-high seven turnovers while Tutton and MacIntosh have caused five, respectively. MacIntosh also stands as one of the primary faceoff specialists for the Swarm. In 67 attempts on the X, he has come away with the ball 25 times. Connor Sellars and Kason Tarbell have also attempted a combined 62 total faceoffs for Georiga. Sellars also leads the team with 33 loose balls while on defense.
Mike Poulin stands in the net for the Swarm and has seen action in all five of his team's contests this season. In 293 minutes, Poulin has tallied 186 saves for a .788 save percentage. He is ranked sixth among goalies in the league who have also seen action in five games.