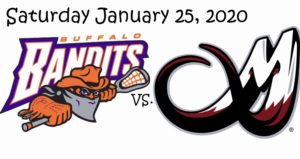 [MEDIA RELEASE]
Featured Image Photo Credit:  Di Miller
LOOKING BACK: Colorado finished last weekend's back-to-back series with a 12-6 victory over the Saskatchewan Rush Jan. 18 after dropping a 7-5 decision to Vancouver Jan. 17 to open the trip. Despite spotting Saskatchewan an early 3-0 lead, the Mammoth limited the Rush to scoring three goals for the rest of the contest and logged five-consecutive tallies in the second quarter. Colorado went on to outscore Saskatchewan 5-2 in the second half, including a three-goal run in the fourth quarter. Eli McLaughlin (3g, 4a) and Ryan Lee (1g, 6a) led the Mammoth in scoring with seven points each, while Chris Wardle logged five tallies (5g, 0a) in the contest. Dillon Ward picked up his fourth win of the season by stopping 53-of-59 Saskatchewan shots.
EARLY AND OFTEN: Colorado heads into Saturday's contest as one of three NLL teams to have completed seven games. On the opposite end of the spectrum, Buffalo enters Saturday's matchup as one of three teams to have logged only four games this season through the league's first eight weeks. Following last weekend's double-header on the road, the Mammoth have played five of its first seven games away from the Pepsi Center. After hosting the Saskatchewan Rush Nov. 29 as the league's season-opening game, Colorado spent five weeks away from Pepsi Center, logging its next game Dec. 21 in Calgary and traveling to Georgia Dec. 28 before returning home for a Jan. 4 victory over Vancouver at the Loud House. After securing a win in its most recent matchup in Saskatchewan, the Mammoth will host the Buffalo Bandits Jan. 25 for its Beach Party at the Loud House. Following this weekend's sandy soiree, the Mammoth will visit Orleans Arena in Las Vegas for a Feb. 1 date with the San Diego Seals during the first professional lacrosse game to take place in Sin City before heading north to face Saskatchewan again Feb. 8. Colorado will close out the season hosting six-of-eight remaining games, providing several opportunities for Mam-moth fans to get the Loud House rocking during the stretch run as the team makes a push for playoffs.
DOWN ON THE FARM: Colorado's second-round selection (31st overall) in the 2019 NLL Entry Draft, Jake McNabb, continues to turn heads in the Arena Lacrosse League after posting 27 points in his first three contests with the Oshawa Outlaws. The 5-11, 160-pound 23-year-old has exerted his dominance on the competition thus far and has rapidly climbed the league's ranks despite only logging three games. The forward's 27 points (13g, 14a) rank tied for second overall, while his 13 goals rank first. McNabb's 14 assists are also good for fourth place while his eight power-play goals rank first in the league. The Owen Sound, Ontario native posted an 11-point (6g, 5a) outing Dec. 28 against the Peterborough Timbermen and continues to provide elite scoring, ranking second in points and assists and first in goals for the Outlaws. The ALL rookie will travel with the Mammoth for the next two weekends as Colorado hosts Buffalo and then travels to Las Vegas Feb. 1 for the city's first professional la-crosse game. If Colorado's prospect can continue to average nine points per game while producing well-rounded performances, look for McNabb to earn a promotion from the practice roster and log some NLL experience before the season comes to an end.
CONSISTENCY IS KEY: The Mammoth continue to produce on both ends of the floor, executing a pass-first mentality and demonstrating unselfish play through the team's first seven contests. Consistent performances from forwards and defenders alike continue to fuel Colorado's transition game and special teams' success. While the Mammoth have enjoyed spreading the offensive workload, at least one Colorado player has produced a hat trick in five-of-seven contests this season, including three-plus goal performances by Jacob Ruest (3g, 2a) Nov. 29, Jacob Ruest (5g, 2a) Dec. 28, Joey Cupido (3g, 2a) Jan. 4, Ryan Lee (3g, 2a) Jan. 11 and most recently Chris Wardle (5g) and Eli McLaughlin (3g, 4a), as each forward accomplished the feat Jan. 18 against Saskatchewan. Several Mammoth players continue to contribute points each game, as seven forwards currently hold active point streaks to start the season: Ryan Lee: (3-3-8-3-5-2-7), Jacob Ruest: (5-2-7-1-2-1-1), Chris Wardle: (2-3-6-2-4-2-5), Kyle Killen: (2-3-3-1-3-3), Eli McLaughlin: (5-4-4-3-7), Jeff Wittig: (1-1-3-2-1) and Will Malcom: (3-3-2-1-1). On the flip side, defenders and transition players continue to rack up stellar loose ball counts, with the following consistently leading the scooping charge thus far: Robert Hope: (11-12-5-6-6-6-10), Tim Edwards: (8-6-5-4-5-5-1), Jordan Gilles: (4-4-7-8-2-8-9), Jo-ey Cupido: (4-6-4-1-6-3-9) and John Lintz: (4-4-3-7-2-1-4).
(SPECIAL) TEAM EFFORT: After logging 12 goals on 47 shots last weekend against Saskatchewan, Colorado continues to bal-ance a comfortable amount of shots on goal with a steady, physical defensive presence. Following a two-for-four power-play conversion rate against the Rush, the Mammoth rank first in the league with 15 power-play goals and fifth in power-play percent-age (51.70%) through seven games. Facing a Buffalo unit that's surrendered 80 penalty minutes in four games, which is third most in the league, the Colorado power-play unit will look to stay hot against the Bandits' penalty-kill unit, which has stopped on-ly 52.40% of extra-man opportunities this season, ranking tenth overall. Comparatively, the Mammoth have stayed rather disci-plined, committing 80 penalty minutes over the course of seven games. Expect Colorado to establish its offensive presence early while continuing to lean on its veteran defensemen and elite goaltending combo against Buffalo. The Mammoth will look to take advantage of power-play opportunities while limiting penalties of its own and feeding the transition game whenever possible as Colorado hosts the Buffalo Bandits for its fan-favorite Beach Party at the Loud House Saturday.
TOMORROW TONIGHT: Tonight's matchup between the Colorado Mammoth and the Buffalo Bandits marks the 15th all-time regular season meeting between the teams and the only regular season matchup this year. After securing an impressive victory over the Divi-sion-leading Rush last weekend, the Mammoth are tied for first in the West with the Rush, having played two more games than Saskatchewan this season. Buffalo enters the contest in second place of the NLL's East Division following a 3-1 start, having dropped its only game so far to the 5-0 Halifax Thunderbirds. Fans can stream Saturday's matchup against Buffalo, as well as all Mammoth games, via Bleacher Report Live.
HEADING WEST: The Bandits picked up a 13-10 victory over the San Diego Seals to start its campaign before dropping a 15-10 decision to the Halifax Thunderbirds in its second contest. Buffalo bounced back with a pair of wins in its most recent contests, logging a 16-10 win over the Georgia Swarm and a scrappy 10-8 victory over the Toronto Rock last weekend. The Bandits cur-rently sit in second place of the NLL's North Division, one-and-a-half games back of the 5-0 Halifax Thunderbirds, who have de-feated both Colorado and Buffalo during its perfect start to the season.
BANDIT BOYS FOR LIFE: Buffalo has five forwards who have logged double-digit points through four contests, including: Dhane Smith (6g, 14a), Josh Byrne (10g, 7a), Chris Cloutier (9g, 7a), Corey Small (5g, 8a) and Chase Fraser (6g, 4a), who's logged 10 points in just two games this season. Smith leads the Bandits in points, assists, shots (66) and shots on goal (45) while Byrne paces Buffalo with 10 goals. The Bandits also feature a pair of transition players who continue to contribute on both ends of the floor in Ian MacKay (4g, 2a) and Matt Gilray (1g, 3a). MacKay has logged 20 loose balls and forced three caused turnovers, while Gilray has logged six caused turnovers and a team-high 26 loose balls. Mitch de Snoo (0g, 1a) and Steve Priolo (0g, 3a) have provided solid defensive efforts this season, as de Snoo's collected 26 loose balls and logged eight caused turno-vers. The defenseman's eight CTOs are good for sixth in the league overall and first among players with four games played. Seven-time NLL Goaltender of the Year Matt Vinc has performed well in Buffalo's first four games, posting a 3-1 record, 11.36 goals-allowed average and .808% save percentage. The veteran made 54-of-62 saves last week against Toronto to pick up his third win of the campaign.
WHAT TO WATCH FOR: While the Bandits don't currently roster any players ranked in the top 15 of any scoring categories, largely in part due to the team only logging four games this season, Brent Noseworthy (T3rd) and Mitch de Snoo (7th) both rank top 10 in the league with 17 and 15 penalty minutes, respectively. Buffalo will look to keep Fraser involved on the offensive end, who's posted a hat trick in both contests and averaged five points-per-game since returning from injury, including a four-point performance (3g, 1a) Jan. 18 and a six-point showing (3g, 3a) Jan. 11 against Georgia. After limiting some of the league's most explosive offensive threats through its first seven games, expect Colorado to key in on Smith and Fraser while forcing the Ban-dits to spread the floor and find the open man Saturday evening.
2018-19 REGULAR SEASON MATCHUP RECAP: Buffalo posted a 15-12 victory over the Mammoth last season during the Bandits' season-long six-game win streak en route to the team's championship appearance as the result of the lone regular sea-son matchup between the two franchises. Dhane Smith led Buffalo in scoring with eight points (3g, 5a) Chase Fraser notched three goals. Veteran netminder Matt Vinc stopped 45-of-57 to secure the win. Eli McLaughlin paced Colorado during the match-up with seven points (2g, 5a) while Kyle Killen logged a hat trick among five points (3g, 2a) as Ryan Lee registered five points himself (2g, 3a). Colorado converted on three-of-three power-play opportunities in the contest, an area they've found success in this season, and will look to take advantage on special teams opportunities this weekend.
2019-2020 COLORADO MAMMOTH NEWS/NOTES:
2018-19 REGULAR SEASON SERIES: 0-1
ALL-TIME REGULAR SEASON RECORD: 8-6
ALL-TIME REGULAR SEASON AT HOME: 4-1
ALL-TIME REGULAR SEASON RECORD AWAY: 4-5
LAST COL WIN VS. BUF: March 3, 2018 (8-7)
LAST BUF WIN VS. COL: Feb. 2, 2019 (15-12)