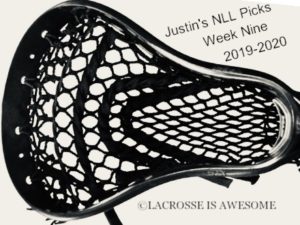 Justin Ivey, NLL Correspondent
Lacrosse is Awesome©
Standings:
Justin Ivey 25-10
Shawn Palmer 22-13
Stephonya Hunter-Penner 20-15
Chris Vale 18-17
Vancouver started off last weekend with a low scoring win over Colorado, setting the stage for an underdog weekend that saw both New York and Rochester get their first wins as franchises.  Philadelphia flexed their muscles, pushing New England to OT in a loss on Saturday, and then completely dismantling Rochester on Sunday.  Colorado rebounded from the loss with a big win against Saskatchewan to finish their double header weekend.  Back down to a reasonable schedule this week with five games.  I have taken first place and I don't plan on giving it up again!

New York Riptide (1-5) vs Philadelphia Wings (4-2)
Friday, January 24 at 7:00 PM EST
New York got the monkey off their back and won their first game as a franchise last week against Georgia.  They needed a miracle to come back from the deficit and did it.  Philadelphia has been been playing great lacrosse.  Their defense held the potent New England offense scoreless in the second quarter last weekend, and even though they lost, they only allowed eight goals total.  Their true dominance was seen in the blowout fight-night win on Sunday against Rochester.
My Pick:  Philadelphia
Stephonya Hunter-Penner: Philadelphia
Chris Vale: Philadelphia
Shawn Palmer: Philadelphia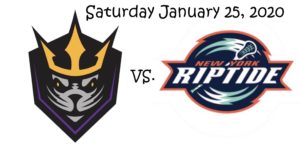 San Diego Seals (1-4) at New York Riptide (?-?)
Saturday, January 25 at 7:30 PM EST
Two struggling teams meet in the first game Saturday.  New York will be playing less than 24 hours after finishing up in Philadelphia, but San Diego does have to fly across the country for this one.  Where is the advantage here?  Tough to say.  New York should at least be in a rhythm after their game the night before and hopefully that momentum can get things started early.
My Pick:  New York
Stephonya Hunter-Penner: San Diego
Chris Vale: San Diego
Shawn Palmer: San Diego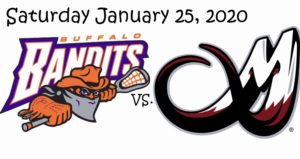 Buffalo Bandits (3-1) at Colorado Mammoth (4-3)
Saturday, January 25 at 9:30 PM EST
Playing at home has been a huge advantage for Colorado with their excited fan base, but this year they are only 1-1 at home.  Buffalo handled Toronto at home last week and are currently 1-0 on the road.  Jacob Ruest leads the Mammoth with 12 goals on the season but will face a tall task getting balls by Bandits goalie Matt Vinc.  The Bandits are one of only two teams that have only played four games so far this season and they finally seem like they are getting back to form.  This game will be close!
My Pick:  Buffalo
Stephonya Hunter-Penner: Colorado
Chris Vale: Colorado
Shawn Palmer: Colorado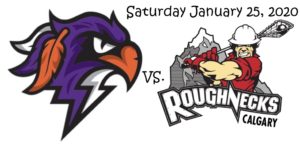 Halifax Thunderbirds (5-0) at Calgary Roughnecks (2-3)
Saturday, January 25 at 9:30 PM EST
Alterna Cup game alert!  Canada's teams are competing for a regular season champ this year.  This is the second game featuring two teams from Canada, and Calgary also played in the first, beating Vancouver earlier this season.  Recent acquisition Dereck Downs proved he still can put the ball in the net after an impressive rookie season with New England last year, scoring two goals last weekend for Calgary.  Halifax just looks like a well-oiled machine so far this year.  Strong defense, offense that can light the lamp when needed, and stellar goaltending play.
My Pick:  Halifax
Stephonya Hunter-Penner: Halifax
Chris Vale: Halifax
Shawn Palmer: Halifax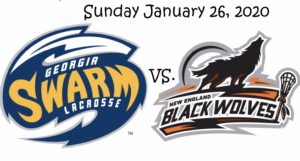 Georgia Swarm (2-3) at New England Black Wolves (4-0)
Saturday, January 18 at 7:00 PM EST
Callum Crawford is back to MVP form in New England, scoring his hat trick goal in OT to keep the Black Wolves undefeated last weekend.  Georgia fell apart in the fourth quarter against a then winless New York team and I'm sure they do not want to repeat that effort.  Mohegan Sun Arena has been rocking for home games and the team really feeds off it.  They will need it to be disruptive to hold the brothers Thompson in check, but they have confidence.
My Pick:  New England
Stephonya Hunter-Penner: New England
Chris Vale: New England
Shawn Palmer: New England