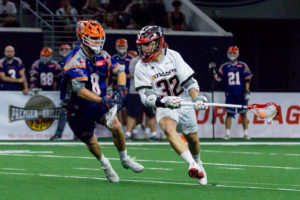 Tom Coyne, Correspondent Dallas Rattlers
Lacrosse is Awesome©
Featured Image Photo Credit: Pretty Instant
On Saturday September 7, the Dallas Rattlers (6-9) hosted the Atlanta Blaze (8-6) before 5,146 of their fans in the Ford Center at the Star in Frisco, TX.  This would be their final home game of the 2019 MLL season and a must win game for Dallas in order for them to stay in contention for the playoffs. Unfortunately for the Rattler's the Blaze would better them by a goal and secure their spot in the playoffs with a 15-14, victory over Dallas.
The Rattler's got off to a good start leading at the end of the first quarter 6-2. That's when Atlanta Head Coach Liam Banks pulled starting Goalie Christopher Madalon (10 SOG, 4SV, 6GA) and replaced him with back-up net-minder Max Edelmann (21 SOG, 13SV, 8GA).  The move proved to be the right decision for Banks.  He along with the Blaze's offensive rookie sensation, Christian Mazzone (2G) are both Long Island, NY natives as well as alumnus of Ward Melville High School, a perennial lacrosse powerhouse.
It was during the second and third quarters that the Rattlers would falter.  With the new goalkeeper in, Atlanta would outscore Dallas 10-3, scoring five goals in each the second and third; while only allowing Dallas a single goal in the second and just two in the third.
Dallas would score five goals in the final frame, to Atlanta's three, but it was too little too late, as the Blaze managed to hold on to the victory by a single point. Final Score:  Atlanta 15—Dallas 14.
It has been an interesting season for the Rattlers and their fans; and for the lacrosse community in general now that there are two professional field lacrosse leagues. It promises to keep on growing as the "Creator's" game is being played around the world at all levels, after all "Lacrosse is Awesome"!
With the loss Dallas has been mathematically eliminated from the playoffs; and the win has punched Atlanta's ticket to the semi-final round which will be played on Friday October 4 at the University of Denver's Peter Barton Lacrosse Stadium in Denver, CO. The MLL Championship game will be played on Sunday October 6, at Dick's Sporting Goods Park in Denver, CO at 1:00 p.m. EST.   The game will be televised on ESPN2.
NEXT UP:
The Atlanta Blaze (8-6) will host the Boston Cannons (8-6) on September 14, at Atlanta Silverbacks Park in Atlanta, GA. at 8:00 p.m. EST. It will be streamed on the Lax Sports Network www.laxsportsnetwork.com
The Dallas Rattlers (6-9) have a bye week and will play their final game of the season away on September 21, against the Boston Cannons (8-6) at Veterans Memorial Stadium in Quincy, MA, game time 5:00 p.m. EST and the game can be seen on www.watchstadium.com
Keep on Laxin'
Tom Coyne, Correspondent Dallas Rattlers
Lacrosse is Awesome©