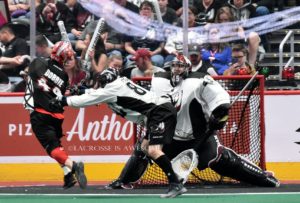 [MEDIA RELEASE]
Tuesday, September 10, 2019
Calgary, AB – The Calgary Roughnecks Lacrosse Club today announced they have re-signed 32-year-old forward Dane Dobbie to a two-year contract.
"I can't express how happy and excited I am to be back in Calgary for my 13th season," said Dobbie. "The Roughnecks are a fantastic organization and we have the best fans in the league. I am just thrilled that I get to put on the Roughnecks jersey for another two years."
The 2019 National Lacrosse League MVP has played all of his 13 NLL seasons with the Roughnecks. He joined the franchise in the 2007 NLL Entry Draft after being selected by Calgary in the first round, fourth overall. The Elora, Ontario product has amassed a franchise leading 866 points (418g, 448a) in 178 games and has been named to All-Pro Teams on two occasions (2014 All-Pro Second Team and 2019 All-Pro First Team).
"We are excited to have Dane continue his career as a Roughneck," said Mike Board, Roughnecks General Manager. "Along with his exciting offensive skills, he is a tremendous leader in the dressing room. During his 12 seasons with the Roughnecks, Dane has become a prominent figure both within the organization and in the community."
DANE DOBBIE – FORWARD HOMETOWN: Elora, ON DOB: Dec. 1, 1986 HEIGHT: 5'9" WEIGHT: 204 lbs. SHOOTS: Right
| | | | | | | | | |
| --- | --- | --- | --- | --- | --- | --- | --- | --- |
| NLL STATS | GP | G | A | PTS | PIM | LB | CTO | FO |
| 2019 Regular Season | 18 | 47 | 68 | 115 | 12 | 69 | 3 | 0-0 |
| 2018 Regular Season | 17 | 36 | 49 | 85 | 44 | 87 | 5 | 0-0 |
| 2017 Regular Season | 18 | 39 | 50 | 89 | 6 | 51 | 4 | 0-0 |
| 2016 Regular Season | 13 | 26 | 34 | 60 | 4 | 46 | 5 | 0-0 |
| 2015 Regular Season | 16 | 36 | 31 | 67 | 30 | 35 | 2 | 0-0 |
| 2014 Regular Season | 18 | 51 | 39 | 90 | 22 | 32 | 1 | 0-0 |
| 2013 Regular Season | 13 | 40 | 32 | 72 | 19 | 23 | 3 | 0-0 |
| 2012 Regular Season | 13 | 28 | 22 | 50 | 38 | 25 | 5 | 0-1 |
| 2011 Regular Season | 15 | 34 | 41 | 75 | 34 | 55 | 8 | 0-4 |
| 2010 Regular Season | 16 | 38 | 42 | 80 | 18 | 69 | 0 | 0-0 |
| 2009 Regular Season | 16 | 41 | 35 | 76 | 16 | 83 | 0 | 0-0 |
| 2008 Regular Season | 5 | 2 | 5 | 7 | 6 | 17 | 0 | 0-0 |
| NLL Career | 178 | 418 | 448 | 866 | 249 | 592 | 36 | 0-5 |