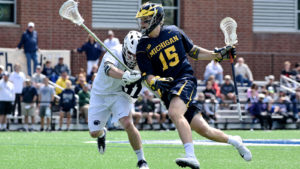 Chris Vale, Correspondent Buffalo Bandits
Lacrosse is Awesome©
At the beginning of the season, the Buffalo Bandits roster included the second, third and fourth picks from the 2018 NLL Entry Draft; two of which were drafted, Ian Mackay and Matt Gilray both solid back end players. The other, a late season trade which gave them Chris Cloutier from the Wings a very talented lefty forward with a lot of upside.  This year Buffalo waited just a bit longer to see who was coming to Banditland with pick No. 12 overall in the First Round.
This summer saw the Bandits loose righty forward Shawn Evans; and lefty forward Jordan Durston in the expansion draft. Righty forward Chase Fraser injured his knee during the WLA season this summer while playing for the Nanaimo Timbermen but should be back at some point this season.  Another loss and looking like he'll be out for the entire season is defensive player Ethan O'Connor who tore his ACL in the Ontario Finals for the Six Nations Chiefs; and Nick Weiss, another Buffalo defender who did not play in the Mann Cup following those same Ontario Finals after suffering an upper body injury.
So it seems that Buffalo decided to go with defense for their first pick and will also add a lot of size to a backend that was already very strong. Brent Noseworthy from Burlington, Ontario played his college ball at Michigan University; as well as playing in the MSL this past summer for the Brooklin Lacrosse Club.
Brent started off his lacrosse career as a goalie and a very good one at that making Team Ontario when he was playing Pee Wee.  Since switching out as a player in his Junior career he has shown a lot of promise. This past summer really helped his draft stock.  While playing with Brooklin he showed good size; foot work; speed; and stick skills and should be able to grow his game to the next level. During his college career as an Attackman at the University of Michigan Noseworthy became the Wolverines all-time leading scorer in program history.
Both Bandits coaches Rich Kilgour and John Tavares got to see Brent play up close a few times this summer as they also coach the Six Nations Chiefs.  Brent has a lot of skill; and seems like with a tone of upside and good coaching from both Rich and John, could be the steal of the draft and a fan favorite in Banditland.
Chris Vale, Correspondent Buffalo Bandits
Lacrosse is Awesome©