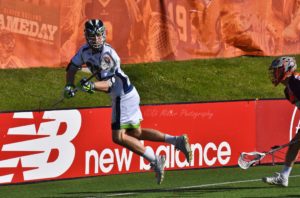 Di Miller, Correspondent Colorado Mammoth
Lacrosse is Awesome©
The Colorado Mammoth have not had a first round draft pick since the 2016 Draft and this year in order to get that pick they acquired the sixth overall pick and a conditional fourth round pick in the 2020 NLL Entry Draft from San Diego in exchange for forwards Zack Greer and Jeremy Noble.
After one of their worst seasons on record in 2019 when they finished with a record of 6-12 it was time for management to make some changes on the defensive end of the floor.  They needed to add size to the line up having one of the smaller statured squads on the floor.  Jeffrey's size and speed plus his ability to work both sides of the floor are keys to what the Mammoth will need to spark the offense.  Dillon Ward needs big guys to protect him in front of the cage and seeing what Jeffrey did this season in the MLL he's going to be a key addition to the Mammoth squad.
They used their sixth pick to do just that and selected 6'3" 210-pound defenseman Warren Jeffrey.
The 22 year old Mimico, Ontario native played his college career at the University of Vermont.  In his senior year he earned All-Conference First Team honors after starting all 15 games at defense as a senior; led the team with 15 caused turnovers; and finished sixth on the team with 26 ground balls.  He was drafted 52nd overall by the Chesapeake Bayhawks in the 2019 MLL Collegiate Draft and in his first year had 17 ground balls and 11 caused turnovers.  He spent the last year playing top-level box and lacrosse in the MSL for the Brampton Excelsiors; and played Junior A box lacrosse for the Mimico Mountaineers (OJALL).
Mammoth assistant general manager Brad Self said, "We're excited to have Warren Jeffrey. To be able to add a guy of that size and pedigree is exciting for our team. Again, his size is key, as is his ability to play all over the floor. We're excited to have him in camp."
Mammoth defensive coordinator Andrew McBride said, "We're excited as [Jeffrey] is a big body and plays a physical style game. He's going to add a little depth to our left side. He's played at a high level and he's going to come in and contribute right away. We're excited to add him to our strong defense and for him to really come and contribute right off the hop."
The Mammoth had seven total selections in the 2019 NLL Entry Draft. The following is a complete list of Colorado's selections:
#1 Round 1, pick 6 – Warren Jeffrey (D, Brampton Excelsiors/University of Vermont)
#2-4 Round 2, picks 23, 26, 31 (compensatory) – Will Malcom (F, New Westminster Salmonbellies), Brett Craig (T, Seton Hill/Maple Ridge Burrards), Jake McNabb (F, St. Catharines Athletics)
#5 Round 3, pick 39 – Dylan Kinnear (DT, Towson)
#6 Round 5, pick 69 – Dan Bucaro (T, Georgetown)
#7 Round 6, pick 82 – Liam Osborne (F, Belmont Abbey)
"We did a lot of work leading up to tonight, talked with our staff and had a lot of time to think about and rank our guys," said Self. "We're really happy with how we did based on how we had the players ranked in this draft.
"We got big, big, big guys. We picked big competitive guys who are going to be hard to play against and some offensive players with high skill level. Those were two needs of ours that we felt like we addressed.
"At training camp, I want to see them compete for jobs. I want to see kids who are excited to play in the NLL."
McBride added, "Everyone should start thinking about what they can do to make the team. They're drafted for a reason, they're here for a reason, and it's up to them to come to camp in shape and ready to challenge for a spot."
The Mammoth open up their season on Friday November 29, at the Pepsi Center in downtown Denver and they'll host the Saskatchewan Rush, game time 9:30 p.m. EST.
Di Miller, Correspondent Colorado Mammoth
Lacrosse is Awesome©