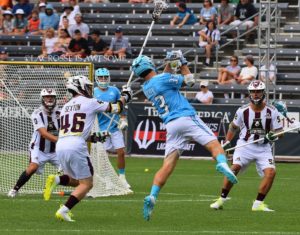 Di Miller, PLL Correspondent
Lacrosse is Awesome©
The Premier Lacrosse League opened up in Denver, CO on Saturday July 27 with an impressive contest, Atlas LC (3-4) opening up against Redwoods LC (4-3) in a massive scoring barrage halting their three game winning streak by the score of 18-15.
Atlas would come out firing in the first outscoring Redwoods with a stunning 9-2 differential; and put together another five in the second. They opened it up and never looked back.  The keys to the Atlas success came in many levels, including the face-off dot with Trevor Baptiste going 20-31 for a 64.5% and 12GB; three different players with 2-pt goals; and an 80% on man-up opportunities.
Eric Law had a stellar game for Atlas and now leads the team with 14G and 6A; followed by Connor Buczek with 12G and 4A.
Redwoods could not put together much offense in the first half, only scoring two in the first and another four in the second for a combined six goals in the first half.  It wasn't until the second that they found some sort of offense shutting down the Atlas offense only allowing four goals in the third; and completing shutting them out in the fourth.  But by that point it was too late.  The damage had been done in the first and with the clock running down Atlas would control the ball for the remaining seconds of the game.  Final Score:  Atlas LC 18—Redwood LC 15.
Check out our full photo gallery  https://www.facebook.com/LACROSSEISAWESOME/
There were several players for each side with multiple point nights, and here's how it played out:
Atlas LC:
Connor Buczek—5G, one 2-pt G, 1A
Eric Law—4G, 1A
Kieran McArdle-3G, 1A
Paul Rabil—1G, one 2-pt G, 3A
Ryan Brown-1G, 1A
Cade Van Raaphorst—1G, one 2-pt G
Redwoods LC:
Jules Heninburg—6G, 1A
Ryder Garnsey—3G, 1A
Wes Berg—2G
Joe Walters—1G, 3A
Matt Kavanagh—1G, 1A
Brett Adams & Kyle Harrison—1G each
**STARS OF THE GAME**
Connor Buczek
Jules Heninburg
Eric Law
Here's how the goal-keepers fared between the two teams:
Atlas LC:
Jack Concannon—SOG 27; 15 GA; Zero 2GA; Saves 12; .444 SV%
Redwoods LC:
Tim Troutner—SOG 25; 18 GA; Three 2GA; Saves 10; .400 SV%
UP NEXT:
It's Week 8 for the PLL and the teams head to Avaya Stadium in San Jose, CA.  Starting off the weekend, we'll see Redwoods LC (4-3) face Chaos LC (5-2) on Saturday August 10, game time 4:00 p.m. EST and the game will be telecast on NBCSG.
On Sunday August 11, you can catch Atlas LC (3-4) face off against Archers LC (2-4) on Sunday August 11, game time 7:30 p.m. EST.  This game can be seen on NBCSN.
Di Miller, PLL Correspondent
Lacrosse is Awesome©