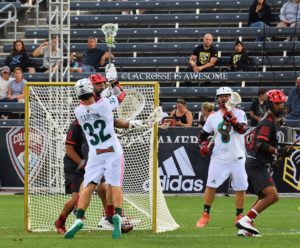 Di Miller, PLL Correspondent
Lacrosse is Awesome©
Week Number Seven in Denver and in a meeting between the top two teams in the league, it was a close back and forth contest with No. 2 coming out on top in the end edging out No. 1 by just one goal.  Chaos LC (5-2) would go neck and neck with Whipsnakes LC (5-2) for the entire game.
The non-stop action wouldn't disappoint the fans as they saw some trickery on the fields as the players showed some fancy moves with behind the back passes, as well as attempted shots on goal.
At the end of the first the teams were tied at three apiece. For the remainder of the game, Whipsnakes would chase Chaos.  At the end of two, they held a two goal lead 7-5; at the end of three the lead had jumped to three 12-9; and the end of the fourth, Whipsnakes closed the gap but wasn't able to overcome Chaos who controlled the ball well throughout.  Final Score:  Chaos 13—Whipsnakes 12.
Here's who came through for each side: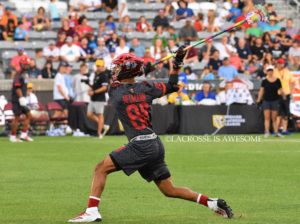 Chaos LC:
Deemer Class—3G, 1A
Kevin Buchanan; Matt Rees; and Connor Fields—2G each
Myles Jones—1G, 1A
Eric Scott-1G
Jarrod Neumann-1  2ptG
Whipsnakes LC:
Ryan Drenner—4G
John Haus—2G
Matt Rambo—1G, 2A
Joe Nardella—1G, 2A
Jay Carlson—1G, 1A
Bryce Young; Connor Kelly; and Mike Chanenchuk—1G each
Goalkeeper Stats:
Chaos LC
Blaze Riorden—12GA; 17 saves; .586 SV%
Whipsnakes LC
Kyle Bernlohr—12GA; 1 2ptGA; 18 saves; .600 SV%
Team Stats:
Chaos LC—30 SOG; 31 GB; 17 TO; 11 CTO
Whipsnakes LC—29 SOG; 27 GB; 13 TO; 7 CTO
NEXT UP:
The league takes a week off before heading out to San Jose, CA for Week Eight.  The games will be held at Avaya Stadium.    The first game of the weekend starts off with Chaos LC (5-2) facing off against Redwoods LC (4-3) on Saturday August 10, game time 4:00 p.m. EST and the game will be telecast on NBCSG.
The second game of the night you'll see Whipsnakes LC (5-2) go head-to-head against Chrome LC (1-6) and they'll set up at the face-off dot at 7:30 p.m. EST.  You can catch the action on NBCSG.
Di Miller, PLL Correspondent
Lacrosse is Awesome©