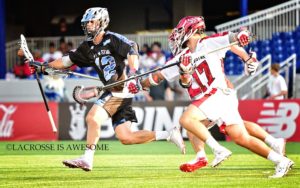 Di Miller, MLL Correspondent
Lacrosse is Awesome©
Featured Image Photo Credit:  Tam Williams
On a beautiful Saturday evening in Annapolis, MD Major League Lacrosse held their annual All-Star Game, and this time the teams were Team Fire and Team Ice, with team Captains Rob Pannell for Team Fire and Lyle Thompson for Team Ice.  The game brought 6,685 faithful lacrosse fans to the stadium surpassing attendance from 2018 and as always, the festivities were second to none.  The fans were treated to yet another high scoring All-Star OT contest with a total of 31 goals exchanged between the two teams.
They got to see not only many veterans on the field, but also numerous upcoming young rookies as well.  This was the third year in a row that the All-Star game would go into over-time (2017 Final 21-20 OT; 2018 Final 15-14 OT). This year's stand out was Dylan Molloy, attackman for the New York Lizards, with a six point night (5G, 1A) and was named the All-Star MVP.  Final Score OT:  Team Ice 16—Team Fire 15.
Team Ice led in the first outscoring Team Fire 4-3; but would be outscored by Team Fire in the second and third quarters 3-6, and 4-5.  It was the fourth quarter that Ice outscored 4-1 which was the turning point to tie the game allowing the game to head into overtime.
Brendan Sunday (4G, 1A), attackman for the Atlanta Blaze and rookie sensation would be the hero for Team Ice scoring the winning goal in OT beating Nick Marrocco for the win.
Another major advantage for Team Ice came at the face-off dot as Max Adler and Kevin Reisman combined for 21-34 FO; and Niko Amato was 11-17 for saves for a .647 SV%, surpassing Nick Marrocco who was 10-18 with a .555 SV%.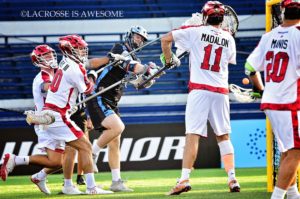 Here's how it played out for each team in goals and assists:
Team Fire:
Rob Pannell—3G, 2A
Dylan Molloy—5G 1A
Steele Stanwick—1G, 1A
Ryland Rees—1G
Jack Curran—1G
Alex Woodall 1G
Mark Cockerton—2G, 1A
TJ Comizio 1G, 1A
Team Ice:
Colin Heacock—1G
Lyle Thompson—4G, 1A
Bryce Wasserman—1G
John Grant, Jr.—2G
Kevin Reisman—1G
Brendan Sunday—4G, 1A
Justin Pugal—1 two point goal
Max Adler—1G, 1A
This weekend, the MLL is back in action and here's what we've got.  There are three games on Saturday August 3, 2019 and one game on Sunday August 4, 2019
The first, the Denver Outlaws (6-2) will host the Boston Cannons (5-3) at Broncos Stadium in Denver, CO, game time 6:00 p.m. EST and you can catch this game on www.laxsportsnetwork.com
The second, the Chesapeake Bayhawks (4-3) will host the New York Lizards (3-5) for a rematch of their home and away series, at home at Navy-Marine Corps Memorial Stadium, game time 7:00 p.m. EST and this game can be seen on www.majorleaguelacrosse.com .
The final game of the evening and the Dallas Rattlers (1-7) will head to Atlanta to face the Blaze (5-4) at Grady Stadium, game time 8:0o p.m. EST and this will be another game you can catch on www.laxsportsnetwork.com
On Sunday August 4, 2019 you can catch the Chesapeake Bayhawks (?-?) for a rematch against the New York Lizards (?-?) in Hempstead, NY, game time 5:00 p.m. EST and you'll be able to watch this game on www.laxsportsnetwork.com as well.
Di Miller, MLL Correspondent
Lacrosse is Awesome©