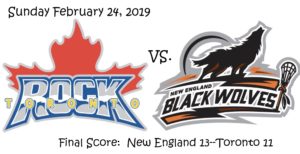 Justin Ivey, Correspondent New England Black Wolves
Lacrosse is Awesome©
Featured Image Photo Credit: Justin Ivey
On Sunday, February 24 the New England Black Wolves (6-4) hosted the Toronto Rock (7-2) in front of a raucous crowd of 5,691 at Mohegan Sun Arena.  Toronto came in with a perfect record on the road, but the Black Wolves didn't care.  After a hot start, the Black Wolves found themselves down three goals after three quarters.  In the first five minutes of the fourth quarter they reversed the tables and scored five unanswered.  Impressive after being shut out in the third quarter.  Coach Clark had nothing but respect for the Rock is his comments about the win.  "It is (a good win).  The one thing Toronto does very well is play consistent.  As simplistic as that sounds you see how this league goes up and down.  They do a very good job of staying the course.  The challenge to our group was you're not going to run away with this. Don't play yourself out of it by taking shortcuts and lucky enough we got that little run."
To the fans and players, it wasn't luck but the grit of the team.  Toronto was on the power play for the last 4:58 of the game after a penalty on Callum Crawford.  They couldn't score.  "It was huge," said Brett Manney.  "We talked right before we went out there. It was myself, Bomber (Adam Bomberry); Brock (David Brock); and GD (Greg Downing). It's going to be us and a collection of a couple other guys coming in there. Bear down and finish it. It's grit; it's intelligence; it's teamwork and obviously Dougie (Doug Jamieson) saw the ball really well."  The New England defense was able to hold the 13-11 lead and emerge victorious.  Final Score:  Toronto-11, New England-13.
Dereck Downs (3G) was the super star early for New England as he scored twice in the first 48 seconds.  As an emerging offensive power in his rookie season, he's just happy to be a part of the unselfish roster.  "The ball is moving around.  Nobody really cares about who's scoring the goals.  We are just moving and everyone is getting open."  Toronto was able to score two of their own in the first quarter.  Dan Craig (1G, 1A) scored on the first power play of the game, and Johnny Powless (1G) scored with 1:22 remaining but they bookended a goal from Dave Emala (1G) that allowed the Black Wolves to escape the first quarter with a 3-2 lead.
The second quarter went back and forth, but the Rock were able to put together two separate two-goal runs to outscore the Black Wolves 7-4.  Adam Jones (2G, 2A) and Dan Lintner (1G, 1A) quickly gave Toronto a brief lead, before Tyler Digby (1G, 5A) found the net on New England's first power play opportunity to tie the game at four.  Tom Schreiber (3G, 3A) scored less than a minute later also on the power play, but David Brock () evened the game again with a transition goal.  With another power play opportunity, New England gave up a shorthanded goal to Jones before Callum Crawford (3G, 5A) scored his first of the game with the man advantage.  Toronto then put together their second two-goal run.  Rob Hellyer (2G, 3A) scored with 3:02 remaining and Schreiber scored with just a minute left.  It looked like it would be a one-goal deficit for New England going into the half after Downs scored his hat trick goal with only 49 seconds left on the clock, but Hellyer scored with just one second remaining to give Toronto the two-goal lead.  At the half, Toronto led New England 9-7.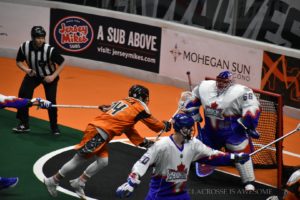 Both teams played excellent defense in the third quarter and only one goal was scored.  Unfortunately for the home team, it was Schreiber scoring his third goal of the game 9:01 in to stretch the Toronto lead to three going into the fourth.  You couldn't tell early in the fourth quarter that New England couldn't find an offensive rhythm for the 15 minutes prior.  In the first five minutes of action, they scored five straight and went up 12-10.  Stephan Leblanc started things off before Crawford scored two in a row.  Leblanc gave New England a one goal lead with his second of the game, and Colton Watkinson (1G, 2A) found the net in transition to quickly increase it to two.  Challen Rogers (1G, 2A) got the Rock back to within one 5:59 in, but another transition goal, this one from Adam Bomberry (1G) gave New England a 13-11 lead with 5:24 to play.  Toronto had an excellent chance to get back in the game.  With 4:58 remaining, Crawford was called for an illegal body check (major) and a game misconduct, forcing the Black Wolves to play a man down for the final minutes.  But, the New England defense and Doug Jamieson did not allow the high powered offense to score.  Coach Clark said, "They've got such a dynamic power play.  That one is on Dougie.  He made some key saves and you know if you don't get good saves on a man down you're not going to have success."  Final Score:  Toronto-11, New England-13
Up Next:
The New England Black Wolves (6-4) host the Colorado Mammoth (3-6) on Sunday, March 3 at 1:00 PM EST.
The Toronto Rock (7-2) enjoy a week off and then visit the Calgary Roughnecks (5-5) on Saturday, March 9 at 9:00 PM EST.
Justin Ivey, Correspondent New England Black Wolves
Lacrosse is Awesome©