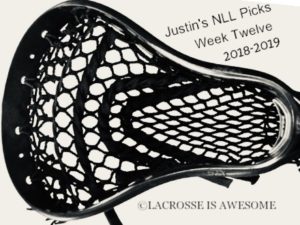 Justin Ivey, NLL Correspondent
Lacrosse is Awesome©
Weeks 1-9: 25-19
Week Ten: 4-2
Week Eleven: 2-1
Season Total: 31-22
I got another score correct!  The Black Wolves did defeat the Rock at home 13-11 and it was one heck of a game.  A strong start, a comeback and a wild fourth quarter.  Buffalo was also able to hold of Rochester to win the season series and take first place in the East, and league.  Colorado almost pulled off the road victory, but Saskatchewan held strong in a low scoring game to give me one wrong pick on the weekend.  This week there are four games.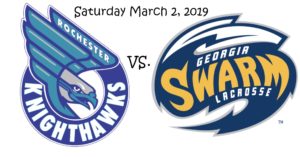 Rochester Knighthawks (2-7) at Georgia Swarm (7-4)
Saturday, March 2 at 7:05 EST
The Swarm have lost two straight games and their last win came in Rochester against the Knighthawks.  Last week's loss was a little out of the ordinary as they couldn't find an offensive rhythm against a Colorado team that has had its share of troubles this year.  The Knighthawks have also been struggling, dropping their last four since beating Buffalo at home on January 26.  I don't think Georgia will have the same troubles this weekend and will take care of the Knighthawks at home.
My Pick:  Georgia
Score:  Rochester-11, Georgia-16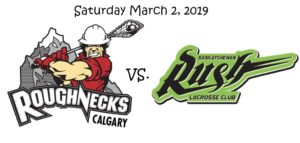 Calgary Roughnecks (5-5) at Saskatchewan Rush (5-4)
Saturday, March 2 at 8:30 PM EST
The Roughnecks last visited the Rush on February 16 and defeated the reigning champs 17-12.  Neither team has been able to find consistency this year and that makes this game a tough pick.  Their last time out, Calgary hung in with a tough Buffalo team.  Saskatchewan won a low scoring game to Colorado.  Neither was really a confidence booster.  I must believe that the Rush avenge that home loss to tie the season series 1-1.
My Pick:  Saskatchewan
Score:  Calgary-10, Saskatchewan-13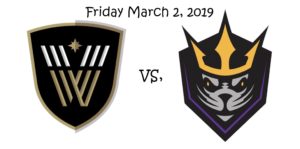 Vancouver Warriors (3-7) at San Diego Seals (4-4)
Saturday, March 2 at 10:00 PM EST
San Diego beat Vancouver in Vancouver, and Vancouver beat San Diego in San Diego to tie their season series 1-1 heading into a decisive game three.  With four of five teams slated to make the playoffs in the West, this game is important for both in terms of standings.  San Diego seems to have a bit more cohesion and fire.  I don't think the Warriors can match their energy on Saturday.  Look for Austin Staats to have a big game.
My Pick:  San Diego
Score:  Vancouver-9, San Diego-14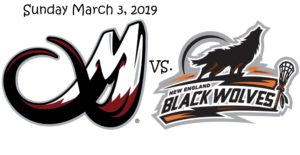 Colorado Mammoth (3-6) at New England Black Wolves (6-4)
Sunday, March 3 at 1:00 PM EST
With the possibility of a Callum Crawford suspension, the Black Wolves made some roster moves this week.  They traded a pick for Mackenize Mitchell and have moved some more offensive minded players to the active roster.  To be honest, I don't think it matters.  Colorado has won two of their last three, including a great win over Georgia, but this is the sole good look on the season.  The Black Wolves offense has not relied on just one scorer, although Crawford has been on quite a tear recently.  Their defense has stepped up and they have been benefiting from great goalie play.  With or without a suspension, New England wins.
My Pick:  New England
Score:  Colorado-9, New England-12
Justin Ivey, NLL Correspondent
Lacrosse is Awesome©