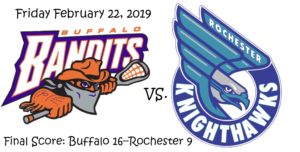 Christopher Crane, Correspondent Rochester Knighthawks
Lacrosse is Awesome©
Featured Image Photo Credit: Micheline V/ Rochester Americans
For this week's match up the Rochester Knighthawks (2-7) played host to the Buffalo Bandits (9-2) in their final season series meeting with it tied one game apiece.  In front of a crowd of 6,672 Knighthawks fans in the Blue Cross Arena this heated I-90 rival no matter what will never disappoint; however it would be the Buffalo Bandits getting the upper hand on the Rochester Knighthawks late in the third quarter to take the season serious 2-1 with a final score of 16-9.
Rochester would get on the board first at 4:14 on beautiful goal from Austin Shanks (2G, 1A) to make it a 1-0 game Knighthawks.  It then became a defensive and transition battle until the Bandits were able to find holes to go on a three goal run which would have Thomas Hoggarth (2G, 3A) tallying two of the three scores with Dhane Smith (2G, 7A) netting the third to give the Buffalo Bandits a 3-1 lead after the first quarter.
Second quarter action would see the Bandits starting to pull away from the Knighthawks as they would score twice to start the second quarter to make it a 5-1 game.  The Bandits scores would come from D. Smith with his second; and teammate Shawn Evans (3G, 3A) netting his first just over a minute later.  Rochester would turn the tide in their favor as they would go on a four goal run.  Getting things started would be Knighthawks Cody Jamieson (1G, 4A); followed by teammates Shanks for his second; Graeme Hossack (1G, 2A); and Scott Campbell (1G) to tie things up at five apiece.  Buffalo unfortunately would be able to sneak one final one in late in the frame to take a 6-5 lead heading into the half coming from Bandits Jordan Durston (1G, 1A).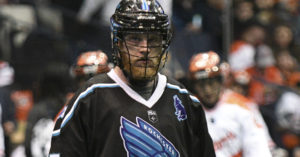 The third quarter would see each side exchange the next few scores until the Bandits would go on their own four goal run.  Buffalo would strike first on a goal from newly acquired Wings player Chris Cloutier (2G, 4A) to give the Bandits a 7-5 lead.  Then Rochester's Eric Fannell (1G) would make it 7-6; followed up with a score from Buffalo's Chase Fraser (4G, 2A) putting them up by two.  Knighthawks Brad Gilles (1G) would score to bring the back to within one.  But that was it in the third for Rochester as it would be all Buffalo with the next four scores in the quarter putting them up 12-7 and no end in sight to their scoring barrage.  It would be Evans; Fraser with two; and Corey Small (2G, 5A) netting the fourth.
With 15 minutes remaining, it was do or die for the Knighthawks.  Rochester would strike first on a score from Kyle Jackson (1G) to stop Buffalo's run to make it 12-8.  Unfortunately, it was only a temporary fix as Buffalo would go on a three goal run putting them up by seven, 15-8 with goals from Cloutier with his second; Small; and Fraser with the hat trick.  Rochester would get one more on the board from Joe Resetarits (1G) to make it 15-9.  The Bandits would put the nail in the coffin to top off their night with it coming from the likes of Fraser for his fourth on the night.  Final Score:  Bandits 16—Knighthawks 9.
It was an amazing night for Buffalo as they would see six players with five points or more on the night:  Dhane Smith (2G, 7A); Corey Small (2G, 5A); Chase Fraser (4G, 2A); Shawn Evans (3G, 3A); Chris Cloutier (2G, 4A); and Thomas Hoggarth (2G, 3A)
NEXT UP:
Rochester (2-7) will play head down to Georgia to face the Swarm (7-4) March 2nd at the Infinite Energy Arena at 7:05 p.m., EST.
Christopher Crane, Correspondent Rochester Knighthawks
Lacrosse is Awesome©