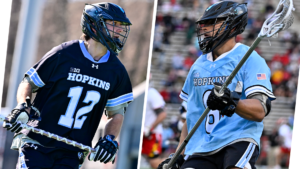 [MEDIA RELEASE]
SPARKS, MD – The Johns Hopkins men's lacrosse team placed two players on the 2023 USA Lacrosse Magazine All-America Team it was announced today.  Graduate student Alex Mazzone (D) earned a spot on the second team, while junior Brett Martin (SSDM) was an honorable mention selection.
Mazzone, a First Team All-Big Ten selection this season, has started all 16 games on close defense for the Blue Jays and counts one goal, two assists, a team-high 67 ground balls and 17 caused turnovers to his credit.  Mazzone's 67 ground balls are the most by a non-faceoff specialist at Johns Hopkins since Matt Bocklet had 99 in 2008, while his 17 caused turnovers rank second on the team.  This is fourth All-America nod Mazzone has earned in his career as he was an honorable mention selection by USA Lacrosse Magazine in 2022 and has twice earned honorable mention honors from the USILA (2021, 2022).
Martin earns the first All-America selection of his career with his spot on the team.  He has played in all 16 games as Johns Hopkins' top short-stick defensive midfielder and has two goals, 15 ground balls and 15 caused turnovers to his credit this season.  His 15 caused turnovers on the year rank third on the team and stand as the program's single-season record for a non-long stick.  He is also JHU's career leader in caused turnovers by a short-stick (30).
Johns Hopkins (11-5) earned the number six seed and will host Bryant (12-4) in the first round of the NCAA Tournament on Sunday, May 14 (12 pm).  The game will air live on ESPNU.