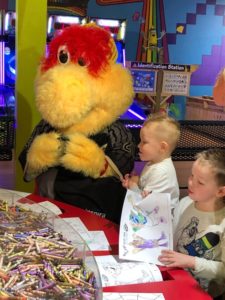 [COURTESY OF THE PHILADELPHIA WINGS]
Philadelphia Wings mascot "Wingston" joined Crayola's crayon mascot Cerulean at Crayola Experience Easton today to inspire kids to create colorful dasher board designs to submit for the Color Your Wings dasher contest.
Photo details:
1.       Bill Dunkin proves that you can be a kid at any age. He was visiting from Maryland with his daughter.
2.       Wingston joins 2-year-old John Mohler and his brother 4-year-old Joseph from South Hampton, Pa., at the Colossal Caddy attraction.
 Video details:
Wingston and Cerulean try their hand at designing a Wings dasher board for the Color Your Wings contest while kids from Teaneck Community Charter School in New Jersey color alongside. (L) Layla Naggie, 6 and (F) Angelina Avino, 5
DETAILS:           Crayola Experience Easton and the Philadelphia Wings National Lacrosse League have teamed up to promote creativity, teamwork, and family fun.
The "Color Your Wings" experience runs through March 7 and includes a once in a lifetime opportunity for local kids ages 3-12 to bring a splash of Crayola color and their own creativity to the team's home stadium at the Wells Fargo Center in Philadelphia, Pa., through a dasher board design contest. The top four designs will be displayed on dashers during a Crayola Experience Kids Day event at the Wings March 7 home game, where a winner—selected by a public vote—will be announced.
Check out the link for more info!    https://p.widencdn.net/q4leh1/Color-Your-Wings-Contest-Video
The winner will receive a Wings VIP experience and four premium level annual passes to Crayola Experience Easton. In addition, the winner's school will get to share in glory: Wings players and team mascot Wingston will visit the school and all students will receive a commemorative Wings 4-pack box of Crayola crayons, tickets to Crayola Experience Easton, and tickets to a future Wings game.
Design contest templates are available online Wingslax.com/Color-Your-Wings and at Crayola Experience Easton. Through February, Crayola Experience Easton also will feature several Wings-themed activities to inspire dasher designs. In addition, the family attraction will bring its unique brand of color and creativity to the Wells Fargo Center during Kids Day at the Wings' March 7 home game. (For information about the contest, go to Wingslax.com/Color-Your-Wings.)