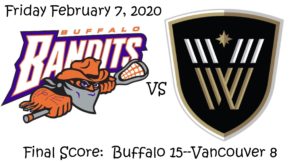 Ron Schell, Correspondent Vancouver Warriors
Lacrosse Is Awesome©
Featured Image Photo Credit: Di Miller
On Friday February 7, the Vancouver Warriors hosted the Buffalo Bandits at Rogers Arena in Vancouver, British Columbia in front of 7,215 Warrior fans. The game long unrelenting barrage of shots, physical bone-rattling picks and tenacious battles for loose balls by the Bandits offence physically ground down the Warriors defence. Vancouver's three game winning streak was snapped while the Buffalo winning streak increased to five. The Bandits climbed to a 6-1 record while the Warriors fell to 3-5. Both teams travel east to play their next opponents tomorrow Sunday February 9th with Buffalo taking on the Toronto Rock (4-2); and the Warriors challenging the Rochester Knighthawks (1-6).  Final Score:  Bandits 15—Warriors 8.
In the first quarter it was Vancouver who came out firing. Goalie Eric Penney scooped up a rebound, fired it up court to Sam Clare, who fed a streaking Mitch Jones (3G, 3A). Jones fired over the left shoulder of Bandits goalie Matt Vinc. Vancouver then appeared to score a second goal which was overturned by a coach's challenge. Shortly after, Vancouver again had a goal challenged and again the video showed that the Vancouver player was in the crease. The fans got into the game very early and seemed frustrated with their poor luck. While on the other end, Buffalo's offence began to warm up. The first Bandits goal was scored by Matt Gilray (1G) after a perfect feed from Garret Billings (1G, 5A). Vancouver went ahead on an outside low glove side shot by Riley Loewen (2G, 2A). Buffalo then surged ahead with three unanswered goals. The second Bandits goal was scored by Dhane Smith (2G 6A) on an outside bounce shot; and the Bandits third goal was scored by an acrobatic tip-toe across the crease over the goalie shot by Josh Byrne (2G 4A). Chris Cloutier (2G 4A) fired Buffalo's fourth goal with a low submarine shot. Vancouver's lead evaporated due to a tenacious effort by an offensive group who worked doggedly and never gave up on rebounds and loose balls. At the end of the first quarter, the score read Buffalo 4—Vancouver 2.
Vancouver tied the game 4-4 within the first minute of the second frame. Jones caught his defender sleeping and Lyndon Bunio (1G) would score his first NLL career goal after the perfect execution of a pick and roll with Loewen. The Bandits then took over by battling the Warriors with a whole team blue collar effort. Buffalo scored the next five goals in a row. Smith let go a blazer from the point on a power play for the go ahead goal 5-4; Byrne, fed by Smith, fired a missile from outside with a delayed call (sixth attacker); Cloutier forced a sub-shot that traveled low to high above Penney's shoulder; Corey Small's (3G, 2A) sidearm bouncer found the net; and Chase Fraser (3G, 1A) scored Buffalo's ninth goal on an outside bounce shot. The Bandits took control of the game by controlling the lacrosse ball. I noticed that driving to the net is an important dimension of Buffalo's game. On three occasions Bandit players made contact with Vancouver's goalie. I was amazed at Penney's calmness and ability to not allow the Bandits to get under his skin.  At half-time, Buffalo led 9-4.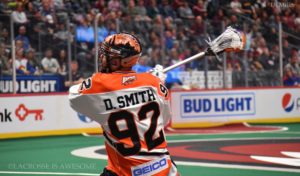 Vancouver scored the first goal of the third quarter on a power play by Jordan McBride (2G, 1A). Buffalo countered with two goals of their own. Billings was able to score from his knees after falling; and Fraser scored after being fed by Byrne. The score stood at 11-5 Buffalo. Vancouver then went on its own three goals streak. McBride fired from outside; Jones scored on a penalty shot; and Loewen scored a quick stick goal from the crease on a power play. The Warriors clawed back to within three goals 11-8. The game was very entertaining with neither team willing to give in. The Bandits put Vancouver back in their place with two more goals before the end of the third. Small scored both goals. He scored by gathering a loose ball off of a rebound and he ripped an outside shot to make the score 13-8.
Although this was an intense and aggressive game, both teams battled with the goal to gain possession. This all seemed to change when Byrne decided to take the ball to net. On this occasion, Byrne quickly ran out room and drove across the crease making contact with Penney. Penney cross-checked the player and all hell broke loose. In the end, the ref, who didn't seem to protect the goalie early in the game, had to deal with the aftermath. Vancouver Captain Matt Beers was assessed a major; minor; a 10 minute misconduct; and a game misconduct. Any chance for Vancouver to surmount another comeback was not to happen. Buffalo scored two more goals to put the nail in Vancouver's coffin. Fraser scored a power play goal on a weaker outside shot and JP Kealey (1G) finished off the scoring with a set-up from Billings. Final Score:  Bandits 15—Warriors 8.
Overall, the Bandits and Warriors both came to play tonight. The Warriors tried to score much more often on the long transition passes which is always an emotional surge for the scoring team. I believe that the offence of Vancouver battled but could have used the assistance of Logan Schuss who continues to heal from injury. The Bandits offence is a formidable gang of big, aggressive and athletically gifted snipers. Buffalo outshot the Warriors 73-50. Many of these shots occurred when it seemed that Vancouver couldn't get the ball out of their own end. Smith was dominant setting huge picks and firing bombs from outside. I was pleased to see a healthy Billings able to move and set plays; Byrne is a dominant force who is gifted with the ball in his stick; and Small played well and has found his home with this group. Cloutier and Fraser both had strong offensive games. The list of offensive talent goes on and on. I think this team, with such a big and talented goalie is the best team to visit Rogers Arena thus far this season. Both teams should be exhausted after this weekend with both teams traveling east and having to square off once more on Sunday.
TEAM STATS:
Buffalo:  73 SOG; 21 SOFF; 92 LB; 14-26 FO; 2-8 PP; 18 PIM
Vancouver:  50 SOG; 91 SOFF; 72 LB; 12-26 FO; 1-4 PP; 49 PM
NET-MINDER STATS:
Buffalo  Matt Vinc:  45 SOG;  37 Saves; 8 GA; .822 Sv%
Buffalo  Doug Buchan:  5 SOG; 5 Saves; 0 GA; 1.000 Sv%
Vancouver  Eric Penney:  73 SOG; 58 Saves; 15 GA; .795 Sv%
NEXT UP:
The Vancouver Warriors (3-5) are already on the east coast to face the Rochester Knighthawks (1-6) for a grueling double-header coast-to-coast weekend.  They'll face off tomorrow Sunday February 9, game time 2:00 p.m. EST.
The Buffalo Bandits (6-1) and are in Toronto to face the Rock (4-2) also tomorrow Sunday February 9, game time 3:00 p.m. EST.  The Bandits are currently tied with their North Division rivals the Halifax Thunderbirds who have a bye-week.  They could take over first place in the North with a win over Toronto tomorrow so stay tuned as this will be one heck of a great game.
Ron Schell, Correspondent Vancouver Warriors
Lacrosse Is Awesome©