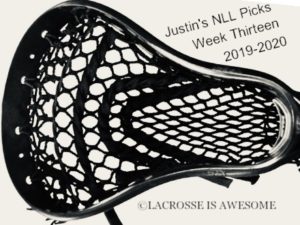 Justin Ivey, NLL Correspondent
Lacrosse is Awesome©
Standings:
Shawn Palmer 37-19
Justin Ivey 35-21
Stephonya Hunter-Penner 34-22
Not a bad week for the panel!  Everyone is still above 50% and darn are we proud of that.  What a weekend it was!  The undisputed highlight was the Philadelphia Wings going 2-0 by winning in Buffalo Saturday, and in New England Sunday to take first place in the East Division.  Also noteworthy was the ending to the Saskatchewan/Halifax game.  The Thunderbirds stormed back in the fourth quarter scoring eight goals to tie the game at 15 and bring it to overtime.  Over six minutes of extra lacrosse was played before Mike Messenger scored the game winner.  There are five games this weekend, one on Friday and one on Saturday.  Let's see what we have!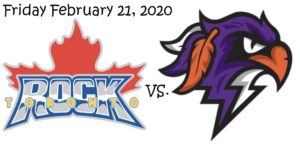 Toronto Rock (6-2) at Halifax Thunderbirds (6-2)
Friday, February 21 at 6:00 PM EST
Halifax has now lost two games in a row after starting with six straight wins.  This week they host Toronto, who gave them their first loss on January 31 in Toronto.  Halifax was bottled up for most of that game, much like last week's against Saskatchewan.  With pressure mounting, they scored most of their goals in the fourth quarter.  Toronto hasn't lost since that win and is led by Rob Hellyer (26G, 15A) and the veteran leadership from Dan Dawson (16G, 18A) is palpable.  This game will be close.  Toronto has momentum, and Halifax is looking to find their groove again.  Also don't forget – this game counts for the Alterna Cup!
My Pick:  Halifax
Stephonya Hunter-Penner: Halifax
Shawn Palmer: Toronto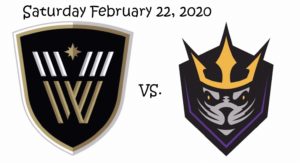 Vancouver Warriors (4-6) at San Diego Seals (3-6)
Saturday, February 22 at 2:30 PM EST
This game was supposed to be on an aircraft carrier!  But unfortunately, it is not.  San Diego will host Vancouver for the second meeting out of three between these two franchises.  The Seals beat the Warriors 11-10 in Vancouver December 29.  Connor Fields had four goals for San Diego in that win.  Mitch Jones led Vancouver with three goals and five assists in the losing effort.  Vancouver has some big wins this season, most notably Colorado and New England, but looked flat against the Bandits two weeks ago.  After a bye week, they are sure to be ready.
My Pick:  Vancouver
Stephonya Hunter-Penner: San Diego
Shawn Palmer: Vancouver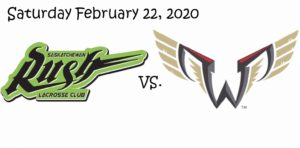 Saskatchewan Rush (5-2) at Philadelphia Wings (7-3)
Saturday, February 22 at 7:00 PM EST
The Wings couldn't be flying higher after winning at Buffalo and New England last weekend to take first place in the East.  Saskatchewan is first in the West and coming off a big overtime win, but they had a lead that they squandered to Halifax in that game.  When the Philadelphia offense runs through Matt Rambo, they score.  His six-goal outing on Sunday was beautiful.  Saskatchewan has been winning with a score by committee and it has been improving throughout the season as the players continue to pick opposing defenses apart.
My Pick:  Philadelphia
Stephonya Hunter-Penner: Saskatchewan
Shawn Palmer: Saskatchewan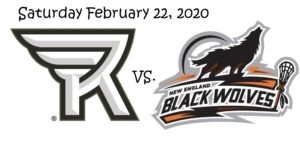 Rochester Knighthawks (1-7) at New England Black Wolves (4-3)
Saturday, February 22 at 7:00 PM EST
The New England Black Wolves looked like the best team in the NLL through the first four games, and for the next three games have looked undefined.  Doug Jamieson has been a stone wall in net (besides the first few minutes of the Philadelphia game) and the defense is strong.  The offense has been struggling with little production from the left side.  Joe Resetarits will be 'The Godfather' in my book from now on because he has been there every time the offense has needed a goal.  Rochester has been in games this year, but their record shows the struggle of an expansion franchise in a sport that relies so heavily on chemistry between teammates.  They just haven't played together long enough.  But with their leader Shawn Evans returning to an old team of his, I'm sure this game will have some fireworks.
My Pick:  New England
Stephonya Hunter-Penner: New England
Shawn Palmer: New England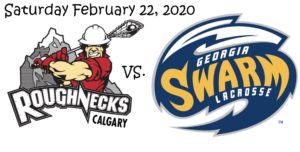 Calgary Roughnecks (3-4) at Georgia Swarm (5-3)
Saturday, February 22 at 7:00 PM EST
The return of Dane Dobbie!  Suspended after the first game this season, Dobbie is back in the lineup.  And Calgary needs him.  Last year's MVP should add a spark to this offense that has been sliding.  Georgia is in usual midseason form as Lyle Thompson continues to have highlight reel plays.  Shayne Jackson has had a hat trick in every game this year hold one.  This offense is potent.  Can Christian del Bianco put up better save numbers than Mike Poulin?
My Pick:  Georgia
Stephonya Hunter-Penner: Calgary
Shawn Palmer: Calgary