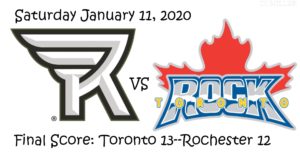 Shawn Palmer, Correspondent Toronto Rock
Lacrosse is Awesome©
Featured Image Photo Credit: Ryan McCullough
The Rochester Knighthawks (0-4) visited the Scotiabank  Arena in Toronto for game two of a back-to-back contest after dropping the first game to the Rock two weeks ago in Rochester.  The 8,865 Rock fans were on the edge of their seats, but in the end saw their team win their third in a row.  The Toronto Rock (3-1) played the game without two of their starters as Adam Jones and Latrell Harris both missed their second game in a row with upper body injuries.  After a back and forth game where Rochester's goalie Craig Wende stood on his head most of the night making 49 saves, the Toronto Rock came out with a 13–12 win.
The Rochester Knighthawks came out firing as Holden Cattoni (5G, 4A) scored on a bounce shot from the outside that went through Nick Rose's (30 saves, 1A) legs less than a minute into the first quarter to give the 'Hawks a 1–0 lead.  Less than 30 seconds later the Rock tied it up when Dan Craig (2G, 1A) took an outside shot around a screen and beat Craig Wende (49 saves, 1A) glove side.  Rochester regained the lead when Phil Caputo (2G, 1A) beat his defender at the top and cut in on Rose with a shot that hit the post; then Rose's leg and went into the net to make it 2-1.  Rochester doubled their lead just over a minute later when Dan Michel (1G, 1A) received a pass to the right hand side and took a nice over hand shot beating Rose stick side.  At the end of the first quarter Rochester led Toronto 3-1.  Toronto held the lead in shots on goal 16 to 11.
The second quarter started with a flurry of goals with six in the first four minutes.  Toronto started it off with Zach Manns (3G, 2A) passing to Dan Dawson (1G, 3A) who unloaded a hard shot beating Wende to close the gap.  Shawn Evans (2G, 7A) came right back for Rochester as he rolled around the screen at the top and placed a nice shot beating Rose by his stick side hip giving him his 1,200th career point with his first of two goals during the second quarter to make it 4–2  Knighthawks.  Only 20 seconds later Tom Schreiber (1G, 3A) received a pass by the crease and dove across; Wende thought he was going far side and Schreiber shot near side while in the air to cut the lead 4-3.  Cattoni scored his second of the game cutting around the outside defender and went right to the net; dove and beat Rose far side to regain the two goal lead for Rochester. Brandon Slade (1G, 1A) got that one right back when he picked up a rebound off a shot by Josh Jubenville (2A) and squeezed a shot through Wende on the near side to get the Rock to within one.  Just over a minute later Wende made a pass ¾ of the way down the floor to (S) Evans who avoided the check by Brad Kri (9 LB) and beat Rose through the legs to get the two goal lead back.  The goal barrage slowed down for three minutes until Rob Hellyer (3G, 3A) came off the bench; received a pass from Slade and beat Wende to the far side for his 500th career point to make it 6–5 Knighthawks.  Hellyer would score his second in a row off the long pass from Rose coming off the bench; cutting across the middle to beat Wende glove side tying the game at six apiece.  Rochester ended the quarter with a nice passing play that wound up with Matthew Bennett (1G) beating Rose over the shoulder to give Rochester a 7–6 lead at the half.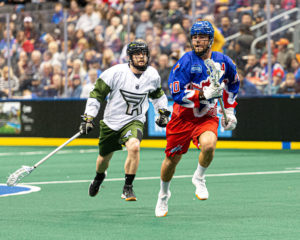 Hellyer started the second half by notching his hat trick goal off the pass from a double teamed Dawson in front; he fired a shot from the outside to beat Wende glove side for the equalizer 7-7.  Off the ensuing faceoff, Rochester batted the ball into their own end and Adam Jay (1G, 2A) knocked Paul Dawson (5 LB) off the ball and cut in front of the net and beat Wende through the legs for the first goal of his NLL career giving Toronto their first lead of the game at 8–7.  Five minutes later Cattoni cut to the middle with a side arm shot stick side to tie the game at eights.  Manns took a pass to the side of the floor and took a hard shot through the legs to restore the one goal lead at 9–8.  But 30 seconds later, Cattoni tied it back up with a shot from the outside beating Rose far side for his fourth of the game.  The Rock completed the scoring in the quarter as Manns blew a rocket of a shot past Wende just inside the far post to give the Rock a 10–9 lead.
Rochester tied it up less than a minute into the fourth when Cattoni came out of the penalty box; took a pass and beat Rose with a side arm shot through the legs for his fifth of the night.  Manns completed his hat trick off a pass behind the net; he came in front and took a backhand shot that Wende wasn't expecting and it went through his legs restoring the Toronto lead 11–10.  It took three full minutes, but the Rock would score when Craig grabbed a rebound off of a Wende save and made a couple of hard fakes beating him glove side to increase the lead by two.  The Knighthawks would answer back 30 seconds later.  Curtis Knight, who had been having a quite night finally got on the board off a nice cross crease pass to beat Rose with a quick stick to the open side closing the gap.  But once again, the Rock would hit back. Damon Edwards (1G) picked up a loose ball and on transition went coast to coast with a jump and dunk over Wende's shoulder to increase the lead to 13–11 with just under eight minutes to go in the game.  Rochester continued to press; and Caputo would shoot from the outside around a screen that beat Rose to the inside getting Rochester to within one 13–12 with just over three minutes to go.  Rochester pulled their goalie with just over a minute left but the Rock defense and Rose kept all of the shots to the outside and preserved the one goal win.  Final Score:  Toronto 13—Rochester 12.
Even though it was a tough loss for Rochester they were able to see that Craig Wende is a bonafide NLL goaltender making 49 saves during the game with many of them point blank highlight reel saves.
"We found a way and it was a pretty gritty effort," said Rock Head Coach Matt Sawyer after his team's first home win of the season.  "Certainly not our best moment but you're going to have them some nights and it's important that you find a way to win."
"It's a huge accomplishment being able to still play at a high level and compete with this team here," said Evans on his milestone. "That game out there tonight was a tough one for us. It would've been nice to get that milestone with a win, but we just need to keep plugging away and working hard."
"Our compete level was there for 60 minutes tonight," said Knighthawks head coach Mike Hasen. "I thought we were better and didn't have those lapses. It's the little things we'll take away, but each week we're getting better and we'll build off it."
"We were right there and that's the frustrating part," said Cattoni. "We were so close and just need that one little something we haven't found yet to just get us over that hump. I'm confident that when we get our first one (win) and we figure it out that's just going to be a sign of things to come and we'll start rattling off a few wins in a row."
The three stars of the game were:
Rob Hellyer – (3G, 3A) including his 500th career point.
Holden Cattoni – (5G, 4A)
Craig Wende – (49 saves, 1A)
NEXT UP:
The Toronto Rock (3-1) head down to Buffalo to face their North Division rivals the Bandits (2-1) at KeyBank Center on Saturday January 18, game time 7:00 p.m. EST.
The Rochester Knighthawks (0-4) have a double-header weekend. On Saturday January 18, they will host the Calgary Roughnecks (2-2), game time 7:00 p.m. EST; and then they head down to Philadelphia to face the red hot Wings (3-1) on Sunday January 18, game time 7:00 p.m. EST.
Shawn Palmer, Correspondent Toronto Rock
Lacrosse is Awesome©