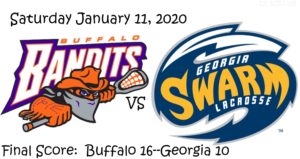 Chris Vale, Correspondent Buffalo Bandits
Lacrosse is Awesome©
Featured Image Photo Credit: Kyle Hess

The Buffalo Bandits (2-1) came off the bye week and headed down to Georgia and took down the Swarm (2-2) by the score of 16-10. One big take away from this game was the return of Bandit's forward Chase Fraser (3G, 3A) who had himself a six point night and earned himself the Player of the Game award. Fraser was working hard coming off a knee injury suffered in the summer and came out firing.  Buffalo was able to keep the Swarm offensive power-house Lyle Thompson to no goals in the contest.  Thompson had score four goals each in his first two games and only one since then, so this was quite a feat for the Bandits.
Buffalo jumped out to a 6-2 lead in the first; outscored the Swarm 5-1 in the second; and although Georgia outscored them 4-3 in the third; and 3-2 in the fourth, the first half onslaught from the Bandits was too much for Georgia to overcome.
Some other bright spots in the contest included Chris Cloutier (3G, 3A) with the same stat line as Fraser coming away with three goals and three assists. Chris is looking good in his second year in the NLL and with this, his first full season as a Bandit he's looking like a solid trade for Buffalo last season.  On the left side with Cloutier is Josh Byrne (3G, 2A); veteran Corey Small (1G, 2A); and JP Kealy (1G) who make up one of the best offensive lines in the league. Dhane Smith (1G, 5A) has been more of the "Jason Kidd" of the team only having one goal but dished out five assists. Dhane is a great passer and gets everyone on offense on the ball. Nick Weiss (1G) scored himself four goals in transition and has already tied his goals from last year with five in just the first three games on the season. Nick's career high is nine and he now has all season to surpass; and Dallas Bridle on the right side had three assists.
Matt Vinc made 47 saves on 57 shots and is showing no signs of slowing down. The Bandits defense is big and athletic:  Bryce Sweeting; Matt Spanger; Kevin Brownell (1G, 1A); Jon Harnett; Matt Gilray; and their Captain Steve Priolo.  When you add in Justin Martin and Ian Mackay (2G) it makes for a great top backend in front of Vinc.

For the Swarm Randy Staats had (3G, 3A); Jordan Hall (4A) five total in his first year back with the Swarm; Shayne Jackson (3G, 3A); Miles Thompson (2G); Jordan MacIntosh (1G, 2A); Zed Williams (1G); Lyle Thompson (4A). Mike Poulin had 37 saves on 53 shots.
It was a tough loss for Georgia at home but you can expect them to bounce back when they head to New York next Saturday to take on the Riptide.
Buffalo is looking for their third win of the season when they head back home Saturday to face their conference rivals the Toronto Rock. This game should be another good battle as both these teams will look to go head to head in the North division. Buffalo is 0-1 in conference play so next week's game is huge.
NEXT UP:
The Buffalo Bandits (2-1) host the Toronto Rock (3-1) at KeyBank Center on Saturday January 18, game time 7:00 p.m. EST.  Both teams are coming off big wins so this game will be electric.
The Georgia Swarm (2-2) heads to New York to face the Riptide (0-5) on Saturday January 18, game time 7:30 p.m. EST.   The Riptide are looking for their first win and have the talent to do it.  Georgia is struggling and have just came off two tough losses.  This game will be hard hitting and extremely exciting.
Chris Vale, Correspondent Buffalo Bandits
Lacrosse is Awesome©