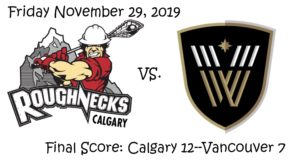 Marcelo A. Sagüez, Correspondent Calgary Roughnecks
Lacrosse is Awesome©
Featured Image Photo by Devin Manky
The Vancouver Warriors (0-1) would open their 2019-20 NLL season in front of 7,456 fans with a 12-7 loss to the visiting NLL champions Calgary Roughnecks (1-0) Friday night November 29.
Vancouver has a new address at the Rogers Arena; some new additions to their roster and are looking to make an impact to this coming season. Former Roughneck 'FOGO' (35) Bob Snider made his first appearance at the face-off circle as a Warrior.
The Riggers newly appointed Captain and NLL MVP Dane Dobbie (3G, 1A) opened the scoring at six minutes into the first; and new acquisition Marshall King (1G, 1A) contributed to the scoring as well. Tyler Burton went 13-22 against his former face-off teammate Bob Snider.
The nights scoring for the Roughnecks was well spread out: Matt King (1G, 1A); Ryan Martel (1G); Curtis Dickson (2G, 3A); Tyler Pace (3G); and Zach Currier (1G).
Scoring for Vancouver included: Keegan Bal (1G, 1A); Logan Schuss (2G); Mitch Jones (2G, 3A); James Rahe (1G); and Jordan McBride (1G).
Christian Del Bianco contributed an assist while stopping 63 of 70 shots in 60 minutes of play.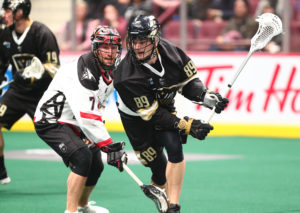 Warriors started Eric Penny in favor of Aaron Bold stopping 37 of 48 Calgary shots.
"Credit starts with Delbs and it goes outwards. Christian is Christian. I think we can rely on him. He's proven it. He's a great goalie. He's got ice in his veins back there and he makes the saves at the right time. He bailed us out quite a bit tonight and I'm sure he will for games down the road as well." – Dobbie on Del Bianco's performance
No love is lost between these two teams as intensity was high with Calgary accumulating 31 penalty minutes while the Warriors count was 27. Most were accumulated in the fourth quarter as Vancouver was starting to make a comeback but ran out of time.  Final Score:  Calgary 12–Vancouver 7.
NEXT UP
Calgary's 2019 NLL Championship banner will be raised at their home opener December 21 against the Colorado Mammoth (0-1), game time 9:30 p.m. EST. Until then the Roughnecks have a couple of weeks off.
On Saturday December 14, the Vancouver Warriors will be the first team to host the expansion New York Riptide (0-0), game time 9:00 p.m. EST.
Marcelo A. Sagüez, Correspondent Calgary Roughnecks
Lacrosse is Awesome©