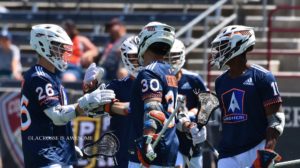 Di Miller, PLL Correspondent
Lacrosse is Awesome©
Featured Image Photo Credit: Di Miller
In Week Eight of the PLL, Archers LC (4-4) went head to head against Atlas LC (3-5) on their San Jose, CA stop at Avaya Stadium.  The last time these two teams met was during the Atlanta, GA stop where Atlas defeated Archers in the closing seconds of the game by the score 13-12.  This time Archers started slow, but fired it up outscoring Atlas in the second, third and fourth quarters to hold onto their lead for the win.  Brendan Fowler (9-17) and Stephen Kelly (4-13) split time at the face-off dot for Archers.  On the opposite side, Trevor Baptiste was again spectacular at the dot going 16-19. Final Score:  Archers 15—Atlas 11.
The first quarter took some time to get going as almost six and a half minutes would tick off the timer before Archers opened it up.  Scott Ratliff (1G) went coast to coast scoring a beauty on Jack Concannon at the 8:24 mark.  Will Manny (1G, 1A) would put up another off the face-off win by Stephen Kelly just eight seconds later putting them up 2-0.  At the 7:11 mark, Atlas would go on a man-up and Archers would hit back five seconds after the release at 6:06 with one from Joel Tinney (2G) on the fast break; and Kevin Unterstein (1G) would notch another creating the turnover, scooping the ground ball and on a 4 on 3 fast break found a spot between the pipes at 5:01 tying the game at two apiece.  Archers attackman Christian Cuccinello (2G, 1A) scored their final goal in the first; he'd stick the goal as he fought off Tucker Durkin, rolled and changed hands for their third of the frame.  Atlas would rattle off three more, the first and final in the frame coming from Ryan Brown (3G) on the door step making the shot from one knee at 1:57; followed by Eric Law (3G, 2A) at 1:07; and Brown with 37.4 seconds remaining, he went low to high hitting top corner putting Atlas up by two.  This would be the last time that Atlas would have the lead.  Score at the end of one:  Atlas 5—Archers 3.
It was a low scoring second and tempers started to flare and play became chippy with about 5:48 left and still no goals scored in the second.  It started with a push by Paul Rabil and a 30 second penalty.  Finally with 4:14 left in the first half, Joey Sankey (2G, 1A) would notch his first as an Archer finding the lane at goal line extended; and a minute later, Marcus Holman (4G) got the feed from "X" and came hard to the crease making the catch and slam dunk to tie the game at 5 apiece.  At the 3:02 mark, tempers flared starting off with a push by Trevor Baptiste sending Cuccinello into the net and right on top of Concannon who got a bit upset and flags went flying.  Atlas players Concannon and Austin Pifani both got nailed with one minute penalties; and Archers Cuccinello got the same one minute unsportsmanlike.  With Concannon on the sidelines, Scotty Rodgers got the nod for Atlas and with just eight seconds left in the man-up, Holman would score from the zone fire it past Rodgers putting them back up 6-5.  And once more with less than a minute in the frame, Connor Buczek (1G) would score with 45.6 as he caught Archers off balance and with the extra effort fighting off his defenders tied it back up 6-6 at the end of two.
Archers would outscore Atlas 4-1 in the third and Drew Adams would take over between the pipes for Archers. Tom Schreiber (2G) would finally get on the board at the 9:14 mark and one second remaining on another man-up situation 7-6.  They'd score three more unanswered, with Danny Eipp (1G, 1A) getting on the board with 6:17 left fighting past his defenders, made the dive and hit far side low; Ben MacIntosh (1G, 1A) at 5:10 made the shot and off the deflection by Durkin scored; and Holman would get his hat-trick less than a minute later at 4:32 as he took advantage of the opening and a hesitation by Cade Van Raaphorst found the slot putting them up 10-6.  Atlas would stop the run scoring their first in over nine minutes and just as the penalty expired, a wide open James Pannell (1G) would score a beauty with a behind-the-back goal on the door step at 3:39.  But just as quickly as Atlas closed the gap to three, Holman would hit again off another face-off win and beautiful execution by Kelly at 3:22.  Just as Atlas had done in the first and second, they would again score with seconds on the clock.  This time, Law would score with 7.2 seconds left off the rebound from a Rabil shot, he'd pump fake high got Adams to go up top and hit low.
Score at the end of three:  Archers 11—Atlas 8.
The teams would combine for seven in the fourth and another slow start with the first goal coming at the 8:14 mark.  Tinney on the cut hit net right below the bar getting Atlas back to within four at 12-8.  The score would go back and forth with Ryan Ambler (1G, 2A) finally getting on the board for Archers at 9:22 with the hitch to freeze the defenders hitting top side; and Schreiber with the beautiful feed from MacIntosh ripped it high to low at 7:08 increasing the gap back to four. Brown would score for Atlas notching his hat-trick at the 5:01 mark cutting through midfield and would make a couple of pump fakes getting Adams to go high then low and he'd hit top corner.  The ball would change possession several times with both Concannon and Adams making spectacular saves.  Archers would break the silence with 2:16 left on another from Sankey; he'd head up from behind the cage and dunked it over the top of Concannon 14-10.  Archers would call a time out with 1:14 left to discuss their strategy.  With the shorter field Atlas could easily come back with two 2pt attempts.  In a bold move and with less than a minute left, Concannon was out of net playing defense and Cuccinello would slip between the double-team scoring on the open net with 47.3 seconds on the ticker 15-10.  In a last ditch effort, if for nothing else than the point differential, Law would score for Atlas with 11.1 seconds capping the same scenario they'd had in the first three.  Final Score:  Archers 15—Atlas 11.
TEAM STATS
| | | | | | | | | | | |
| --- | --- | --- | --- | --- | --- | --- | --- | --- | --- | --- |
| | 2Pt. Shot Attempts. | 2Pt. Sh.% | SOG | SOG % | GB | TO | CT | FO % | PP | PP % |
| ARCHERS | 2 | 0.0% | 48 | 31.2% | 26 | 11 | 4 | 43.3% | 1 | 20.0% |
| ATLAS | 9 | 0.0% | 46 | 23.9% | 39 | 14 | 8 | 56.6% | 1 | 33.3% |
With the win, Archers LC has moved into third place in the league ahead of Redwoods LC by the score differential of four.
Atlas LC still has a slim chance to take that fourth spot from Redwoods, but it will take defeating both Chrome LC (2-6) on August 17 and Chaos LC (6-2) on August 28.  Their score differential which will take precedence over the head-to-head records is also key as they are currently sitting at a -13.
NEXT UP:
For Week Nine the teams head north of the border to Hamilton, Ontario on August 17.
Archers LC (4-4) will face the first place Chaos LC (6-2) on August 17, game time 12:30 p.m. EST, and the game can be seen on NBCSN.
Atlas LC (3-5) will face Chrome LC (2-6) also on August 13, game time 3:30 p.m. EST, and the game can be seen on NBCSG.
The final game of Week Nine, Whipsnakes LC (5-3) will face Redwoods LC (4-4) on Sunday August 18, game time 6:00 p.m. EST and you can also catch this game on NBCSN.
Di Miller, PLL Correspondent
Lacrosse is Awesome©