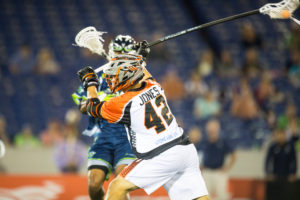 Di Miller, Correspondent Denver Outlaws
Lacrosse is Awesome©
Featured Image Photo Credit: Pretty Instant
The Denver Outlaws (6-4) headed to Annapolis to face the Chesapeake Bayhawks (7-3) for a battle for sole possession of first place in the league.  After Atlanta had defeated Boston, knocking them out of the top spot, the victor would walk away Number One.  The Outlaws have had trouble of late finding their offense and had dropped their past two games; while the Bayhawks have come alive winning their last two over the Lizards.  Denver's roster of rookies was no match for the Chesapeake veterans who have found their niche and are scoring big.  Outlaws Face-off specialist Max Adler had a record breaking night winning 23 of 24 at the face-off dot and although the Outlaws struck first, the Bayhawks dominated the first half outscoring Denver 9-2 and the second half surge by the Outlaws fell short.  Final Score:  Chesapeake 12—Denver 9.
The game got off to a slow start with both Dillon Ward and Niko Amato holding strong in their respective cages.  Denver would strike first at 7:13 with rookie Chris Aslanian (1G, 2A) scoring unassisted on one of his signature goals coming from behind at "X" off the pick and on an inside roll, drove to the cage hitting far side low. Another Outlaws rookie Will Snider (1G) would get the only other goal for Denver in the first at 6:07 off a nice set up on the cross field pass on the give and go hitting off-stick side on Amato, and that was it for Denver as far as first half offense would go.  The Bayhawks would put up three in the last four and a half, with Lyle Thompson (3G, 2A) scoring first giving him his 100th career MLL goal as he muscled his way past his defender hitting far side at 4:42 and that started their nine-goal run.  Shane Simpson (1G, 1A) cruised down the alley hitting far side at 2:04; and with 11.4 seconds on the ticker, Colin Heacock (2G, 1A) would hit off stick side on Ward high right down the pipe.  Score at the end of one:  Bayhawks 3—Outlaws 2.
Chesapeake did a lot of damage in the second rattling off six unanswered goals.  It started at 12:58 as Heacock would get his second; Steele Stanwick (2G) with some nifty foot work beat his defender and went low to high on Ward at 11:55; Brendan Bomberry (1G) had a nice pump fake on the perimeter and found an open spot in cage at 8:29; John Wagner (1G) would get the feed from Thompson from the right and went left; Thompson would score again; and Andrew Kew (1G) would close it out with 1:20 remaining as the defense was able to pull Ward out of possession and Kew was wide open and found the sweet spot far side low giving them a seven goal lead.  Chesapeake lead in stats over Denver 15-6 in SOG; but Denver leads 23-15 in GB.  Denver had 13 turnovers as opposed to five for Chesapeake.  But Denver's Max Adler had a record breaking game at the face-off dot winning 12-13.  Score at the end of two:  Chesapeake 9—Denver 2.
Many thought when the teams headed out of the locker room, that Outlaws Head Coach Tony Seaman would pull Ward in favor of Christian Knight.  But to everyone's surprise, Ward headed to his cage for the remainder of the contest.  Denver had found their offense, and would outscore Chesapeake 4-1 in the third.  Another slow start in the third, and at the 9:09 mark, Rookie Jack Jasinski (2G) after coming over in a trade with Dallas, would get his first goal as an Outlaw in transition running across the field on a 2 on 1; he came across in front of the crease and blew it past Amato 9-3.  Another five minutes would tick off before Isaiah Davis-Allen (1G)  would score in transition for the Bayhawks putting the gap back at seven.  With 2:41 left in the third, Brendan Jones (1 2ptG) would score his second MLL goal, and it was another 2pt goal.  He'd fire it from outside the arc just under the cross bar closing the gap to five.  On the man-up opportunity, veteran John Grant, Jr. (1G) would finally get on the board at 1:31 with a spectacular low angle far post shot stick side high as he found a sliver of an opening between Amato and the pipe.  Denver had found some life, but would it be enough to carry them to the "W".  Score at the end of three:  Bayhawks 10—Outlaws 5.
The third would start off with a challenge flag by the Outlaws at the 13:13 mark.  Bayhawks attackmen Colin Heacock would dive through the crease getting the ball in under Ward.  Ward immediately walked over to his bench and the flag was thrown.  After review it showed clear evidence of Heacock's foot touching down inside the crease for a "no goal".  The call gave the Outlaws some hope and Denver would carry the momentum into the third as Charlie Hayes (1G), with his blazing speed would score unassisted on a transition goal as he got the angle and with the back handed finish put it past Amato at 12:56.  Jasinski would score again for Denver at 12:18 as he weaved through the defenders and put a bouncer past Amato getting Denver to within two 10-8.  But just as quickly as the Outlaws would close the gap, the Bayhawks would fire back.  Stanwick would get his second with a backside look from Thompson; and Thompson would get his hat-trick at 9:39 with a transition goal off the assist from Jake Bernhardt who got the turnover, and threw the strike to the point man increasing their gap to four 12-8.  With time running out and the Outlaws needed to score.  Aslanian would come through with the feed to Kyle Marr  (1G, 2A) as he turned to the outside and fired it past an off-guard Amato at 8:53.  But that would be it for Denver.  They squandered their last possessions wasting time with their substitutions instead of charging the cage.  Zach Currier who has been a leading scorer for Denver was held silent once more which has turned out to be pivotal for the Outlaws.   The Bayhawks were able to hold possession of the ball in the remaining seconds giving Denver their third consecutive loss.  Final Score:  Chesapeake 12—Denver 9.
Despite a record breaking night by Max Adler (23-24) at the face-off dot for Denver, they can't seem to find their offensive groove.  The Outlaws were without Mikie Schlosser again; and Brendan Kavanagh (15G, 13A) another one of their top scorers was absent from the roster.  Zach Currier (13G, 13A) was held to one assist; and Ryan Lee (21G, 3A) was held to no points in this game.  The Outlaws need to figure out what happened on the offensive side; Dillon Ward who is normally stellar in cage has allowed five unanswered goals in the first against both Dallas and Boston; and nine unanswered goals in the first half in last night's game.
TEAM STATS SUMMARY:
Chesapeake Bayhawks:  25 SOG; 37 STOT; 25 GB; 1-24  FO; 10 TO;  Time of Possession 27:04
Denver Outlaws:  22 SOG; 39 STOT; 47 GB; 23-24 FO; 24 TO; Time of Possession 31:06
NEXT UP:
The Denver Outlaws (6-4) will head to Dallas to face the Rattlers (3-7) on Saturday August 17, game time 8:00 p.m. EST.  This won't be a cake walk for the Outlaws as the last time these two teams met; Dallas would start their winning ways and have since won three in a row.  You can catch the action on www.majorleaguelacrosse.com
The Chesapeake Bayhawks (7-3) will host the Boston Cannons (6-4) at Navy-Marine Corps Memorial Stadium on Saturday August 17, game time 7:00 p.m. EST.  The game can be seen on www.majorleaguelacrosse.com
Di Miller, Correspondent Denver Outlaws
Lacrosse is Awesome©