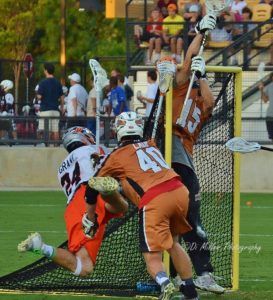 Di Miller, Denver Outlaws Correspondent
Lacrosse is Awesome©
We posted the news yesterday afternoon that the Denver Outlaws, the 2018 MLL Champions announced Saturday May 25, 2019 that veteran John Grant, Jr. has announced he will be coming out of retirement and returning to their roster for the 2019 season.  We can't be more happy to hear the news.  Having covered the Outlaws since 2014 and becoming good friends with John since they won their first World Championship in 2014 when we were there in Atlanta on the sidelines to witness history; and having followed them since that time, we are looking forward to seeing John back in action on the field this season.
Given his knowledge of the game, he will not only continue be an asset to the Outlaws organization but also to the rookies that have been signed during the NCAA Collegiate Draft this season.  We've seen him coaching at not only the professional level, but also at the college and high school level as well.
Below is the official press release from the Denver Outlaws and we would like to formally welcome John Grant, Jr. back to the game as well.
Di Miller, Correspondent & Photographer Denver Outlaws
Lacrosse is Awesome©
[MEDIA RELEASE]

DENVER — Lacrosse legend John Grant Jr. announced Saturday that he will come out of retirement and join the Denver Outlaws' roster for the 2019 season. A 13-year Major League Lacrosse veteran, Grant Jr. ranks second on the league's all-time scoring list (regular and postseason; 592) and is five points away from passing the top mark (Paul Rabil; 596).
Grant Jr., 44, most recently played for the Ohio Machine in 2016 and scored 10 goals in the team's final regular-season game. He announced his intentions to retire on April 19, 2017, and served as the Outlaws' offensive coordinator for the 2017 and '18 seasons. Grant Jr. will continue to coordinate the Outlaws' offense in 2019 as a Player-Coach.
A native of Peterborough, Ontario, Grant Jr. played three seasons with Denver (2014-16) and totaled 112 points (59 goals, 53 assists) in 28 games. Grant Jr. also played for the Rattlers (2001, '05-08), Nationals (2009-11), Lizards (2011), Bayhawks (2012-13) and Machine (2016).
The 6-2, 220-pound attackman was named MLL's Most Valuable Player in 2007 and '08 and won five MLL Championships with four different teams (Rattlers, 2008; Nationals, 2009; Bayhawks, 2012-13; Outlaws, 2014).
Grant Jr. also played 17 seasons in the National Lacrosse League where he was a two-time league MVP and nine-time All-NLL selection. He played for the Colorado Mammoth from 2010-16 and is the team's all-time leader in goals (235).
The defending-champion Outlaws open their season on Friday against the Lizards in Hempstead, N.Y., and will take on the Dallas Rattlers on June 27 in the home opener at Broncos Stadium at Mile High.
MLL All-Time Scoring Leaders (Reg. & Postseason)
| | | | | |
| --- | --- | --- | --- | --- |
| Player | Goals | 2pt. Goals | Assists | Points |
| Paul Rabil | 322 | 46 | 228 | 596 |
| John Grant,  Jr. | 366 | 18 | 208 | 592 |