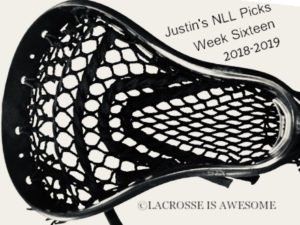 Justin Ivey, NLL Correspondent
Lacrosse is Awesome©
Weeks 1-9: 25-19
Week Ten: 4-2
Week Eleven: 2-1
Week Twelve: 4-0
Week Thirteen: 3-1
Week Fourteen: 4-2
Week Fifteen: 4-3
Season Total: 46-28
Dismal.  You deserve better.  I just barely squeaked by with a winning weekend at 4-3.  This weekend there are only four games, but there are plenty of opportunities to clinch playoff berths!  Let's see what is in store.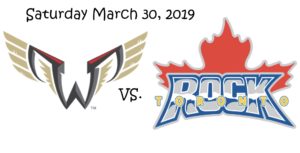 Philadelphia Wings (3-10) at Toronto Rock (8-5)
Saturday, March 30 at 7:00 PM EST
The Rock had three different ways to clinch a playoff spot last week, and none of them came to fruition.  They lost both of their scheduled games against the top two teams in the East.  The Wings staved off their guarantee of no post season with a big home win against the Black Wolves.  Toronto clinches a playoff spot on their fourth try…and the Wings wait to see if they are eliminated from contention, which will happen with a Rochester loss on Sunday.
My Pick:  Toronto
Score:  Philadelphia-10, Toronto-12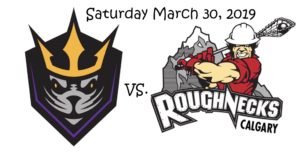 San Diego Seals (8-4) at Calgary Roughnecks (7-7)
Saturday, March 30 at 9:00 PM EST
San Diego has clinched a spot in the post season and Calgary can clinch with a win or a Vancouver loss.  They have a good chance for both to happen.  Even though the Seals come in riding a four-game win streak, they are just 3-3 on the road this year.  They lost the last time in Calgary, but Calgary returned the favor for San Diego's lone home loss this year.  The Roughnecks want to clinch, and at home I think they run away with it.
My Pick:  Calgary
Score:  San Diego-11, Calgary-16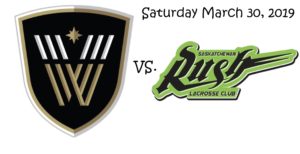 Vancouver Warriors (4-10) at Saskatchewan Rush (6-6)
Saturday, March 30 at 9:30 PM EST
Saskatchewan has had an up and down season and with a win against Vancouver the defending champions can punch a ticket to the playoffs.  Vancouver has had an up and down season as well, but with more downside.  The Warriors have lost both matchups this year against the Rush and without Matt Beers (suspended one game) I don't think they have a chance.
My Pick:  Saskatchewan
Score:  Vancouver-9, Saskatchewan-13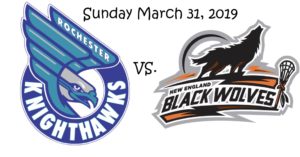 Rochester Knighthawks (2-11) at New England Black Wolves (7-6)
Sunday, March 31 at 1:00 PM EST
If the Wings lose on Saturday, New England can clinch a playoff spot by defeating the visiting Knighthawks.  Rochester is in rebuild mode, but the team has shown some spunk.  Unfortunately, they have currently dropped eight in a row, including a loss to New England.  The Black Wolves return home after an 0-2 road trip and welcome back Callum Crawford from suspension.  They have only lost one game at home and I don't think they make it two Sunday.
My Pick:  New England
Score:  Rochester-12, New England-14
Justin Ivey, NLL Correspondent
Lacrosse is Awesome©