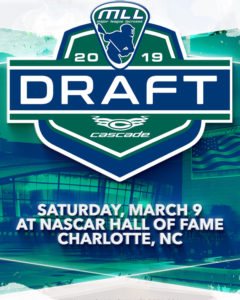 MAJOR LEAGUE LACROSSE POTENTIAL DRAFT PICKS FOR THE 2019 COLLEGIATE DRAFT PRESENTED BY CASCADE
[MEDIA RELEASE]
Teams Will Select Players on March 9th at the NASCAR Hall of Fame
Boston, MA – (February 5, 2019) – Major League Lacrosse (MLL) reviews the 2019 NCAA collegiate senior class and speculates potential draft picks for the 2019 Collegiate Draft presented by Cascade, set to be held on Saturday, March 9 at the NASCAR Hall of Fame in Charlotte, N.C..
There will be seven rounds in the 2019 MLL Draft presented by Cascade and 63 players will be drafted into MLL. The order in which the nine MLL teams will draft is:
Draft/Waiver Order:
Ohio Machine
Florida Launch
Boston Cannons
Atlanta Blaze
Charlotte Hounds
New York Lizards
Chesapeake Bayhawks
Dallas Rattlers
Denver Outlaws
MLL identified 90 NCAA seniors with a potential of being one of the 63 chosen in the 2019 MLL Draft presented by Cascade. These seniors hail from 44 universities and all three divisions. Based on recent Draft Outlook interviews conducted with the General Managers of each MLL team, it can be expected that Pat Spencer (Loyola), Brad Smith (Duke) and Alex Woodall (Towson) will be picked up early.
| | | |
| --- | --- | --- |
| Player Name | College | Position |
| James Burr | Boston University | Attack |
| Jackson Newsome | Brown | Attack |
| Sam Cleveland | Colgate | Attack |
| Clarke Petterson | Cornell | Attack |
| Austin French | Denver | Attack |
| Sean Lowrie | Duke | Attack |
| Kyle Marr | Hopkins | Attack |
| Andrew Pettit | Lehigh | Attack |
| Pat Spencer | Loyola | Attack |
| John Wagner | Marquette | Attack |
| Chris DiPretoro | Mt. St. Mary's | Attack |
| Ryder Garnsey | Notre Dame | Attack |
| Simon Mathias | Penn | Attack |
| Nate Solomon | Syracuse | Attack |
| Erik Dluhy | Albany | Defense |
| Matt Perla | Albany | Defense |
| Johnny Surdick | Army | Defense |
| Fleet Wallace | Cornell | Defense |
| Dylan Gaines | Denver | Defense |
| Cade Van Raaphorst | Duke | Defense |
| Jonathan Butler | Harvard | Defense |
| Pat Foley | Hopkins | Defense |
| Paul Volante | Loyola | Defense |
| Alex McVovern | Loyola | Defense |
| Hugh Crance | Notre Dame | Defense |
| Matt Borges | Ohio | Defense |
| Chris Sabia | Penn State | Defense |
| Tyson Bomberry | Syracuse | Defense |
| Marcus Cunningham | Syracuse | Defense |
| Isaac Paparo | UMass | Defense |
| Curtis Corley | UMD | Defense |
| Jack Rowlett | UNC | Defense |
| Warren Jeffrey | Vermont | Defense |
| Robert Mooney | Yale | Defense |
| Mark Anderjack | Adelphi | Faceoff |
| Trent Harper | Air Force | Faceoff |
| Alec Vissotski | Catham | Faceoff |
| Henry DeCamp | Denison | Faceoff |
| James Sullivan | Harvard | Faceoff |
| Matthew Pedicine | Hobart | Faceoff |
| J.C. Grabarek | Ill. Wesleyan | Faceoff |
| Connor Farrell | LIU Post | Faceoff |
| Richie Lenskold | Penn | Faceoff |
| Alex Woodall | Towson | Faceoff |
| Austin Henningsen | UMD | Faceoff |
| AJ Barretto | Army | Goalie |
| Christian Klipstein | Bucknell | Goalie |
| Turner Uppgren | Duke | Goalie |
| Tim Troutner | High Point | Goalie |
| Jacob Stover | Loyola | Goalie |
| Cameron Brosh | Maryland | Goalie |
| Reed Junkin | Penn | Goalie |
| Tate Boyce | Providence | Goalie |
| Alex Heger | Robert Morris | Goalie |
| Sean Sconone | UMass | Goalie |
| Matt Neufeldt | Denver | LSM |
| Robert Kuhn | Johns Hopkins | LSM |
| Craig Chick | Lehigh | LSM |
| Noah Richard | Marquette | LSM |
| Austin Fusco | Syracuse | LSM |
| Nick Brozowski | UMD | LSM |
| Sean Eccles | Albany | Midfield |
| Jack Burgmaster | Albany | Midfield |
| Michael Panepinto | Brown | Midfield |
| Carson Song | Brown | Midfield |
| Jack McCulloch | Cornell | Midfield |
| Ryan Bray | Cornell | Midfield |
| Brad Smith | Duke | Midfield |
| Jake Seau | Duke | Midfield |
| John Prendergast | Duke | Midfield |
| Danny Jones | Hopkins | Midfield |
| John Duffy | Loyola | Midfield |
| Brent Noseworthy | Michigan | Midfield |
| Greyson Torain | Navy | Midfield |
| Ryan Wade | Navy | Midfield |
| Drew Schantz | Notre Dame | Midfield |
| Brendan Gleason | Notre Dame | Midfield |
| Jack Jasinski | Ohio | Midfield |
| Logan Maccani | Ohio | Midfield |
| Nick Spillane | Penn State | Midfield |
| Strib Walker | Princeton | Midfield |
| Max Tuttle | Sacred Heart | Midfield |
| Zach Goodrich | Towson | Midfield |
| Thomas O'Connell | UMD | Midfield |
| Andy Matthews | UNC | Midfield |
| Ryan Conrad | UVA | Midfield |
| Matt Dziama | UVA | Midfield |
| TJ Comizio | Villanova | Midfield |
| Jack Tigh | Yale | Midfield |
| John Daniggelis | Yale | Midfield |