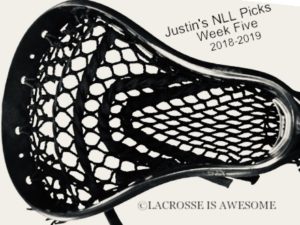 Justin Ivey, NLL Correspondent
Lacrosse is Awesome©
Week One: 1-2
Week Two: 2-1
Week Three: 3-2
Week Four: 4-1
Season Total: 10-6
The Colorado Mammoth ruined my perfect weekend, losing to the Calgary Roughnecks at home on Sunday. They kept it close, but just didn't seem able to adjust during the game. My score predictions were quite off, and I am learning how difficult it is to foresee final tallies. Toronto needed OT to beat Philadelphia in a game I didn't think would be that close. The Buffalo defense showed up big time against the rival Rochester squad, holding them to only four goals. Saskatchewan versus San Diego was a shootout in the first half. Vancouver hung with Georgia, but ultimately Coach Ed Comeau earned his 100th win as a coach.
Oh well – what matters is the result and I am happy with a 4-1 record on the week.Week 5 has another five games scheduled – all on Saturday, so no rest for the weary!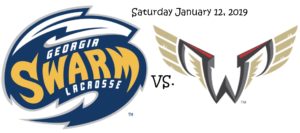 Georgia Swarm (3-0) at Philadelphia Wings (0-3)
Saturday, January 12 at 7:00 PM EST
I misstated in my column last week that Philadelphia opened with three away games. Their first game of the season was a home game, but the home excitement did not will them to victory. They return home this Saturday and host the only undefeated team left in the NLL after four weeks. The Wings' losses have not been blowouts and they have been able to stay in games, but not finish. It was also announced this week that Brett Hickey will miss the remainder of the season. Paul Day, Coach and General Manager, pulled the trigger this week on a trade that he hopes changes that fortune. They sent a 2019 First Round Pick and a 2022 First Round Pick to New England for hometown hero Kevin Crowley. Crowley has yet to appear in a game this season after being franchise tagged and not agreeing to the Black Wolves' offers of a multi-year deal. He led the NLL in goals scored last year with 51. It will be tough sledding though. The Georgia Swarm have not looked dominant but have always found a way to win. Lyle Thompson appears ready to handle any late game situation. Georgia can't win all their games this season, right? I'm picking Philadelphia. Home crowd, Crowley back in action and the intangible effect of Nick Foles and the Philadelphia Eagles winning the wild card last weekend.
My Pick: Philadelphia
Score: Georgia – 11, Philadelphia – 14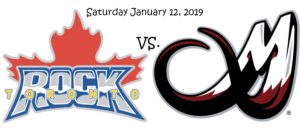 Toronto Rock (2-1) at Colorado Mammoth (0-2)
Saturday, January 12 at 9:00 PM EST
Colorado ruined my perfect weekend. I know I already said that, but I felt the need to repeat. The Mammoth opened the season with two home games and lost both. They are at home again this weekend and host a Toronto team that needed OT to beat the Wings in Week Four. I thought Colorado would have worked some things out between games one and two, but they didn't seem to have it all together yet. Both of Toronto's wins come by one goal. The gritty, veteran filled team wills their way to victory. I have a tough time picking against that this week, and unfortunately it looks like the Mammoth will start 0-3.
My Pick: Toronto
Score: Toronto – 13, Colorado – 11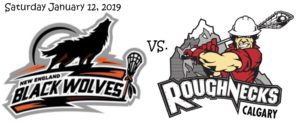 New England Black Wolves (1-1) at Calgary Roughnecks (3-1)
Saturday, January 12 at 9:00 PM EST
The Black Wolves have played two great games so far this season, losing by one goal to Georgia and beating Saskatchewan at home. Reilly O'Connor is exploding on the offensive side. All the players on both sides of the ball seem to be buying into the system. New England could be a dangerous team this year for opponents. The Roughnecks come in winning three straight after the season opening loss to Vancouver. The most impressive stat from those three wins is the fact they have held opponents to an average of seven goals. Christian Del Bianco has evolved into an elite goaltender, and the defense is strong in front. This game is a tough pick, but I am going to go with New England and their offense that seems to be clicking.
My Pick: New England
Score: New England – 11, Calgary – 9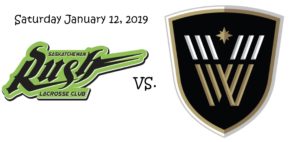 Saskatchewan Rush (1-1) at Vancouver Warriors (1-3)
Saturday, January 12 at 10:00 PM EST
Saskatchewan raised the championship banners last week at home and then had a shootout with San Diego. The rust seems to be shaking off from the off season, and with their offensive firepower, the Rush are a dangerous team…again. Vancouver won their opening game of the season and now have dropped three straight. A home game is beneficial, but I don't think Saskatchewan fears playing on the road.
My Pick: Saskatchewan
Score: Saskatchewan – 14, Vancouver – 10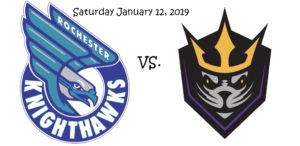 Rochester Knighthawks (1-1) at San Diego Seals (1-2)
Saturday, January 12 at 10:00 PM EST
Box lacrosse finally comes to San Diego! The Seals will play in their first home game on Saturday and I am one of many who is extremely excited for this West Coast venture. They won their first game as a franchise on the road against Colorado. For their first home game they welcome a Rochester team that is averaging a league low 8.5 goals per game. San Diego should ride the coat tails of a rowdy home crowd seeing their first game and I think that pushes them over the edge.
My Pick: San Diego
Score: Rochester – 13, San Diego – 16
Justin Ivey, NLL Correspondent
Lacrosse is Awesome©