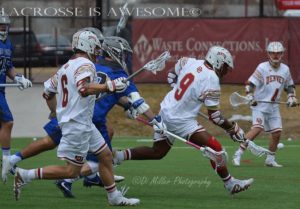 DENVER MEN'S LACROSSE NEWS
FOR IMMEDIATE RELEASE
Tuesday, January 8, 2019
The former Pioneer was just the sixth four-time first team USILA All-America pick in the history of the award
DENVER – University of Denver men's lacrosse faceoff specialist Trevor Baptiste has been named the 2018 Male College Athlete of the Year by the Colorado Sports Hall of Fame, the selection committee announced on Tuesday. Baptiste, along with other award winners, will be honored at the 55th annual Colorado Sports Hall of Fame Induction and Awards Banquet on Wednesday, April 3 at the Hilton Denver City Center.
Baptiste became the sixth player in the history of the sport to be a four-time USILA First Team All-America pick since the award started in 1922.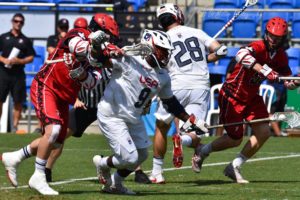 A two-time Tewaaraton Award Finalist, Baptiste set the NCAA record for career faceoff wins at 1158 and career faceoff winning percentage at .714. For the second season in a row, Baptiste finished at 74.4 percent from the dot, going 279-for-375 with 163 ground balls in 2018, with eight goals and two assists in 17 games. Baptiste tied for the 10th-most faceoff wins in a single game in NCAA history in Denver's BIG EAST win at No. 7 Villanova on April 6, winning 27 of his 30 attempts in the contest.
The No. 1 overall pick in the 2018 Major League Lacrosse Collegiate Draft joined the Boston Cannons in June before winning gold at the 2018 FIL World Lacrosse Championship in Netanya, Israel.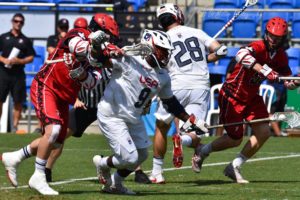 This December, Baptiste made his debut with the Philadelphia Wings in the National Lacrosse League.
Baptiste finished his career with double-digit faceoff wins in 68 of 69 career games, 15+ wins in 46 career games and 20+ wins in 21 career games. In his faceoff match-ups in his collegiate career, Baptiste posted a record of 63-2-4. Baptiste also ended his Denver career with 30 goals on 30-of-95 shooting (.316) to go with 12 assists for 42 career points. The Denville, N.J., native picked up 644 career ground balls, good for second in NCAA history.