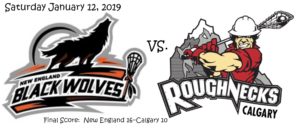 Marcelo A. Sagüez, Correspondent Calgary Roughnecks
Lacrosse is Awesome©
Featured Image Photo Credit:  Candice Ward
On Saturday January 12, 2019 in the Scotiabank Saddledome, twelve thousand plus fans in attendance were there to see Curtis Dickson's return to the Roughnecks line up. His return was not what he had expected after signing a multiyear deal with Calgary as they would lose only their second of the season.  Final Score:  New England 16—Calgary 6.
"It was probably the worst-case scenario.  I came back when the team was playing well and tonight was a bit of a stinker," said Dickson.
The chemistry was just not there for the Calgary Roughnecks playing catch-up lacrosse, down four goals before the halfway mark of the first quarter. The Black Wolves game plan to stop Dickson and the Roughnecks quick transition was successful.  (44) Dane Dobbie opened the scoring for Calgary in the 11th and 14th minutes of the first quarter, closing the gap on a 6-2 lead for the visiting Black Wolves.
The second quarter was an equal struggle for the Roughnecks being out scored three to two going into the locker room at the half down 9-4 on the scoreboard.
Former Roughneck Tyler Digby (23) appeared to have more of a leading roll in the Black Wolves line up scoring two goals along with two assists.
The third quarter had the wolves scoring three goals out of the gate and Calgary would respond with three straight.  Score at the end of three:  Black Wolves 13—Roughnecks 8.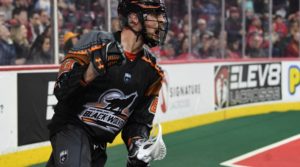 Calgary's (88) Ryan Martell opened on a high note 52 seconds into the quarter giving the home crowed the hope of a comeback. However, it was a short lived celebration as New England scored three straight putting the game out of reach. Roughnecks (26) Dan Taylor added the final goal for the Roughnecks at the 11:30 mark.  Final Score:  New England 16—Calgary 10.
The ball did not have the Calgary bounce; little was working for Roughnecks on this Saturday night. The chemistry was just not there. (35) Christian Del Bianco was pulled late in the fourth after allowing sixteen goals on forty-four shots, (00) Tyler Richards finished the game for the Roughnecks.
Roughnecks Head Coach Curt Malawsky said "When you get down like that, it's tough.  You're trying to preach and the guys are preaching to each other there's another 45 minutes left in this game.  But it's tough when a bounce goes the wrong way and you're down again."
NEXT UP:
Calgary (3-2) heads out on the road to play two games in three days, the first in San Diego against the Seals (2-2) on Friday January 18, game time 10:00 p.m. EST; and on Sunday January 20, to face the Colorado Mammoth (0-3) game time 3:00 p.m. EST.
The New England Black Wolves (2-1) head home to host the Georgia Swarm (4-0) on Saturday January 19, game time 7:00 p.m. EST.
Marcelo A. Sagüez, Correspondent Calgary Roughnecks
Lacrosse is Awesome©