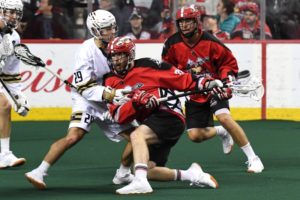 Marcelo A. Sagüez, Beat Writer Calgary Roughnecks
Lacrosse is Awesome
The rebranded Vancouver Warriors started the season on Saturday December 15, 2018  1-0 in a dramatic overtime 14-13 win over Calgary in the Roughnecks home opener.
A four all tie rounds off the first quarter in what had been a high action start. (44) Dane Dobbie had the touch on this night leading the way with five goals and four assists. (18) Rhys Duch in his Roughneck debut against a Vancouver team he was a part of for the past nine years, tallied one goal and three assists.
Contributing to the score sheet (68) Tyler Pace (two goals, four assists); (21) Chris Boushy (one goal, one assist); (26) Dan Taylor (one goal, four assists); Roughnecks (89) Riley Loewen, (25) Chad Cummings and (55) Mitch Wilde added a goal and an assist each.
Taking the lead into the locker room at half time the game was looking like Dobbie was calling all the shots. Without Curtis Dickson and Wes Berg in the line up Calgary has become more of a threat spreading the ball around.
After the half time break the game settled to a more controlled pace with the Warriors jumping out of the gates with a couple of quick goals. Once the Roughnecks settled the tempo opportunities were created allowing for many first NLL goals scored by the newcomers.
Into the final quarter of regulation time Calgary led 12-8. With 21.7 seconds remaining in regulation the Warriors (32) James Rahe tied the game at 13 shocking the Calgary fans into silence.
"We just didn't stick to it" (44) Dane Dobbie commented. "We let the foot off the gas. They were hungry and the last 10 minutes cost us the game".
The tension of sudden death overtime had the fans on their feet cheering for the Calgary winning goal. Back and forth as tension built, it wasn't until 10.32 mark when (2) Matt Beers scored the sudden death goal for the Vancouver win 14-13.
"I thought we were good for fifty minutes," said bench boss Curt Malawsky. "We had a 13-8 lead and we started to panic a little bit. We've got some young guys. Sometimes that happens. Guys over think it and then a couple of errors. It's a lot of guys working hard and trying to make things happen."
Calgary travels to Vancouver for the rematch; 8pm start time Dec 21, 2018.
Marcelo A. Sagüez, Beat Writer Calgary Roughnecks
Lacrosse is Awesome