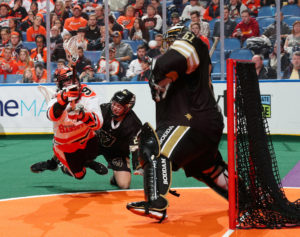 Chris Vale, Correspondent Buffalo Bandits
Lacrosse is Awesome©
The Buffalo Bandits (2-1) got things back on track with a big 16-10 victory over the Vancouver Warriors (1-2) on Saturday December 28, 2018 at the Key Bank Center. Final Score:  Bandits 16—Warriors 10.
Both teams may sit on different sides of North America but they have made many trades through the years and things weren't that different this offseason when the Bandits traded Mitch Jones for Corey Small. Corey was a notable name not in the lineup to play against his former franchise. Two Bandits who used to play for the former Stealth now Warriors franchise, Jordan Durston with four assists; and Thomas Hoggarth who continued to show why the Bandits moved him to forward by scoring two goals and 4 assists. Defender and former Stealth Nick Weiss had himself an assist as well.
For the former Bandits players, it was not a good night as Brandon Goodwin and Tony Malcom were held scoreless; and Eric Penney who came into the game for Aaron Bold but could not bring his team back. Mitch Jones tried to do it all and get his new Warriors team the win scoring three goals and four assists; and even fighting Bandits defender Bryce Sweeting was just not enough although the former Northern Michigan hockey player gave it his all and showed a lot of grit.
The Warriors defense is not strong right now. They do have some solid offensive players and some guys who are coming on strong. Jordan McBride scored twice in his first NLL game since 2014 and Keegan Bal was impressive in his first full time in the line-up this season. Logan Schuss and Joel McCready each had five point nights.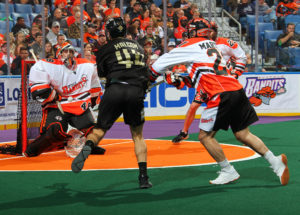 For the Bandits it was a big night for Matt Vinc who got his 100thcareer win in net. Shawn Evans had himself a night with four goals and seven assists. Evans has 21 assists in the first three games this season and has been moving the ball in this Bandits offense. Second year forward Josh Byrne isn't going through any sophomore slump as evidenced by his hat trick and seven assists. Rookie Ian Mackey got his first and second NLL career goals, while Zach Herreweyers had two goals and an assist as he replaced Corey Small on that left side. Buffalo has the players and coaches in place and looks to keep their winnings ways going when they take on their biggest rival the Rochester Knighthawks at home January 5, 2019.
NEXT UP:
Buffalo (2-1) plays their third at home hosting their rivals the Rochester Knighthawks (1-0) on Saturday January 5, 2019 at 7:30 p.m. EST.  Vancouver (1-2) heads to Georgia for another away game to face the Swarm (2-0) on also on Saturday January 5, 2019 at 7:30 p.m. EST.
Chris Vale, Correspondent Buffalo Bandits
Lacrosse is Awesome©