By: Kevin S. Clancy, Beat Writer Tufts University
Lacrosse is Awesome
It was a cold and windy night at Bello Field and the Tufts' Men's Lacrosse team had a slow start as the Bowdoin Polar Bears seemed as though they were better suited for the weather. In the final game of the regular-season, a win by either Tufts or the Bowdoin would have given them the #1 seed in the NESCAC Championship tournament that starts on Saturday April 30. With this win, Tufts earned the top seed for the fifth time while finishing the regular-season at 13-2 overall and 9-1 in NESCAC.
The first quarter went back and forth with Bowdoin leading 4-3.  Daly had the last two goals of the period at 5:59 and 4:53, and also adding an earlier assist. Defenseman Blake Wood had one of the Jumbo goals, an exciting steal, and fast-break score. Tufts John Uppgren #13, who is headed to the Boston Cannons after the college season, chalked up six goals and four assists to push Tufts ahead for the win 20-10.  Beau Wood, brother of Blake Wood is a three-time All American from Tufts and already plays for the Cannons.
Tufts began to take charge in the second quarter, scoring the first five goals. Kyle Howard-Johnson scored two, while Uppgren's tally at 4:37 would give Tufts an 8-4 lead. Bowdoin's Crowell pulled to within 8-5 with the last goal of the first half at 3:39.  Score at the end of the first half:  Tufts 8—Bowdoin 5.
Tufts would out-score Bowdoin 7-2 in the third quarter to lead 15-7. Six different Jumbos would score goals, including Zach Richman with two. Bowdoin's Peter Reuter had scored at 8:04 of the third to keep the Polar Bears within 11-7, but Tufts would score four unanswered goals in a 3:33 span to gain their eight-goal advantage.
Tufts went two for one with Bowdoin in the first nine minutes of the fourth quarter making it a 19-9 lead. Uppgren had three of the goals for Tufts. Clayton Wright would score the final Polar Bear goal of the game at 5:06 of the fourth before Austin Carbone would close the scoring for the Jumbos at 4:28.
Fourteen penalties were called; Tufts scored on its first three man-up opportunities; and finished 3 for 5. The Jumbos turned the ball over only eight times and did not fail on 20 clear attempts. They out-shot the Polar Bears 59-40 and took tight battles in groundballs (36-33) and face-offs (17-15).
Jake Gillespie and Ben Andreycak had one goal apiece; and three assists for Tufts; and Richman and Howard-Johnson both hit net three times. In addition to his goal, Wood scooped four groundballs; and Alex Salazar made 10 saves in net for Tufts.
Senior co-captain John Uppgren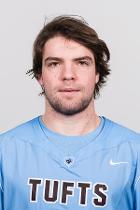 scored six goals with four assists for a 10-point game as the Tufts University men's lacrosse team won a first-place NESCAC showdown over Bowdoin.
Wright finished with two goals and an assist for Bowdoin. Parker Sessions caused two turnovers and picked up three groundballs. Goalie Peter Mumford made 13 stops while John Young came in and stopped four. The Polar Bears scored twice on nine man-advantages and turned the ball over 21 times.
The Jumbos will host #8 seed Connecticut College in the quarterfinal round of the NESCAC Championship on Saturday. Third-seed Bowdoin will host #6 Wesleyan. Game time for both is 1 pm.
Kevin S. Clancy, Beat Writer Tufts University
Lacrosse is Awesome