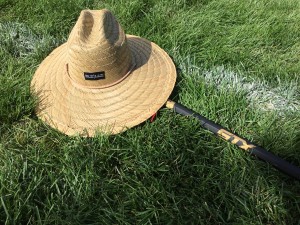 By: Misty Huss, Columnist
I'd love to start by saying Happy New Year to all lax fans out there; I'm excited to see the growth of the game this year!
As I sit here making my final plans to attend the National Lacrosse Convention in Baltimore in a few weeks, it is a very serious reminder of how many hats I wear. I'm sure I am not alone in saying when it comes to this sport that we all love; I am not the only one who wears multiple hats. I wear the Administrator Hat; the Coach Hat; the Fan Hat; and of course the Mom Hat. In wearing all of these said hats it can be more than a little complicated deciding which one takes priority over the other.
When it comes to LaxCon, the number of sessions I want to attend, versus the number that I can attend are very unbalanced. I've decided the Administrator Hat will be priority on Friday and Saturday; with the Coach Hat being worn on Sunday. This started me thinking, "How many others have to make these tough decisions?" I know a lot of you do.
As I make my schedule for the next six months I realize exactly how busy I'm going to be. My lax player daughter is a senior this year; my lax player son is in seventh grade; my club is expanding with new teams that I need to find coaches for; at the state level we have some exciting things on the horizon; and somewhere in there I have a full time job that pays the bills.
I'm tired just thinking about all of it!
Then I'm reminded of a few things. This game has made a huge difference in my family's life. I was not lucky enough to play lacrosse when I was a kid (I grew up in the south where lacrosse is just now starting to become accessible); however I have seen what it has done for my own children. So much so, that is had inspired my husband and me to get involved at levels I could never have imagined we would. I want, even if it is a small part, to see as many kids as possible fall in love with this game. To watch a child come onto the field for the first time and fall in love with this sport, it fills me with a joy that I cannot even put into words.
I know I'm not alone in this, I see all of you step up, from small gestures to huge commitments. It is pretty awesome to watch. Year after year more people become involved in this great sport, it won't survive without you. If you are reading this and want to know how to become more involved with lacrosse at any level, raise your hand! Talk to coaches, refs, administrators, players, anyone that is currently involved with lacrosse will be more than happy to answer questions and help you step in wherever you feel your talents will benefit the game. I'm also happy to help you find your place, don't hesitate to ask. There are plenty of hats to go around! Big ones, small ones, team ones, player ones (ok, those are actually helmets and ponytail holders I guess, but you get the point), every hat is important, every hat is impactful, and every hat influences the life and development of kids that are the future of our world. Yep, your choice of hat is that important, you just have to make sure they fit you, and you can commit to wearing it with pride. And don't be afraid to suggest hats to others you think would look good as part of the lax family-we've still got room.
I admire and appreciate each and every one of you. Best lax wishes for the New Year, may it be your best yet. I take all my hats off to you!
Misty Huss, Columnist & Blogger
Lacrosse is Awesome