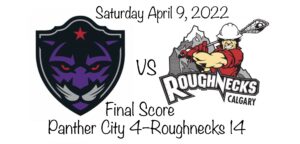 Marcelo A. Sagüez, Correspondent Calgary Roughnecks
Lacrosse is Awesome©
Featured Image Photo Credit:  Candice Ward
It was Super Hero night in Calgary on Saturday April 9, 2022, and over eight thousand fans were on hand to witness a solid sixty minutes of play from their Roughnecks. By far their best game of the 2022 season.  This win marks Calgary's fourth straight win, moving their standing to 8-7 and a third place standing in the NLL's West Division.
In a one-sided win for the home team, the Panther City Lacrosse Club drops to a 6-9 record and heads home with a loss 14-4 in regulation time. This ties a franchise record for the fewest goals allowed set on February 29, 2004, when the Roughnecks beat the Arizona Sting 14-4.
From the first draw, the Roughnecks were on overdrive, applying high pressure on offence and defence. Although it took almost five minutes to get the scoreboard moving, Calgary scored the first three straight goals. Panther City was able to tally one before the final buzzer in the first with just 34 seconds in the frame.  Score at the end of one:  Roughnecks 3—Panther City 1.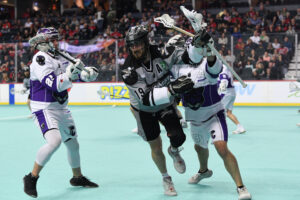 Panther City tallied one early on in the second, but the Riggers started their rally and ran away with this game in the second scoring seven straight.  Curtis Dickson (6g, 1a) would notch a true hat-trick in addition to another tally in the frame.  Also scoring for Calgary were Reese Callies (1g); and Jesse King (2g, 4a) notched two.  Score at the end of two:  Roughnecks 10—Panther City 2.
It was an uphill battle for the Panther City Club having to come back from a 10-2 deficit in the second half and Calgary would blank them in third and outscored the visiting team 3-0.  Tyler Pace (2g, 1a); Zach Herreweyers (1g, 1a) and Dan Taylor (1g, 1a) put tallies on the board for the Roughnecks giving them a comfortable lead heading into the final quarter.  Score at the end of three:  Roughnecks 13—Panther City 2.
The final Calgary goal came from the sock-trick effort of Dickson on a power play at the 6:35 mark. But it was a short-lived celebration as Panther City would score two while the home team took their foot off the gas.  Phil Caputo put up the third for the visitors at 7:12 and the final tally of the game was on a man-up by Dean Fairall with 9:41 on the ticker.  For the remaining five and change neither squad was able to light the lamp. Final Score:  Roughnecks 14—Panther City 4.
Although the game was high energy there were those moments where time management on the shot clock was wasted.  Getting personnel on and off the floor at times seem to take much longer than it should, leading to less time to set up a designed scoring play.  On the other hand, Calgary's constant pressure on the ball took the visiting team by surprise making it difficult for them to regroup.
Panther City Bench Boss Tracey Kelusky gave the order to have starting goaltender Kevin Orleman take a moment which turned out to be an opportunity for the backup tender Nick Damude to get some floor time. Each played about half the game in total.
The stingy Calgary defence held the Panther City club to only 29 saves for Del Bianco who played 51:35. Landon Kells got 8:25 of floor time, in which he had five shots and allowed two goals.
Kurt Malawsky said, "We knew that yesterday was really important, but today was more important, so if we didn't get this one we would have taken a couple steps back. We were able to stay focused on it. They're a good hard-working young team and we have to match their work ethic. If you don't match their work ethic, you're not going to be successful and our guys did. They're coming off a bye week too and that's tough in this league, so we wanted to take advantage of that and we had great efforts from top to bottom tonight, so it was a great weekend overall."
Some notable player milestones occurred during the game:  Curtis Dickson notched his 600th career LB; and Jesse King had two goals and four assists giving him a team-leading 58 assists and 80 points in the 15-game season thus far which is a new career high; and Mitch Wilde scored his 100th career NLL point.
STATS:
Panther City Lacrosse Club—SOG 38; Saves 34; Face-offs 9-22; Assists 5; LB 60; PP 1-2
Calgary Roughnecks—SOG 48; Saves 34; Face-offs 13-22; Assists 21; LB 74; PP 1-3
NEXT UP:
The Calgary Roughnecks (8-7) head to Rogers Arena to face their Western Division Rivals the Vancouver Warriors (6-10) on Saturday April 16th, 2022, game time 10:00 p.m. EST.  Fans in the USA can catch the game on ESPN+.  Fans in Canada can see the game on TSN.ca or the TSN app.
The Panther City Lacrosse Club (6-9) will head to Pechanga Arena to face the San Diego Seals (9-6) on Friday April 15th, 2022, game time 10:00 p.m. EST.  The Seals are on a four-game slide and lost their top spot in the West last Saturday night to the Mammoth, so they are on a mission and looking for that victory.  Panther City has their hands full on Friday night and better have the "A" game when they hit the floor.  Fans in the USA can catch the game on ESPN+.  Fans in Canada can see the game on TSN.ca or the TSN app.
Marcelo A. Sagüez, Correspondent Calgary Roughnecks
Lacrosse is Awesome©