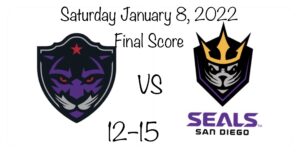 Di Miller, NLL Correspondent
Lacrosse is Awesome©
Featured Image Photo Credit: Mike McGinnis
On Saturday January 8, 2022 the Panther City Lacrosse Club (0-4) headed to Pechanga Arena in San Diego to face their Western Division rivals the Seals (3-1).  The 5,187 Seals fans would not be disappointed as they got to witness some spectacular lacrosse and also were part of two pieces of history.  With starting net-minder for the San Diego Seals out with COVID, their Rookie net-minder Christopher Origlieri the youngest player in NLL history would get his start and would not disappoint his team only giving up 12 goals on 49 shots coming away with his first career NLL start and first career NLL victory to boot.  And, Dane Dobbie would notch his 450th career NLL goal making him only the 8th player in NLL history to do so, surpassing John Sanderson in the process. The Seals would have four players achieve hat-tricks combining for a total of 14 of their 15 goals.  They would also be the first Western Division Team to win a home game this season. Final Score:  Seals 15—Panther City 12.
San Diego would start off the scoring at 1:55 from Wes Berg (3g, 2a) off the feed from Rookie Patrick Shoemay (2a) giving him his first career NLL assist 1-0 Seals.  With this goal, Berg has scored a point in all 70 of his NLL career games.  A few minutes would tick off the timer before Matt Sykes would get hit with a cross-checking penalty giving Panther City a man-up opportunity and they would capitalize.  Phil Caputo (4g, 1a) would shoot around his defender far side low scoring the first goal against the rookie net-minder Origlieri welcoming him to the league tying the game 1-1 at 4:18.  But it only took 41 seconds for Berg to show his athleticism when he came flying in from the bench with a beautiful across the crease slam dunk at 4:59 for the go ahead goal 2-1.  For reasons unknown this sparked a three-goal run for the Panthers started off by rookie Nathan Grenon off a nice spin move from Patrick Dodds, he'd submarine it past Origlieri to tie it up 2-2 at the 6:18 mark.  They'd score another in transition , Liam Patten (1g) would get the feed from Taylor Stuart (1a) and on a breakaway one-on-one he'd fire an overhand shot burying it over the shoulder for the first lead of the game 3-2 at 7:15.  Caputo would cap the run with a twister shot top corner at 8:31 putting them up 4-2.  That's when Dane Dobbie came to life scoring quickly only 21 seconds later shooting around his defender finding a piece of the net stick side 4-3 still in favor of Panther City.  He'd tie it up 20 seconds later with some great dodges, powering through his defenders he found an opening in front of the net this time going near side low to tie it 4-4.    With everyone realizing he was within one goal of tying the record of John Sanderson with 449 all-time goals scored, all eyes were on Dobbie and he did not disappoint.  Scoring a true hat-trick, he'd light up the board again with 4:26 left in the frame for the go ahead goal 5-4, this time receiving a pass from Jeremy Noble (6a) he'd fire it top left for the 90 degree cheese and his 449th NLL career goal tying him with John Sanderson for the 8th player in NLL history to do so.  But the run did not stop there.  Mac O'Keefe from in close would beat Nick Damude underneath and finished five-hole with 2:18 in the quarter 6-4 San Diego.  With time remaining, Panther City would take advantage and with only 33 ticks on the clock, Grenon from way out, shot around his defender with his feet moving finding the far side of the cage to halt the four-goal run.  Shots on Goal:  Seals 14—Panther City 10;  Face-Offs: Seals 4-12  Panther City 8-12; Loose Balls Seals 4—Panther City 7.  Score at the end of one:  Seals 6—Panther City 5.
Panther City would take that high into the second and Mike Triolo (2g, 2a) would notch his first of two firing one low from the outside at 2:39 and once again we were tied 6-6.  O'Keefe would notch his second from the outside at 4:14 for the go ahead goal 7-6 and San Diego was on top once more.  But Panther City wasn't going away that easy.  Patrick Dodds (2g, 3a) would get his first with a nice step down shot far side at 6:15 and once again we were tied 7-7.  But hold the phone…the Seals weren't going to allow that to happen.  Austin Staats (3g, 1a) coming off the bench, fired a nice overhand shot past Damude at 7:11 for the go ahead goal 8-7 and that's when the penalties started flying for Panther City.  They would get hit with three penalties back-to-back-to-back and the Seals would notch two man-up goals off those penalties.  The first would come off the Illegal Substitution penalty with Staats scoring his second in a row.  He picked up the loosie, hesitated and fired it right up the middle for the first power-play marker at 9:31 increasing the lead 9-7.  The second man-up goal would come from none other than Dobbie on the tic-tac-toe right in front of the crease with 4:34 remaining in the half putting them up 10-7.  This would also be the 450th career goal for Dobbie, making him only the 8th player in NLL history to do so and surpassing John Sanderson.  Congratulations Dane!!!  Ironically, both power-play goals came off Jordan Trottier penalties.   Panther City would great a break before the end of the half when Zack Greer got nailed with a slashing penalty with 1:41 remaining.  Dodds would score a man-up goal and his final goal in the game low far corner with 1:04 left on the timer.  For the last 60 seconds it was a virtual free for all by both squads with no goals scored.  Shots on Goal:  Seals 12—Panther City 9;  Face-Offs:  Seals 3-8  Panther City 5-8.  Score at the end of two:  Seals 10—Panther City 8.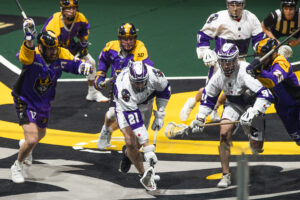 After the scoring frenzy in the first half, both teams settled in the third and the net-minders on each side found their groove.  Penalties would be double the number of goals with times having the sin-bins being full of players and the only man-up goal scored was the one that carried over from the second.  Not a single power-play or short-handed goal was scored off any third quarter penalty.  It was a nightmare for the men in the stripes. San Diego would outscore Panther City 2-1 in the frame.  Staats would start it off quickly only 31 seconds in and with 30 seconds left on the man-up which carried over from the second, he went glove side top corner for his hat-trick on the night 11-8 Seals.  It took almost four minutes before San Diego would notch another.  O'Keefe would go low to low with an outside shot at 4:23 increasing the lead by four 12-8.  The last goal came from Panther City at the 5:12 mark with Caputo notching his hat-trick on a goal in transition; he'd fire it on the run closing the gap 12-9.  For the remaining 9 and half minutes both net-minders stood on their heads not allowing another goal.  Shots on Goal:  Seals 14—Panther City 14.  Score at the end of three:  Seals 12—Panther City 9.
The fourth would see more penalties than the third with a total of seven so it was evident that tempers were flaring on both sides and the men in stripes wanted to keep things in check.  Panther City would start the fourth on a five-on-three and the veteran Caputo would score a beauty.  Off the rebound, he'd use the behind-the-back finish sticking it near side corner 39 seconds in getting them to within two 12-10.  Matt Hossack (1g, 1a) the first player signed by Panther City would come off the bench and get a nice outlet pass from Damude and on the run fired it past Origlieri at 3:50 putting them back to within one 12-11.  But Dobbie exploded off the bench and came flying across the crease laying out to dunk it for the first Seals goal in almost 19 minutes 13-11.  Noble would get the assist tying his career high for assists in a game with six.  Another three would tick off the timer before Panther City would notch another and their final in the contest.  Triolo would score a man-up tally with some great passing through the defenders he found the opening getting them back to within one at 11:59 and plenty of time in the frame 13-12 Seals.  But San Diego had other ideas.  Berg had another one of his unbelievable airborne shots.  He'd tuck it around Damude's shoulder and stretched for the dunk with 1:22 remaining 14-12.  With little time remaining, Panther City did what every team does and pulled Damude for the extra-attacker.  But it didn't work as Cam Holding (1g, 1a) scooped the loosie and on the breakaway headed down the field and with three long strides, took his dive ahead towards the net at the perfect time sending the bouncer shot into the empty cage with 54.2 seconds on the timer would put the nail in the coffin for Panther City.  Shots on Goal:  Seals 9—Panther City 8.  Final Score:  Seals 15—Panther City 12.
Panther City has played well in each of their four contests, coming close but they definitely need to stop runs like Vancouver and San Diego have been able to pull off.  Although they were without their starting net-minder this week, Nick Damude held his own after not having played since 2020.  They have speed in the youth on the team and their rookies seem to have come alive in the game last night.  If they can figure out how to put together some runs of their own, they could be a team to be reckoned with later in the season.
STATS:
Panther City—SOG 41; Face-offs 19-31; LB 39; Saves 34; PP 3-8
San Diego—SOG 49; Face-offs 12-31; LB 45; Saves 29; PP 3-8
Stars of the Game:
Dane Dobbie—San Diego: 5G, 2A, 2LB
Wes Berg—San Diego:  3G, 2A, 1LB
Phil Caputo—Panther City:  4G, 1A, 3LB
NEXT UP:
The Panther City Lacrosse Club (0-4) will head to Nassau Live Center to face the New York Riptide (0-3) on Saturday January 15, 2022.  The Riptide have not played a game since December 12, 2021 as their last two games have been postponed.  One of these teams will come away with their first win if the game does not get postponed again.  Game time 7:30 p.m. EST.  Fans in the USA can watch the game on ESPN+.  Fans in Canada can catch the action on TSN.ca or the TSN app.
The San Diego Seals (3-1) will head up to Canada to face the Saskatchewan Rush (1-3) at Sasktel Centre on Friday January 14, 2022.  Game time is 8:30 p.m. EST.  The Rush are itching for a win after having been defeated by the Firewolves on January 8.  So expect a great game.  Fans in the USA can watch the game on ESPN+.  Fans in Canada can catch the action on TSN.ca or the TSN app.
Di Miller, NLL Correspondent
Lacrosse is Awesome©