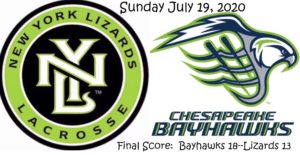 Di Miller, Lacrosse Correspondent
Lacrosse is Awesome©
Photos Courtesy of Pretty Instant
In Day Two of the 2020 MLL Season, the longtime rivalry between the Chesapeake Bayhawks (2-0) and the New York Lizards (0-2) would resurface.  It was a sweltering day in Navy Marine Corps Memorial Stadium with temperatures soaring near 120 degrees on the field.  Yet each team in this shortened one-week season played hard.  New York would jump out to a quick four goal lead once again while Chesapeake was slow out of the gates once more.  But as was yesterday against the Boston Cannons, the Lizards could not put together a full 60 minutes of lacrosse and would fall to the 2019 MLL Champions in the end.  Final Score:  Bayhawks 18—Lizards 13.
It took almost three minutes before either team would notch a marker on the board and it was New York who would go on a four-goal run stunning the Bayhawks.  Dylan Molloy (3g) would start off with a true hat-trick at 12:18.  The first off the kick save rebound by Brian Phipps, he'd scoop and rip the shot 1-0 Bayhawks.  The second was an overhand shot top corner at 10:18; and the last he turned the corner and found an opening and got the shot off far side high at 7:07 putting them up 3-0.  Sean O'Brien (2g) would score three minutes later off the tic-tac-toe feed as Molloy would draw the defense to set up the goal and he'd fire it through the wickets at 4:23 giving them a four goal lead.  With less than a minute in the frame, the Bayhawks would put up two of their own.  Colin Heacock (1g) stepped and fired top corner with 41.4 seconds; and Andrew Kew (2g, 1a) would plant and fire a side arm bullet far side with 18.9 seconds remaining cutting the lead to two.  New York would lead in SOG 7-5; and in GB 12-9.  The teams were even in the face-off category at 4-8.  Score at the end of one:  Lizards 4—Bayhawks 2.
The second quarter was a much different scene as the Bayhawks took charge opening it up only 59 seconds in.  Isaiah Davis-Allen (1g) got it going just inside the two-point line in transition with an outside rip closing the gap to one 4-3 Lizards.  A minute & ten would tick off the timer before Andrew Pettit (2g, 1a) erased that goal for New York with a dip and dunk on the crease at 13:11.  It took almost seven minutes before either team would score and it would be another from Pettit.  He'd follow it up with a back-to-back tally at the 6:20 mark from around the back of the cage, spin move and found a way to flip it back into the cage widening the gap 6-3.  Unfortunately that's when the Bayhawks would start their eight goal run.  It started with the 2019 MVP Lyle Thompson (3g, 2a) at 5:52 finding his way through traffic and firing it up the middle; next Nick Mariano (3g) got the outlet pass from Phipps and faked low-high-low and hit inside pipe less than 30 seconds later.  After another three and a half ticked off, Nate Solomon (2g, 2a) notched the equalizer with a diving shot from GLE at 2:56 tying the game at 6-6.  Less than a minute later, after he thought about it a couple times, CJ Costabile (two 2-ptG, 1a) was left wide open and ripped a two-point shot far side at 1:45 to give Chesapeake their first lead of the game 8-6 and they never looked back.  Costabile would get in on the action once again with the feed to Solomon on the crease he'd fake high go low and hit far side at the buzzer.  The teams were tied in SOG at 16 apiece; New York led in GB 24-23 and in face-offs 8-15.  Chesapeake led in saves 10-7; and New York held the lead in TO 12-10.  Score at the end of two:  Bayhawks 9—Lizards 6.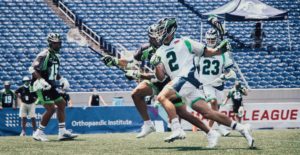 Another high scoring quarter as the teams would combine for nine goals.  Kew would notch another for the Bayhawks 57 seconds in with a beautiful behind-the-back shot off the feed from Solomon increasing their lead by five.  Ryan Keenan (1g) would pad the lead when he took a shot from his knees and scooped it into the net at 13:32 giving the Bayhawks the lead 11-6.  Connor O'Hara (4g) would stop the run off a high level feed from Galasso and faked it left-right-left at 12:42 closing the gap to four 11-7.  After over four minutes of scoreless lacrosse, the Bayhawks would score again this time from Brendan Bomberry (1g) top corner at 8:25 increasing the lead once again.  And as if it wasn't bad enough, the Lizards defense once again left Costabile open and he sent another screaming two-point outside shot past Kaut at 6:01.  The goal sent him to the bench in favor of back-up net minder Brian Corrigan. Chesapeake would put up one more from Mariano at 3:09 before the Lizards would put up two more.  O'Brien on the sweep would fire one top corner at 2:32; and O'Hara on the quick release would notch his second with 43.8 seconds remaining closing the gap to six 15-9.  Unfortunately for them, they allowed Thompson another opportunity with time on the clock and he would fight his way through his defenders, leaned in a dove in front of the crease and found twine with 16 seconds remaining.  Chesapeake would lead in SOG 9-7 and Saves 4-2.  New York would lead in GB 16-7 and in face-offs 8-10; they'd also lead in TO 5-3.  Score at the end of three:  Bayhawks 16—Lizards 9.
New York would outscore Chesapeake 4-2 in the fourth, but the comeback was too little too late.  O'Hara would notch his hat-trick early on and 46 seconds in off a bounce shot 16-10.  But the Bayhawks would erase that with a hat-trick goal from Thompson at 13:22.  Decker Curran (1g) would notch his first career MLL goal off the roll dodge and fake down the alley at the 12:37 mark; but once again the Bayhawks erased another goal.  The Lizards would put up the final two.  O'Hara would get his fourth on the day at 5:02 with a slam dunk shot; and Nicky Galasso (1g, 2a) would get underneath and fight his way to the cage with 2:25 left.  It wasn't enough as they would run out of time and the Bayhawks would walk away with another "W".  Final Score:  Bayhawks 18—Lizards 13.
TEAM STATS:
Chesapeake:  SOG 32; GB 43; Saves 16; Face-offs 12-32; TO 19
New York:  SOG 29; GB 49; Saves 14; Face-offs 20-32; TO 21
GOALIE STATS:
Chesapeake—Brian Phipps:  SOG 16; GA 13; Save% .552
New York—Austin Kaut:  SOG 7; GA 12; Save% .368
New York—Brian Corrigan:  SOG 7; GA 4; Save% .636
New York has come out strong in both contests but has failed to play a full 60 minutes of lacrosse.  They have some strong shooters in Dylan Molloy; and Connor O'Hara and they've got to make sure they have a way to score.  The defense has to protect their net-minder as well.
NEXT UP:
The New York Lizards (0-2) have Monday off and will host the Denver Outlaws (2-0) on Tuesday July 21, 2020, game time 7:00 p.m. EST.  The game will be televised on ESPN+.  This will be another tough contest for them.  Both teams have the day off to rest and regenerate.  The Lizards need to figure out how to fix what is wrong if they have any chance of tying up that fourth spot in the playoffs.
The Chesapeake Bayhawks (2-0) will host the Boston Cannons (1-0) on Monday July 20, game time 7:00 p.m. EST.  This game will also be televised on ESPN+.  This will be a great game as both teams have powerful offenses and great net-minders.  Stay tuned for our recap on Tuesday.
Di Miller, Lacrosse Correspondent
Lacrosse is Awesome©