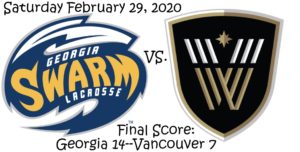 Ron Schell, Correspondent Vancouver Warriors
Lacrosse is Awesome©
Featured Image Photo Credit: Devin Manky
A well-oiled machine steamrolled into Rogers Arena in Vancouver on Saturday February 29 and when the smoke cleared, the Georgia Swarm emerged victorious over a flattened Vancouver Warriors squad. Georgia's record improved to 6-4 while the Warriors sank to 4-8.   Final Score:  Georgia 14—Vancouver 7.
The Swarm are a "team" in the true sense. Their highly skilled offence was on display thrilling the fans of flashy, crisp and creative passing and accurate, precise and laser-like shooting. These players play their appropriate roles and are used interchangeably. They share in becoming playmakers, pick setters and marksman. Randy Staats led the way with 2 goals and 7 assists; Lyle Thompson had 3 goals and 3 assists; Shayne Jackson provided 3 goals and 2 assists; Surrey's Jordan Hall had 2 goals and 4 assists; while Zed Williams  notched 1 goal and 3 assists; and Zach Miller  also had 1 goal and 1 assist rounded out the offensive "team" performance.
The Swarm machine started methodically and consistently. They put relentless pressure on Vancouver's goalie Eric Penney and fought hard to keep the ball in the Vancouver end gathering rebounds and not letting the Warriors exit their zone without a fight. Lyle Thompson demonstrated how hard the offence battled as he earned 12 loose balls himself. The Swarm produced six first quarter goals. Vancouver's Jordan McBride battled to scoop a rebound and earn Vancouver's only goal (4 goals and 1 assist).
In the second quarter, Vancouver was able to slow the Swarm onslaught. Both Riley Loewen (3g, 1a) and McBride attempted to lead their teammates into battle by chipping in two Warrior goals. Thanks to two power play goals the Swarm scored three of their own to expand their lead to 9-3.  Unfortunately penalties do happen when trying to stop the Swarm. Putting this squad on a power play is often fatal. The score at half-time stood 9-3 Georgia.
Vancouver was unable to put a dent into the Swarm lead in the third quarter (one goal). McBride's diving  goal demonstrated great desire but without a sustained "team" offence, Georgia continued to add to their lead (three goals)  With the Warriors so behind, they seemed to resort to single outside shots that Swarm goalie Poulin handled easily. Examples of a relentless fore-check or offensive attempts to gain rebounds or battle to keep Swarm defenders into their own zone were far and few between. Georgia easily took the ball and went on offence again and again. The final score at the end of three quarters read Georgia 12—Vancouver 4.
Vancouver did outscore Georgia in the final frame. They could have come even closer without the countless posts and crossbars. The Warriors were again led by the scoring of only two players, McBride and Loewen. Mitch Jones and Keegan Bal both achieved 4 assists each on the night but needed to do more to create a free-flowing "team'' offence. Often the Warriors defence worked hard to earn loose balls only to have the offence take one outside shot without any attempt to gain a rebound or loose ball.   It's hard to play defence when the offence provides limited pressure; limited ball control; and limited quality scoring chances. The Warriors need to build as an offensive team and not as a group of individuals. Vancouver scored three goals in the fourth against only two for the Swarm. Final score was 14-7 Georgia.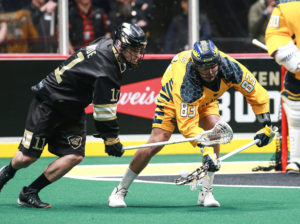 Overall, the Swarm came to play tonight as a team. Their offence is a powerhouse that is a joy for lacrosse fans to watch. They are offensively gifted but put in a blue-collar work ethic. Vancouver committed nine minor penalties to just four for the Swarm. To stop this "offence", Vancouver had to be physical on defence. Players couldn't be left alone on top of Penney as the result was disastrous. Going forward, the Warriors can learn a lot from this pummeling. The most important thing to watch on video would be how the entire five man offensive work together to set picks; to battle hard to get open; and set up the open man going to the net. Hard work; determination; and persistence can take many years to achieve.
Warriors vs Swarm Highlights 2/29/2020
TEAM STATS:
Georgia:  62 SOG; 23 SOFF; 102 LB; 15-24 FO; 6-7 PP; 6 PIM
Vancouver:  44 SOG; 21 SOFF; 81 LB; 9-24 FO; 1-1 PP; 18 PIM
NET-MINDER STATS:
Georgia  Mike Poulin:  39 SOG; 33 Saves; 5 GA; .868 Sv%
Georgia  Kevin Orleman:  6 SOG; 4 Saves; 2 GA; .666 Sv%
Vancouver  Eric Penney:  61 SOG; 47 Saves; 14 GA; .770 Sv%
NEXT UP:
The Vancouver Warriors (4-8) will head east to face their West Division rivals the Saskatchewan Rush (6-3) on Saturday March 7, game time 8:00 p.m. EST.
The Georgia Swarm (6-4) have leap-frogged into second place in the East.  They have a double-header weekend and will face two of their East Division rivals.  On Saturday March 7, they'll travel to Long Island to battle the cellar-dwelling expansion Riptide (1-11), game time 7:30 p.m. EST.  Then on Sunday March 8, they'll be back at home to host the Philadelphia Wings (7-5), game time 4:00 p.m. EST.   With the highly contested North Division each game can change the scheme of who will sit in first place so stay tuned to see what happens.
Ron Schell, Correspondent Vancouver Warriors
Lacrosse is Awesome©