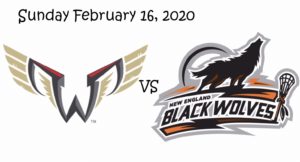 [MEDIA RELEASE]
Featured Image Photo Credit:  Justin Ivey
UNCASVILLE, CT. (February 15, 2020) – New England returns to action this weekend, Sunday, Feb. 16, for a matchup against the Philadelphia Wings at 5pm. The Black Wolves (4-2) and Wings (5-3) will collide on Galentines and Bromance night.
Also, as part of a season-long Sunday special, kids and season ticket members are invited to come on the field after the game to take a shot on goal. Fans can also enjoy $2 hot dogs.
History:  Sunday will mark the fifth overall meeting between the Black Wolves and the Wings as well as the second of the season. On Saturday, Jan. 18 New England defeated Philadelphia 8-7 in their first overtime game since 2018. The all-time series is currently tied at two apiece and the Wings will look for revenge after the overtime loss.
New England: The Pack is coming off two hard losses against the Georgia Swarm (10-11OT) and the Vancouver Warriors (10-6) both at home.
Offense: Callum Crawford has been leading the Black Wolves since game one of the season. In six games, he has tallied a team-high in both goals (16) and assists (21). The offensive veteran sits in seventh in the league in goals scored and has played one to five games less than opponents ranked above. Joe Resetarits and Reilly O'Connor each follow behind with 11 goals this season. Andrew Kew and Stephan Leblanc are also primary contributors in the offense each with 16 and 15 assists, respectively.
Defense: Working hard on the Black Wolves' defensive end is Captain Brett Manney, Greg Downing, Nick Chaykowsky and Tony Malcom and Colton Watkinson on transition. Manney leads the Pack with six caused turnovers and Malcom leads the team with 48 loose balls. Adam Bomberry has recently been back in the defensive mixture and in just two games has caused four turnovers and collected 15 loose balls.
Helping secure the ball on the X is Joe Nardella, who is 93-146 on the faceoff in his first season in the NLL. Nardella also has contributed 46 loose balls to the team's 466 total.
In the net, Doug Jamieson has started every contest for the Black Wolves. He has seen 363 minutes of action in six games and has made 262 saves for a .832 save percentage.
Philadelphia: Leading the Wings offense this season is Brett Hickey and former Black Wolf Kevin Crowley. Hickey has tallied 17 goals while Crowley has added 15 goals and a team-high 27 assists. Josh Currier, Cory Vitarelli and Matt Rambo are also key components to Philadelphia's offensive execution. Together the trio has a combined 32 goals and 43 assists.
Defensively, Liam Byrnes and Anthony Joaquim are the biggest threats to opponents. Byrnes has caused eight turnovers and Joaquim seven. On transition, Trevor Baptiste is the Wing's go-to faceoff specialist. In eight games he is 142-192 on the X and has recorded a league-high 93 loose balls. Kiel Matisz, also on transition, has helped the team primarily with his offense this season. The captain has tallied eight goals and has assisted on 18 to put him third on the team in points.
Zach Higgins stands between the poles as the Wings starting keeper. This season, Higgins has played in 482 minutes of action, has tallied 335 saves (third in the league) and has a save percentage of .825.
Philadelphia will compete against the Bandits on Saturday, Feb. 15 before making the trip to Uncasville, CT from Buffalo.
Looking Ahead: New England will return home again next week for Hometown Heroes night in partnership with Fox61. The Black Wolves will welcome the Rochester Knighthawks Saturday, Feb. 22 for a 7pm start and will also hold a food drive in partnership with United Way of Southeastern Connecticut. Fans are encouraged to donate non-perishable items to help the Black Wolves and United Way fight hunger.