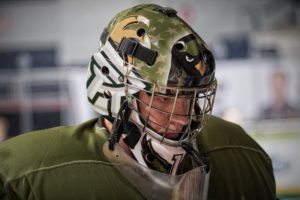 Christopher Crane, Correspondent Rochester Knighthawks
Lacrosse is Awesome©
Featured Image Photo Credit: Micheline Veluvolu
With the original Knighthawks making their move to Halifax it really left a royal fan base sour and sad; but this would give opportunity for some old faces to return and some new faces to emerge as the new Rochester Knighthawks.
One of those new faces and rising talents is Rochester's new goal tender Craig Wende, who has been "Dominik Hasek" like in the goal and also picked up his first NLL win as well as the new Knighthawks first win when they downed last year's NLL Champions the Calgary Roughnecks at home on January 18, by the score of 13-12.
I was able to catch up Craig and get to know a little more about the new face in between the pipes for Rochester.  Here's what we talked about!
CC: First thing people would like to know is where are you originally from?
CW:    I grew up in Kitchener, Ontario, Canada.  I am still currently living in Kitchener with my wife and little girl.
CC: Do you have any siblings and if so whose older?
CW:   I have a younger brother and sister. I am the oldest out of the three of us.
CC:  When did you first start playing lacrosse?
CW:   I started playing lacrosse when I was 5 years old.
CC: Were you introduced to Box Lacrosse or Field Lacrosse first?
CW:   I originally started playing Box Lacrosse.
CC: What position do you or would you play in field?
CW: I played one year of player during field then switched to playing in net.
CC: What would you rather play Box or Field Lacrosse?
CW:  It's tough to say which I would rather play to be honest. They each have their own pro's and con's. I would have to probably say Box Lacrosse Goalie because I wear more equipment so the ball hurts less.
CC: How did you come about becoming a Box Goalie?
CW: At a young age our team would rotate who would be playing in net each game.  When it came to my turn to try, I enjoyed it so much that I never left.  Plus, an added bonus meant I never had to run anymore.
CC: Did you play lacrosse in college?
CW:  No, I didn't play in college
CC: Did you play Junior or Senior lacrosse?
CW:  During my Junior Lacrosse career I played for the London Blue Devils JR. B (1 year);  Kitchener-Waterloo Braves JR. A (3 years); and Burlington Chiefs JR. A (1 year).  Currently in Senior Lacrosse I have been taking turns playing for the Oakville Titans (OSL); and the Oakville Rock (MSL).
CC: Were you drafted or an undrafted free agent?
CW:  I was undrafted into the NLL.  I attended multiple camps with Washington Stealth; Toronto Rock; Rochester Knighthawks (old); and finally earned my spot with the new Rochester Knighthawks.
CC: What was your first thought when you found out that you were coming to Rochester?
CW: During free agency this past summer, I decided to sign with Rochester because I felt like it was the best opportunity to develop my game.  During the 2018-2019 season, I attended a game in Rochester and the one thing I could remember is that the fans are super passionate about their team.  So, my goal was to work my way to get an opportunity to show them what I got.
CC: Since being with Rochester have you tried a garbage plate (a favorite dish amongst Rochester natives)?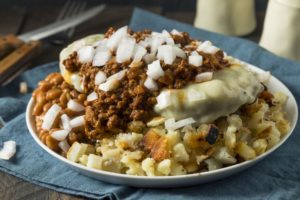 CW:   No, I haven't yet.
CC:  What do you do to prepare or what do you do to get ready to play on game day?
CW:   Part of my routine during game day entails eating properly throughout the day as well as getting a nice nap in. When traveling to the rink I like to get myself a coffee to drink on the way.  Once at the arena, I go out on the floor to throw the ball around while I listen to my pre-game music.
CC: Do you have any pregame meals or food you must have before playing?
CW:  I wouldn't say I have a specific meal but typically I try to have something healthy.
CC:  Do you have any advice to people or kids trying to come into the NLL?
CW:  Don't Give Up!  My shot in the NLL didn't happen when I first was eligible.  It took me seven years to finally make my first start in the league.  I put in a lot of work to develop my game and played in various leagues to try to get noticed. Just keep working at it cause eventually all that hard work pays off!
CC: What is training camp like?
CW:  I have been at various training camps and typically they all have been the same.  They start with some fitness testing to evaluate what kind of shape you are in. After that there are a lot of floor times over various days or weeks so that the coaching staff and management can evaluate your on-floor skills.  Overall, it's an exhausting process if you're the one trying out, but it's very enjoyable as well.
CC: When you're not playing lacrosse what kind of activities do you do?
CW:  Not many people know this but outside lacrosse I am a regular 10 pin bowler.  I bowl in leagues and own all my own bowling accessories, from shoes to 10 bowling balls.
CC: Why did you choose the number you wear on your jersey?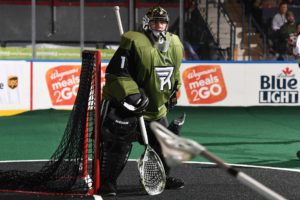 CW:  During minor lacrosse it was a number that was assigned to me.  Growing up with the game I just typically enjoyed the number, so any time I can get my hands on it I grab it.
CC:  Are you a cat or dog person?
CW:   I would say I am both.  Currently though my wife and I have two female cats at home. Their names are Luna and Tiger.
CC: Do you have a favorite meal?
CW:  My favourite meal would have to be anything has to do with seafood!
CC: What kind of stick do you use?
CW: During my NLL season I used an Under Armour Goalie Head that's custom dyed with an Under Armour shaft.
CC: What is your profession outside of lacrosse?
CW: I work full time as an Automotive Service Technician, working on all makes and models.
CC: If you could visit one place in the world where would it be?
CW:  Hawaii.  I would love to spend a vacation there.
CC:  Do you have a favorite player in the NLL and if so who?
CW:  I wouldn't say I have a favourite player that is in the NLL currently, but growing up around the game of lacrosse I always enjoyed watching Bob Watson when he played for the Toronto Rock.
CC: Since you got the first franchise win with the new Rochester Knighthawks, tell us how it felt.
CW:  It was a truly unbelievable experience.  This win was also my first in the NLL, so it made it even more special.  After such a close game, we knew as a team that it was going to come down to the wire.  Once that final buzzer went, I had the biggest smile on my face.  It was great for our fans that we got the first win at home, because it meant they got to enjoy the night just as much as we did.
In closing I would like to take a moment to say thank you to Craig for taking time out of his schedule to do this Q and A session to get better know the net minder; in addition, that someone needs to get him a garbage plate.
Craig and the Rochester Knighthawks are back in action on February 22, when they head to New England to take on the Black Wolves at Mohegan Sun Arena.
Christopher Crane, Correspondent Rochester Knighthawks
Lacrosse is Awesome©